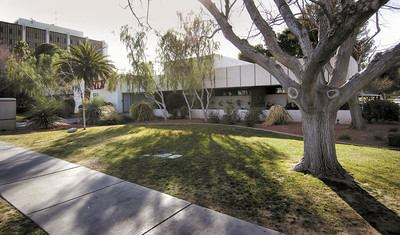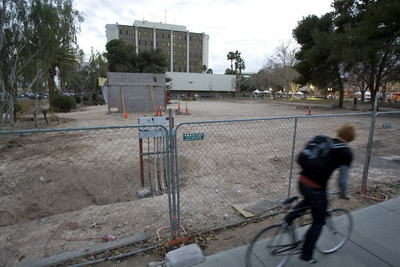 Maude Frazier Hall died quietly over the winter holiday break.
The cause of her death, as it always is in Las Vegas, was old age. She was 52.
Despite the efforts of preservationists, the first building on what would later become UNLV's campus is gone.
Standing there today are remnants surrounded by chain-link fence.
It was not blown up with the fanfare we expect here. Instead, it came down in pieces, done in by machines when few people were there.
The squat building had greeted campus visitors since 1957. It sat at the main entrance, at Maryland Parkway and Harmon Avenue.
A master plan developed years ago called for its demolition. In recent years, it had been used to house offices.
There was a fight to save her, waged mostly in the last year and a half by those who want to preserve history in a place that pretends it does not exist.
Despite support from some university regents, the County Commission and others, the effort failed. University officials repeatedly said it would cost too much to fix her.
The university's master plan calls for a parklike setting, with seating areas and a walkway, on the building site.
But that won't happen yet. There isn't any money for it.
Gerry Bomotti, senior vice president for finance and business at the University of Nevada, Las Vegas, said there will be a "Pioneer Wall" there honoring three early university supporters, including Maude Frazier herself.
Frazier, it is widely acknowledged, was the driving force behind the creation of a state university in Southern Nevada.
She was a longtime assemblywoman who later was the state's first female lieutenant governor.
Bomotti said a donor pledged $1 million to fund renovation of the area where the building sat, but postponed the donation until the economy improves.
A small portion of the building remains, but not for any sentimental reasons.
"All of our phone lines come through that building," Bomotti said.
It would cost $20 million to move it. So that small part of the building will stay. For now. Bomotti said vines or some sort of climbing plant will be used to hide it.
Eventually, he said, technology will probably render the old phone lines useless, and that part of the building will go away, too. Perhaps 10 more years.
Another small part of the building remains, as well. A single wall. It will be refinished, and a bronze bust of Frazier will be installed. So will a plaque.
Bronzes of Donald Moyer, the university's first president, and James Dickinson, the first full-time faculty member, will also be created.
Moyer and Dickinson had buildings on campus named after them, too.
The library used to be called the James R. Dickinson Library, but it was replaced and turned into the new Boyd Law School.
And the old student union used to be called the Donald C. Moyer Student Union. But it was torn down two years ago in the name of progress.
Contact reporter Richard Lake at rlake @reviewjournal.com or 702-383-0307.