Another tale from the Jackson file
February 1, 2011 - 2:02 am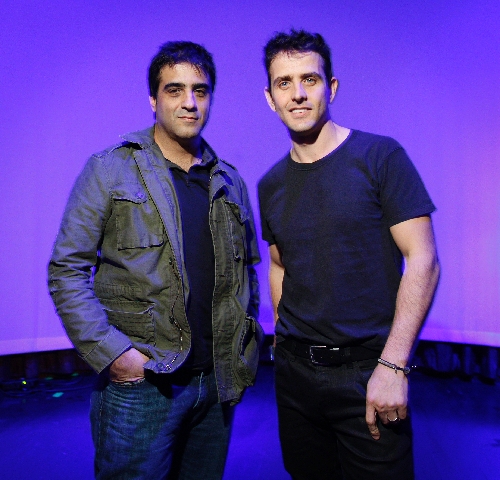 Joey McIntyre of New Kids on the Block begins a singing residency at the Palms this weekend, along with his producer friend Emanuel Kiriakou.
Last week, Joey and I were talking about Michael Jackson, when Joey told me another odd Michael story that Nick Carter of the Backstreet Boys told him:
One time, Michael was visited by a room full of boy banders — Carter and brother Aaron Carter, producer Rodney Jerkins and others.
"And they're sitting in his room at Neverland Ranch. He (Nick) said they brought him the food, and it was on these old TV tray things. And they're just sitting there in a semicircle. The way he described it, it was just the weirdest — but a lot of fun."
RIP Michael, you weirdo with your semicircles.
TOM ARNOLD'S PICK
Tom Arnold, the comic and former co-host of "The Best Damn Sports Show Period," predicts the Pittsburgh Steelers will upset the Green Bay Packers at the Super Bowl.
Arnold (performing Feb. 19-20 at The Orleans) is rooting for the Steelers for one little reason.
"They aren't my team, but the black and gold are the same colors as the Iowa Hawkeyes," the Iowa native tells me and laughs.
He's going to Dallas for the game but says Vegas is the cooler Super Bowl city.
"Being in Vegas would be better than being in Dallas for the Super Bowl. You'll be able to watch it on 20 giant TV screens. You'll be able to party" on and off the Strip, he says.
Arnold's Super Bowl advice for tourists in Las Vegas?
"You don't want to do things you don't normally do. Let's say you don't drink at all. You don't want to start it up in Vegas, because then you'll pass out and miss all the fun."
And, he jokes, if you're looking for transvestite prostitutes, make sure they're actually transvestites and not just women pretending to be transvestites. That's a new one, Tom.
'PHANTOM' HERE, GOSS THERE
Congrats to cast members of "Phantom" at The Venetian. They stage their 2,000th performance tonight. …
Hot, shallow Audrina Patridge "hosts" at club Pure Saturday. She's still famous? Yeah. She's doing a 13-episode Internet-only show, co-starring The Situation, about — does anyone care? …
And Matt Goss returns to London's Royal Albert Hall on Oct. 21 to perform a version of his regular Caesars gig again. Tickets for the London show go on sale Friday for $51-$89, according to the website DigitalSpy.com.
SIGHTINGS
Wyclef Jean performed after midnight Saturday at club Haze, where Lisa Marie and Priscilla Presley were partying, as were Ryan Cabrera and Bryan Greenberg. Wyclef sang "Killing Me Softly," "Fugee La" and "Ready or Not." … Cabrera lunched Sunday with six friends at Cabo Wabo Cantina (nachos, fajitas, Coronas, sodas), then hung at club Vanity Sunday night with local magician Sawyer Dasch and DJ Ryan Wellman. Also in Vanity on Sunday: Kansas City Chiefs lineman Branden Albert. … "Grey's Anatomy's" Sarah Drew and Sara Ramirez talked about Vegas memories with seven girlfriends while munching on fish tacos, fajitas and soup at Cabo Wabo on Sunday. … Wilmer Valderrama did Luxor's new club Savile Row till 3:30 a.m. Sunday after partying at Vanity. … Regina King ate at Beso Saturday then took friends to club Eve for vodka cocktails until 2:30 a.m. … Redfoo from LVFAO dined Sunday at Lavo with friends, digging into Kobe meatballs and prosciutto, topped with Patron shots and dancing in the restaurant, then they went dancing upstairs at Lavo's club. Monday night, he was slated to start his DJ residency at club Marquee.
Doug Elfman's column appears Sundays, Mondays, Tuesdays and Fridays. E-mail him at delfman@reviewjournal.com. He blogs at reviewjournal.com/elfman.