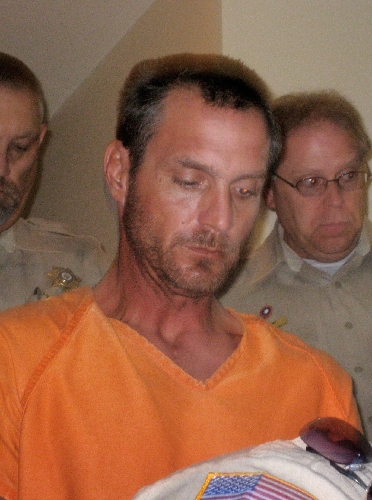 KINGMAN, Ariz. — A convicted killer who escaped from an Arizona state prison in Golden Valley last summer pleaded guilty Friday to all charges in an eight-count indictment in Mohave County Superior Court.
Judge Steve Conn advised Tracy Province, 42, that he would get dozens or scores more years in prison for doing so.
Defense attorney Ron Gilleo responded that additional convictions and punishment are meaningless because Province is already serving a double-life sentence for a 1991 homicide in southern Arizona.
"My client is just wanting to get out of here," Gilleo said.
Province pleaded guilty to escape, misconduct involving weapons and two counts each of kidnapping and aggravated assault. All but the escape charge relate to the abduction of two truck drivers after the prison break in July.
Gilleo said Province wants to take responsibility for his Arizona crimes and move on to New Mexico where he's facing a possible death sentence. Province and fellow escapee John McCluskey, 45, and Casslyn Welch, 44, their alleged prison break accomplice, are accused of murdering an Oklahoma couple in New Mexico two days after the prison break.
McCluskey and his first cousin-fiance Welch are jailed in Kingman with criminal cases pending in Arizona and New Mexico.
An investigation into the escape determined security and operations were woefully inadequate at the prison in Golden Valley. The complex's warden and a number of other key personnel lost their jobs and there's an ongoing campaign to improve security at the 3,500-inmate facility.