October 19, 2008 - 9:00 pm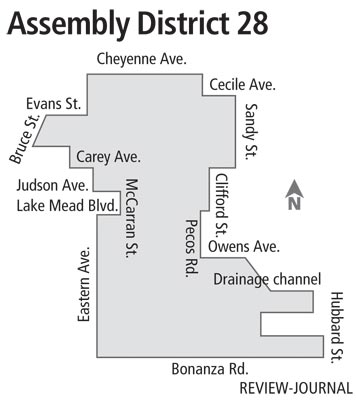 Both incumbent District 28 Assemblyman Mo Denis and his Republican opponent Tino Mendoza realize that the 2009 Legislature will be a grim session with probable major budget cuts.
But they cannot say where they would make cuts.
Denis thinks the state will face budget reduction of greater than 14 percent than predicted by Gov. Jim Gibbons. Such a reduction would be devastating to education and other vital state programs, he said.
"We first have to figure out where we can save and then set priorities," said Denis, who added that a recession is the wrong time to consider tax increases. "Nevada needs to look to the future. People say you can't throw enough money at education, but we never have put in enough money for it."
As a state employee, Denis said he has some insight on where cuts can be made, but he does not see a lot of waste in state government. He said Nevada ranks 50th among the states in the number of public workers on a per capita basis.
"This should be the session we talk about priorities. In good times, we have money and fund things in state government. When in bad times, we cut all the good things we have funded. We need to find a way so we don't have these highs and lows."
As a conservative, Mendoza thinks there is "a lot of waste" in state government that can be found if legislators have the will to look closely.
"They can save a lot of money," added Mendoza, who said he saved millions for the military during a 28-year Army career. "Tax increases would be the worst thing to do."
Denis, first elected to the Assembly in 2004, has built-in advantages. The district is more than 4-to-1 Democrat in voter registrations. He had raised $31,000 to Mendoza's $600 at the end of the first reporting period in August.
Denis calls himself "the neighbor we need in the Assembly." He has lived in the district for more than 30 years and now lives in a house two blocks from his Cuban-born parents' home and three blocks from his in-laws' residence.
Before entering politics, he served on the Las Vegas-Clark County Library Board and was active in Scouting. He is the current Nevada Parent Teacher Association president.
Mendoza readily acknowledges he is a "perennial candidate" who runs every other year so his party will have a candidate in races that otherwise would be uncontested.
"I have received a lot of kudos from the Republican Party but no money," Mendoza said with a laugh.
Mendoza, born in Mexico to an American mother, calls himself an "American through and through." He served in Korea and in Vietnam in his Army career.
He takes a strong position that Nevada needs to do more to curb illegal immigration, including punishing businesses who hire them. He added that immigrants seeking citizenship should be required to speak English at the eighth-grade level at least.
"We have our principles to protect, the laws of our country," Mendoza said. "If you want to come to our country, there are ways to do it legally. I have great respect for immigrants who join the military."
Denis favors "boot camps for kids who don't speak English." Too often, he added, the non-Engish speakers slow down the other youngsters in classes, and six-week boot camps would help the non-English speakers catch up.
He also wants to introduce a bill to allow citizens voluntarily to donate to education or other programs through deductions in their paychecks or other mechanisms.
Contact reporter Ed Vogel at evogel@reviewjournal.com or 775-687-3901.
ASSEMBLY DUTIES
The duties of Assembly members include passing state laws, approving the state budget and reviewing the performance of state agencies. They serve two-year terms. Candidates who prevail in this year's election will be paid $8,760 for the first 60 days of the 120-day regular legislative session. They also will receive $155 a day for living expenses and reimbursement for certain other expenses.
REVIEW-JOURNAL