At least 7 die, 9 injured when tour bus crashes on U.S. 93 in Arizona
January 30, 2009 - 4:00 pm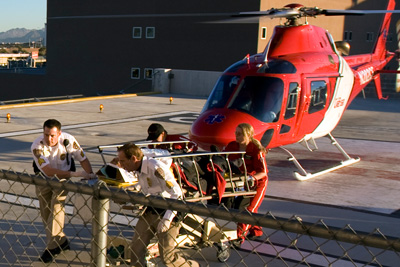 Seven people were killed and nine others faced serious or critical injuries after a tour bus carrying Chinese tourists overturned 27 miles south of the Hoover Dam on Friday afternoon.
Sixteen people were in the California-based charter bus when it veered to the right of the northbound lanes of U.S. Highway 93, overcorrected, and darted across the desert median and rolled over into oncoming traffic.
Several people were ejected from the bus, and six were pronounced dead at the scene. A seventh, a man in his 40s, later died at University Medical Center. Arizona Department of Public Safety officer Robert Bailey said the cause of the 3:04 p.m. single-vehicle accident has not been determined, and might not be known for a few days.
The bus had left Las Vegas at 6:45 a.m. for the West Rim of the Grand Canyon and was returning when the rollover occurred, according to the department. Television news cameras captured a horrific scene as the bus rested on its side and a long streak of tire marks in the northbound lanes showed the sharp change of direction taken by the 30-passenger bus. Several bodies were seen surrounding it.
Those who survived were airlifted or taken by ambulance to UMC, Sunrise Hospital and Medical Center or Kingman Regional Medical Center in Kingman, Ariz., authorities said.
Sheila Larsen, who works at Rosie's Den in Dolan Springs, Ariz., near the site of the accident, told the Associated Press she went outside after hearing a big crash and screams and found people lying on the roadway, with paper and money strewn across the area.
"I will never forget, ever," Larsen said. "It's always going to haunt me." She said the best she could do to comfort the victims was bring them blankets and towels and water. "The woman I was trying to comfort didn't speak English. I was trying to comfort her and she died," Larsen said.
The death toll could still rise. Sunrise Hospital and Medical Center spokeswoman Stacy Acquista said a man and a woman in critical condition had been airlifted to the hospital Friday night from Kingman.
"They brought them to us because they needed an upgraded level of medical care," Acquista said.
She said she couldn't release the ages or nationalities of the patients.
UMC was caring for four Chinese nationals on Friday, hospital spokeswoman Donita Cohen said.
The hospital received a 61-year-old man and a female of unknown age in critical condition, Cohen said. A 35-year-old woman and a 48-year-old man were taken to the hospital in serious condition.
The hospital has brought in additional translators to talk to them, Cohen said. Arizona officials said the bus driver was in serious condition.
A language barrier created conflicting reports over the number of passengers who were on the bus, Arizona officials said. They identified the passengers as from various parts of mainland China.
"We're trying to get the Chinese consulate involved in this," Bailey said. They identified the operator of the bus as D.W. Tour & Charter, a San Gabriel, Calif.-based company, according to its Web site, that advertises tours throughout the southwest, including to the Grand Canyon.
Federal records show the company has not had a crash in the last two years. The company was cited and fined in October by the California Consumer Protection and Safety Division for nonspecific administrative violations, according to the commission's Web site.
Calls and e-mails to the company were not returned.
The crash wasn't the first accident involving a bus based in or around Las Vegas, although it was the deadliest in recent years.
A little more than a year ago, a bus carrying 30 Primm Valley hotel workers rolled off of Interstate 15 and burst into flames. Nobody suffered life-threatening injuries.
In 2006, 25 people were hurt after a Las Vegas-based tour bus crashed off of U.S. Highway 93 near Kingman. A tire blew out and the bus crossed into oncoming traffic and hit a highway divider.
And in 2004, a tour bus tumbled into a ravine off I-15 near Primm, sending all of the passengers to the hospital with minor or serious injuries.
U.S. Highway 93 is expected to still be closed or restricted today after Friday's accident. Officials said those traveling between Las Vegas and Arizona should take the bypass through Laughlin and Bullhead City, Ariz.
Las Vegas Review-Journal writers Brian Haynes and Lynnette Curtis contributed to this report.
Contact reporter Lawrence Mower at lmower@reviewjournal.com or 702-383-0440.
View Larger Map (by Google Maps)