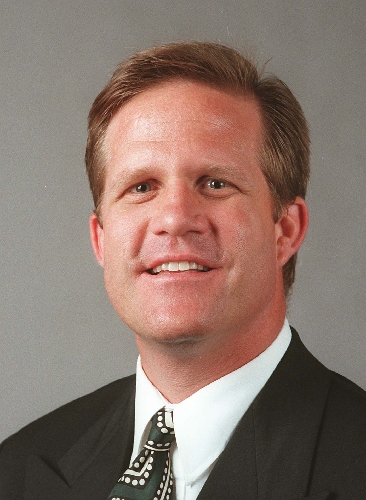 CARSON CITY — The Las Vegas lawyer who has led the state's opposition to the national health care reform law announced Tuesday that he will be a Republican candidate for the state Senate.
Mark Hutchison said he would seek the state Senate District 6 seat in northwestern Las Vegas, which is held by Democrat Allison Copening. She will announce next week whether she will be a candidate for re-election.
Hutchison, 48, said he decided to run in part because the Legislature last year did nothing to show its opposition or even gauge the effects on Nevada of the national Patient Protection and Affordable Health Care Act, often dubbed "Obamacare" by opponents.
"In a lot of states, legislators conducted hearings on the costs of health care reform," he said. "They asked officials what its impact would be on their budgets. None of that happened in Nevada."
The District 6 seat is one of two that Republicans think they must pick up in the November election to become the majority party in the state Senate.
Democrats now hold a 11-10 advantage, but Republicans are eyeing Copening's seat and one held by District 5 Democrat Shirley Breeden. Breeden will not be a candidate for re-election because she must care for her ailing mother, but former state Sen. Joyce Woodhouse is running to replace her.
Even with a recent move by the Clark County Election Department placing thousands of voters on inactive status, Democrats still outnumber Republicans by 2,732 registered voters in District 6.
Hutchison said he is not concerned by the Democratic advantage because the "mood of the state" is toward Republicans.
"People will cross party lines, and you will pick up independents," he said.
Hutchison is the lawyer appointed by former Gov. Jim Gibbons in 2010 to join 26 other states in filing their opposition to the health care overhaul, particularly its mandate that individuals buy health care.
Republican Gibbons named Hutchison to handle the state's case after Attorney General Catherine Cortez Masto, a Democrat, refused to intervene. The U.S. Supreme Court will listen to the states' arguments in the spring. Hutchison is working for free.
The Nevada Department of Health and Human Services estimated in 2010 that the federal law would cost Nevada $575 million between 2014 and 2019 because of the expected increase of 100,000 people who would qualify for free health care through Medicaid.
Hutchison also was the lawyer who represented the Republican Party in redistricting hearings last year before District Judge James T. Russell in Carson City. Hutchison earlier served six years as a member of the state Ethics Commission, including two years as chairman.
Hutchison has not been asked, nor does he see the need, to sign a no-new tax pledge, although he opposes raising taxes.
"If people can't see my conservative credentials, leading the charge on health care, representing the Republican Party on redistricting, then I don't know what more I can do," he said.
He anticipates there will be a big state budget shortfall when the Legislature convenes in 2013 and thinks the district needs a senator with pro-growth and pro-business leanings.
The Republican agenda can do better than that of Democrats in the current economic situation, Hutchison said.
Copening said she had been aware for months that Hutchison might seek her seat.
"I am not worried about him running," she said. "He comes off as pretty conservative, as an extremist. I am not sure that is the right thing for the district."
Contact Capital Bureau Chief Ed Vogel at evogel@reviewjournal.com or 775-687-3901.