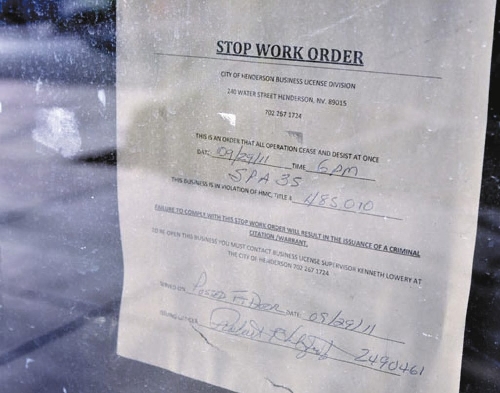 Henderson Mayor Andy Hafen heard plenty of horror stories before voting Tuesday to get tough on errant massage parlors.
But one story repeated by several residents stood out.
It seems that when they walked by one particular parlor with their children on their way to a Dairy Queen, the kids saw things they shouldn't have seen.
"It's a bad problem," Hafen said, adding that it's a problem city officials intend to fix by pulling the business licenses of violators, possibly after a single violation.
Although Tuesday's unanimous City Council vote for the ordinance was preliminary, the council is expected to give its final OK on Dec. 6.
The massage parlor prostitution problem doesn't belong only to the second- biggest city in Nevada. Las Vegas, the state's biggest city, is poised to take similar action.
Earlier Tuesday, the Las Vegas City Council's recommending committee voted to forward a measure that would set new standards for massage or "reflexology" outlets to weed out those that provide far more than a back rub.
For many people, the issue transcends illegal prostitution. They say some of the women who work in those places have been kidnapped from other countries and are forced into being sex workers.
HENDERSON'S PROBLEM
Henderson police in the past have arrested workers at questionable massage establishments for solicitation, but the owners have managed to escape accountability after claiming ignorance. The city hopes to remove what they call a loophole allowing that to happen.
A quick review on Craigslist didn't yield evidence that any of the massage businesses in Henderson blatantly advertise massages with so-called happy endings, but one of them came close.
The ad for Horizon Spa touts its Asian massage with services such as deep tissue, body scrub, and Swedish and Shiatsu massage, all legitimate techniques.
But the ad also offers free "table showers" and something called "sweet 4 hands" with prices from $50 to $55 an hour.
The ad ends with an open-ended enticement: "Want more? All you need to do is ask. No worries."
Horizon Spa is in a strip mall on Horizon Ridge Parkway at Carnegie Street. From the outside Tuesday, it looked as though it might be closed, with muted lighting casting shadows on overstuffed couches.
A sign on the door directs customers to ring the buzzer for access. An Asian woman wearing a black miniskirt, high heels and heavy makeup answered.
She said her name is Rose. She didn't ask a single question but led a reporter — who was holding a notebook and pen in his hand and wore a newspaper ID badge around his neck — to a dimly lighted room with a bed inside, not a massage table.
After a few pointed questions, she said she provides massages and nothing else.
When told that the City Council suspects that businesses such as hers often are fronts for prostitution and that employees might be victims of human trafficking, she made a quick phone call to the manager, who declined to comment.
Later, it was learned that police arrested a woman working at Horizon Spa on allegations of soliciting sex in a sting operation about two weeks ago.
TARGETING THE LOOPHOLES
About 40 massage outlets are licensed to do business in Henderson. Many of them are legitimate, said Hafen, but many others are not.
When the city's 18-month-old investigation is completed, officials hope to shut the many loopholes that are in the current codes.
"We want to make sure we do this right," Hafen said. "We knew loopholes exist."
Hafen also said legitimate massage outlets will be included in the process.
"We don't want to hurt the ones that do things the right way," he said. "Just the illicit ones."
"This is not the kind of activity we condone," said Bud Cranor, the city's communications director. He said the city's approach will encompass civil and criminal codes, business license codes, and public health and safety.
The amendment clarifies that it is unlawful to "engage in or solicit sexual activity" on site. Owners who violate it could lose their business license.
Cranor said the push to crack down on these businesses began two years ago when the city prohibited them from operating around the clock.
The city also banned such businesses from using one-way mirrors on storefronts that allowed employees to see whether police were outside, and it prohibited employees from living on site or wearing revealing clothing.
"This isn't a knee-jerk reaction to a couple of bad apples," Cranor said.
LAS VEGAS MEASURE ADVANCES
It would be more difficult in Las Vegas to use a massage parlor or reflexology clinic as a front for illegal prostitution if a proposed city ordinance goes into effect.
The City Council's recommending committee supported the measure, which could go before the council as soon as Dec. 7.
Councilman and Mayor Pro Tem Stavros Anthony, a former Metropolitan Police Department vice captain, proposed the ordinance to reduce human trafficking, which often involves illegal prostitution.
"Really the crux of this is a lot of these businesses are taking in women who have been kidnapped from other countries," Anthony said Tuesday.
Massage therapists already are licensed and regulated by state government in Nevada.
The city ordinance would require massage business operators to post therapists' licenses and rates and limit operation to 6 a.m. to 10 p.m.
It also would require health inspections as a condition of doing business in the city, require doors to rooms where massages are taking place to be unlocked, prohibit video and audio recordings in massage areas, prohibit mirrored or tinted glass in massage areas, and require a manager to be on the premises at all times.
"If they want to try to be places of prostitution, what the ordinance does is make it more difficult for them," Anthony said.
He said he got the idea from discussions with leaders of Bamboo Bridges, an anti-human trafficking organization based in Las Vegas.
"This ordinance is not just about Asian massage parlors, it is about the massage industry," said Kathleen Berquist, board secretary for Bamboo Bridges. "We believe this ordinance will help fight the problem of women being exploited."
Contact reporter Doug McMurdo at dmcmurdo@reviewjournal.com or 702-224-5512. Contact reporter Benjamin Spillman at bspillman@reviewjournal.com or 702-229-6435.