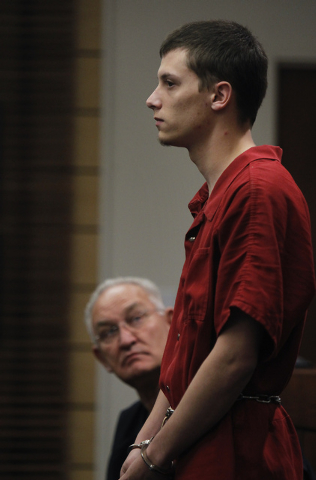 A judge set bail at $200,000 Wednesday for a Henderson man who faces a murder charge for fatally shooting a woman in the head.
Defense attorney Stephen Stein said his 22-year-old client, Colin Lowrey, did not know his semiautomatic handgun was loaded when he put it near the victim's head and pulled the trigger.
"If the facts are as I've stated, this case is at worst a voluntary manslaughter and at best an accidental death," Stein told Henderson Justice of the Peace David Gibson Sr.
Lowrey has been held without bail at the Henderson Detention Center since Oct. 22. That morning, he called 911 to say a gun had accidentally fired in his house and struck a woman in the head.
The woman, 23-year-old Cherish Pincombe, was shot in the 700 block of Taliput Palm Place, near Gibson and Sunset roads. She was taken to Sunrise Hospital and Medical Center, where she died a short time later.
Lowrey told police he left his gun unloaded on a desk and then went to the bathroom. When he returned, Pincombe asked him to point the gun at her head, Lowrey said.
According to a Henderson police report, Lowrey "believes that Pincombe retrieved the magazine and inserted it into the gun while he was in the bathroom."
Stein had asked Gibson to release the defendant on his own recognizance, but the judge told Stein to put his motion in writing. The lawyer said he will file a motion to reduce bail before the next hearing on Nov. 6.
Lowrey's parents and other relatives attended the court hearing Wednesday.
"They can't post $200,000," Stein said.
The lawyer described Lowrey as an Eldorado High School graduate and an active member of the Army Reserves.
Contact reporter Carri Geer Thevenot at cgeer@reviewjournal.com or 702-384-8710. Follow @CarriGeer on Twitter.