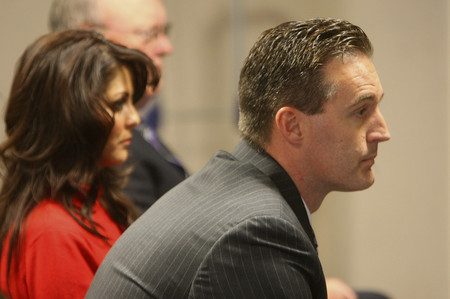 Las Vegas chiropractor Stephen Shaw, who shoved a man to his death in 2005, cannot avoid paying civil damages to the victim's widow by declaring bankruptcy.
U.S. Bankruptcy Judge Linda Riegle made that ruling last week.
She also lifted the stay that was automatically placed on the civil case when Shaw filed for bankruptcy.
Lawrence Weiss, 60, died of head injuries in March 2005 after Shaw, then 36, shoved him during a confrontation at a Las Vegas carwash.
Shaw pleaded guilty in March 2007 to involuntary manslaughter and received five years' probation.
After a civil trial in February, a District Court jury found Shaw liable for the death and awarded nearly $2.5 million to Weiss' widow, Sheryl.
Before the jury could determine punitive damages, Shaw filed for bankruptcy, halting the proceedings.
Attorney Richard McKnight then filed a motion on behalf of Sheryl Weiss in U.S. Bankruptcy Court to allow the punitive damages phase of the trial to go forward.
"The parties need only return to District Court for a hearing on the punitive damage claim (hopefully before the same jury that decided the case) after discovery of Mr. Shaw's assets," McKnight wrote.
According to the motion, Shaw's wife, Raquel, was named a defendant in the civil case, but the parties "agreed to her dismissal upon payment of $100,000 to plaintiffs."
That amount was to be paid by an insurance company.
The 2005 confrontation was triggered by an argument between Raquel Shaw and Lawrence Weiss, who believed the woman had cut him off as they drove into the Fabulous Freddy's carwash at Fort Apache Road and Charleston Boulevard. Raquel Shaw called her husband, who rushed to the scene.
Stephen and Raquel Shaw filed for Chapter 13 bankruptcy protection on March 20.
The punitive damages phase of the civil trial was scheduled to begin March 30 before District Judge Michael Villani.
As of Friday, no new hearings had been scheduled in the District Court case.
Wondering how a local story turned out or what happened to someone in the news? Call the City Desk at 383-0264, and we will try to answer your question in this column.