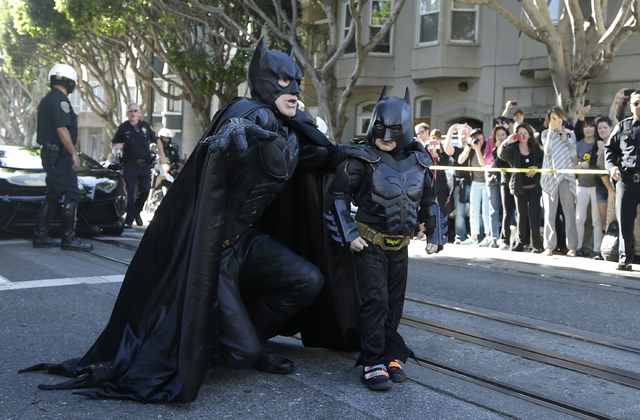 San Francisco became Gotham City for a day last week when 5-year-old Miles Scott fulfilled his wish of fighting crime as the 'Batkid.'
One week later, Scott is back at home with his family. When asked what his favorite part of the big day was, he told CNN and various affiliates that it was "saving the world."
While Scott said, 'I don't have any superpowers," he certainly had the power to draw the interest of people in San Francisco and around the world.
Scott's day as Batkid was set up by the Make-a-Wish Foundation and the City of San Francisco. ABC News reported that more than 20,000 people showed up in San Francisco, and social media users who used a #Batkid or #SFBatkid hastag reached 1.7 million people.
Donations to Make-A-Wish spiked following Scott's wish and the organization claimed their web traffic increased as well.
"It really makes a difference in a child's life, whether they're getting over their illness, in the midst of treatment or at the beginning of their journey," Make-a-Wish communications manager Josh deBerge said to ABC News.
Batman actors like Michael Keaton, Christian Bale and Ben Affleck all complimented the Batkid.
"I don't think it's really even set in for me yet – the scope of how big it got," Nick Scott, Miles' father, said to CNN.
It is estimated that the whole day cost about $105 thousand, NewsFix reported. To help give back, Scott's family has started the Batkid Fund, which will be split between Make-a-Wish, the Ronald McDonald House and the Asante Rogue Medical Center in Oregon, ABC News said.