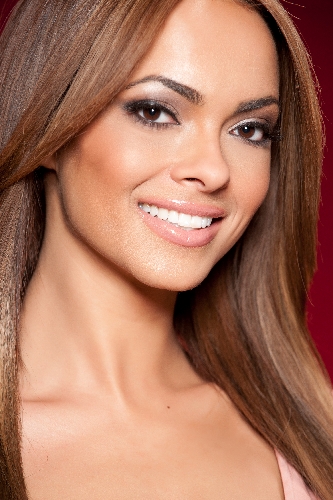 Reigning Miss Nevada USA Jade Kelsall's crown could be in jeopardy over a raunchy photograph posted on her Facebook page.
The photo, posted Thursday, shows a young woman at a bar embracing porn legend Ron Jeremy and simulating an oral sex act.
Two sources who saw the photo identified the woman in the photo as Kelsall, who finished third runner-up in Donald Trump's Miss USA contest in June at Planet Hollywood Resort.
Attempts to reach Kelsall and Shanna Moakler, the new executive director of Miss Nevada USA , by deadline were unsuccessful.
According to their Twitter feeds, they were in Los Angeles, where Kelsall was competing in an audition in a "MasterChef" Season 4 show featuring chef Gordon Ramsay.
It's the latest sexually charged scandal involving a Miss USA contestant.
In December 2006, Miss Nevada USA Katie Rees was dethroned after photos surfaced of her simulating sexual acts with girls in a Florida nightclub.
Shortly before Rees was banished, Trump sent reigning Miss USA Tara Conner to rehab after a sex and underage drinking scandal.
That went public when reports had Conner, then 20, kissing 18-year-old Miss Teen USA Katie Blair of Montana in public and failing a drug test for cocaine.
Trump gave Conner a second chance and allowed her to resume her Miss USA duties.
Kelsall, who moved to Las Vegas from New Jersey about three years ago, worked as a cocktail server at Privé in Planet Hollywood Resort and XS at Wynn Encore before she was discovered at Aria at CityCenter by 2011 Miss Nevada USA Sarah Chapman.
In 2008, risque photos went public after 2007 Miss Washington Elyse Umemoto finished runner-up in the Miss America contest at Planet Hollywood Resort.
Umemoto's photos, like Kelsall's, also included suggestive oral sex hand signals.
But the Miss Washington scholarship organization decided not to strip her of the title, saying the photos didn't depict illegal behavior or cross a line that cannot be uncrossed.
UPON FURTHER REVIEW …
A halftime promotion at the UNLV-New Mexico football game Saturday backfired , causing an uproar among the homecoming crowd.
At stake was a free buffet pass from the South Point for the entire stadium – the final crowd number was 12,835 – if the contestant made a 20-yard field goal at Sam Boyd Stadium.
KLUC deejay Chet Buchanan, who was serving as the on-field emcee, signaled the kick good, setting off a celebration.
But it was announced at the start of the third quarter that the kick had missed. Ouch.
"We should have done a better job of having it communicated better on the field to (Buchanan)," said D.J. Allen, senior associate athletics director at UNLV who oversees the department's communications.
"The change of end zones due to halftime homecoming events impacted this, obviously," Allen said.
CLOSE CALL
About 10 MGM Resorts International employees, including Gordon Absher, vice president of public affairs, rode out Superstorm Sandy in Maryland, near Washington, D.C.
Fortunately they missed the brunt of the storm.
"We had strong winds and a lot of rain, but we certainly were not in the same situation as the poor folks in New Jersey," Absher said.
They didn't lose power but, just in case, Absher said he stocked up on beer and granola bars.
They've been staying on the shores of the Chesapeake , trying to drum up support for a referendum to expand gaming in Maryland.
SIGHTINGS
At Barbra Streisand's concert Friday night: actor Morgan Freeman, Donny and Marie Osmond and Rob Lowe. Teller of Rio headliners Penn & Teller tweeted after the show: "Tonight I watched Johnny Thompson mystify Barbra Streisand in Vegas with a card trick created in 19th Century Vienna by Johann Hofzinser." … David Hasselhoff, with girlfriend Hayley Roberts, in the DJ booth with Afrojack on Friday at Surrender Nightclub in Encore.
THE PUNCH LINE
"Anyone standing in line for an iPad mini in New York or New Jersey this week should be punched, all right? If you have that kind of time, volunteer for something." – Jimmy Kimmel, who was taping his show in Brooklyn last week in the aftermath of Superstorm Sandy
Norm Clarke can be reached at 702-383-0244 or norm@reviewjournal.com. Find additional sightings and more online at www.normclarke.com. Follow Norm on Twitter @Norm_Clarke.