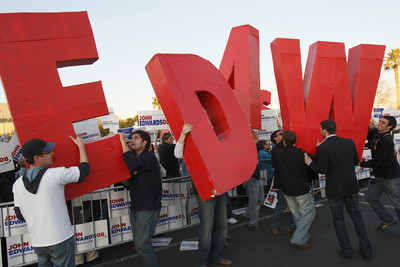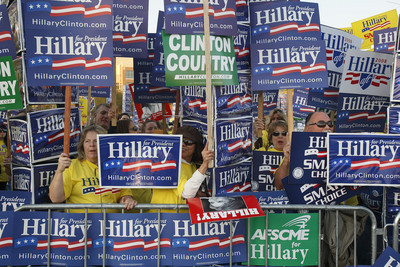 With her 4-year-old son tugging at her arm and sticking rocks in his mouth, Danielle Vyas stood on the sidewalk in front of Cashman Center on Tuesday and did her bit for democracy.
It would have been easier to leave her three boys with a sitter, but Vyas said she brought the two oldest — Sanjay the rock eater and 6-year-old Raj — to give them an early taste of politics.
"Cynicism will be the death of the American experiment. It will be the death of it. That's why we're here," she said.
Vyas was one of about two dozen Dennis Kucinich supporters who gathered along Las Vegas Boulevard three hours before the Democratic debate. They waved to passing motorists as they awaited word of whether their candidate would be allowed to participate.
Meanwhile, in the lower parking lot at Cashman Center, throngs of supporters in matching T-shirts cheered and carried signs for their respective candidates and causes.
The Barack Obama area was packed with purple-clad members of the Service Employees International Union, which endorsed the senator from Illinois last week.
University Medical Center nurse Martin Gallacher, who serves on SEIU's executive board in Nevada, said he sees Obama as a much-needed alternative to all the "middle-aged white guys leading us into war after war after war."
In John Edwards' camp, supporters jumped and sang like British soccer fans in front of giant cardboard letters spelling out the candidate's last name.
Patrick Layden was the guy holding the "S" as tall as he is. The campaign staffer from upstate New York has been working for Edwards in Nevada since June.
"He's made it clear that he's the candidate that's going to be fighting for … change," Layden said.
Pittsburgh steelworker Keli Vereb is using her vacation days to campaign for Edwards. Last month, it was seven days in Iowa. This month, it's 10 days in Southern Nevada leading up to Saturday's caucus.
"I couldn't wait to come someplace and put on sandals," she said.
Two hours before the debate's 6 p.m. start time, a group of Clinton volunteers in day-glow yellow T-shirts huddled in the upper parking lot of Cashman Center to go over the chants they would use.
When the time came, they marched down the hill in unison to pound on plastic buckets and chant "HRC" alongside the rest of "Clinton Country."
Among the loudest was Clara, a precinct captain who declined to give her last name.
Asked why she was supporting Clinton, the lifelong Las Vegas resident shouted her answer at motorists stuck in debate traffic along Washington Avenue. "She's the best! She's going to clean up this mess! She's going to bring the troops home!"
From their positions along the street, Clara and company got to see a parade of local leaders and celebrities drive past on their way to the debate.
Rep. Shelley Berkley drove by in a Cadillac with a specialty plate that read "U.S. Congresswoman 1."
Tennis star Andre Agassi and his tennis star wife, Steffi Graf, smiled to the crowd as they rolled slowly past.
A few of the celebrities mingled with the crowd, including "Desperate Housewives" heartthrob James Denton and big screen star Madeleine Stowe.
They were spotted with Edwards supporters shortly before the candidate arrived to shake hands on his way inside Cashman Center.
Other, less famous audience members, many of them dressed up for the occasion, began lining up in front of the building at about 3 p.m. Half an hour later, they filed inside through a row of metal detectors.
That left the sign-waving campaigns to fight it out in the parking lot, where not all the political speech had to do with the candidates.
Outside the barricades set up for those backing the three frontrunners, a line of men marched to and fro with professionally made signs for "clean coal" strapped to their backs.
A group of global warming protestors marched along with them, heckling them mercilessly.
"There's no such thing as clean coal. It's an oxymoron," one man shouted.
Behind him, the campaigns tried to drown each other out with a series of scripted chants that grew louder with the approach of television cameras.
About 15 minutes before the debate got under way, the crowds and the noise outside the hall started to subside. By 6 p.m., the once-crowded parking lot was nearly empty, and Kucinich had been left out in the cold.
Vyas was not amused.
"The whole electability thing really aggravates me," she said, referring to one of the most common knocks against her candidate. "We determine who's elected — not the pundits, not MSNBC — and we need to start getting involved."
Contact reporter Henry Brean at hbrean@reviewjournal.com or (702) 383-0350.
Related slideshow