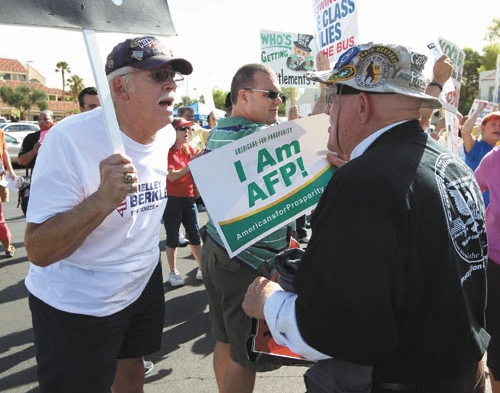 In a Thursday morning clash, vociferous backers of U.S. Rep. Shelley Berkley shouted down conservatives launching a bus tour across Nevada to criticize the Senate candidate as "a rubber stamp for failure" because she backs President Barack Obama's policies, from the stimulus to the health care law.
Berkley supporters arrived at 8 a.m. outside the Democrat's congressional office in Las Vegas even before Americans for Prosperity members pulled up in their 40-foot motor home with a picture of the congress­woman on its side.
"Shelley fights for us! Shelley fights for us!" shouted the sign-waving protesters, who kept up the chants for more than an hour until police made the bus move at about 9:20 a.m. because it didn't have proper permits.
More than 50 conservatives, including members of the tea party movement, marched in front of the black motor home, holding up AFP signs to support the bus tour and U.S. Sen. Dean Heller, R-Nev., in the Senate race. They were outnumbered 3-to-1 by about 150 Democratic activists who staged the counterprotest.
With police on hand watching over the demonstration, there were no physical confrontations that turned nasty, although some protesters from both sides got face to face and exchanged harsh words.
"I was cussed at and a man spit on me," said Cathie Lynn Profant, a Las Vegas tea party leader who came with about 20 activists from her group to support the bus. "I don't know why they have to be so rude."
Laura Martin, a progressive activist who was part of the pro-Berkley camp, criticized the funding behind Americans for Prosperity, which is backed by the billionaire brothers Charles and David Koch. Martin also argued that many Nevadans support Berkley on the issues, including those advertised on the black-painted motor home.
"Everything they have on the bus is why we support Shelley Berkley and President Obama," said Martin, who dismissed the conservative road show as a "'statewide hate bus tour."
The anti-Berkley motor home planned to hit seven Nevada cities in 10 days, according to the conservative group, including a stop in Reno next Monday and Tuesday when Obama and GOP presidential candidate Mitt Romney will be in town to address the Veterans of Foreign Wars annual convention.
Former GOP presidential candidate Herman Cain plans to help open a Reno office for the group as well. Other stops include Yerington, Minden, Winnemucca, Elko and Ely in GOP-leaning rural Nevada.
Adam Stryker, state director of Americans for Prosperity, said the conservative organization has 40,000 members statewide who are working "to educate Nevadans about the issues." He said that compares to 18,000 in 2010 when the conservative movement made GOP gains in the House but failed to defeat U.S. Sen. Harry Reid, D-Nev.
Stryker said he knew the bus would draw counterprotests and he welcomed the debate.
"This is why we went right into the lion's den to kick off our bus tour," Stryker said from inside the motor home. "Our activists appreciate the civil discourse. We're doing this for the state of Nevada."
Stryker said the goal of the bus tour is to demonstrate how Berkley has been a "rubber stamp" for Obama policies that GOP critics argue haven't worked, from health care and the $787 billion stimulus to Frank-Dodd legislation that was supposed to reform the way Wall Street does business and protect consumers.
Nevadans can sign the bus, said Stryker, who hopes to get 1,000 signatures during the tour.
Zac Petkanas, a top Democratic operative in Nevada, said he's not surprised the Koch brothers are trying to help Heller because, he said, the Republican has been friendly to Wall Street and big oil interests.
"That's why the Koch brothers are all in for Dean Heller and that's what you're seeing," Petkanas said, gesturing toward the bus in Berkley's parking lot. "We don't need a bus. We have the people."
One of the protesters' signs summed up that argument: "NV is not for sale Koch Bros."
A couple of hours before the bus tour launch, the Nevada Democratic Party filed a complaint against Americans for Prosperity with the secretary of state's office for not registering with the state.
The Democrats said AFP sent out mail pieces advocating against Assemblyman Kelvin Atkinson, a Democrat, during his successful primary race for state Senate District 4. The complaint says that advocacy violated election law.
"AFP is not a registered committee for political action under Nevada law, nor does it appear to be a nonprofit corporation registered for the purposes of engaging in campaign advocacy," the Democrats said. "Nevada law clearly requires organizations to have registered properly with the secretary of state's office prior to engaging in the solicitation or receipt of contributions or the making of expenditures in connection with elections."
The Nevada Democrats also complained that AFP failed to file a financial disclosure report listing contributions and expenses as required by Nevada election law.
In response, Stryker said AFP is not a political action committee but legally advocates on issues.
"The Democratic hit machine needs to get off of their talking points memo handed down by the DNC (Democratic National Committee) and realize that there are serious issues affecting Nevadans like record unemployment, record debt and foreclosures," Stryker said. "Unfortunately, their reckless policies are what has created this disaster and they can only hope to discredit others by filing false and malicious complaints aimed at distracting the American people."
The AFP bus tour is the latest evidence of how Nevada is a key battleground in the 2012 elections.
The presidential and Senate races promise to be whisker close in Nevada, which could decide who wins the White House and whether Democrats and Reid maintain control of the U.S. Senate.
A new Nevada poll shows Obama leading Romney among registered voters, 50 percent to 46 percent.
The survey also showed Heller edging out Berkley 45 percent to 42 percent.
The new poll was commissioned by AFP and was conducted by Magellan Strategies, a GOP polling outfit. Using land lines and cellphones, the poll was taken on Monday and Tuesday of 665 registered voters who said they're likely to cast ballots. The poll had a margin of error of plus or minus 3.8 percentage points.
The survey found that Obama is slightly more popular than Romney – 50 percent had a favorable opinion of Obama compared with 47 percent unfavorable. Romney's favorable/unfavorable ratings were 47/46 percent.
Heller was far more popular than Berkley, according to the survey. Berkley's favorable/unfavorable ratings were 37/45 percent. Heller's favorable/unfavorable ratings were 48/30 percent.
While few Nevada voters were un­decided in the presidential race – only 4 percent – many residents remain undecided on whether to vote for Heller or Berkley. Some 13 percent of those polled said they hadn't made up their minds in the Senate race with more than three months left before Election Day on Nov. 6.
Those surveyed reflected Nevada's electorate with 16 percent identifying themselves as Hispanic, which roughly matches the 2010 and 2008 Latino turnout. Forty-two percent were Democrats, 36 percent Republican and 22 percent independent, which tracks with the Nevada electorate.
Contact reporter Laura Myers at lmyers@reviewjournal.
com or 702-387-2919. Follow @lmyerslvrj on Twitter.