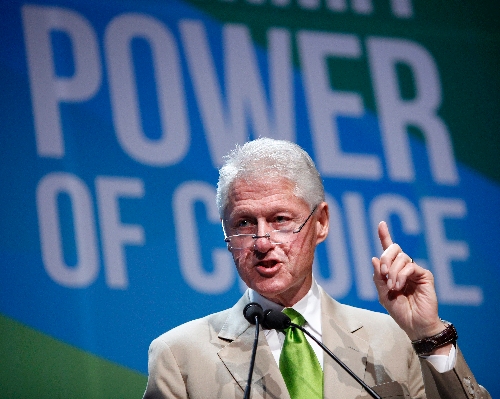 Former President Bill Clinton on Tuesday will campaign in Las Vegas for President Barack Obama, speaking at a grass-roots rally at the Springs Preserve, the Obama campaign announced Friday.
Doors open at 2:30 p.m. for the event. It is open to the public, but tickets are required.
The tickets are free and will be distributed on a first-come, first-served basis at five Obama campaign offices. Tickets can be picked up today from noon to
7 p.m. and Sunday 2 to 7 p.m. at these Las Vegas locations:
■ 8010 W. Sahara Ave., Suite 235.
■ 5061 N. Rainbow Blvd., Suite No. 150.
■ 860 S. Rancho Drive, Suite 7.
■ 3230 E. Charleston Blvd., Suite 111.
■ 1350 E. Flamingo Road, Suite 20.
Clinton's visit comes a week after the first presidential debate between Obama and GOP presidential nominee Mitt Romney, a face-off most observers said the incumbent lost to the sharper challenger.
The former president has proved to be a strong advocate for Obama on the campaign trail, arguing that voters should give him another four years to complete the economic recovery that began under his leadership.
Romney has argued the recovery would be faster with him in charge.
Obama has been edging out Romney in recent polls in Nevada, one of a dozen battleground states that could determine who wins the Nov. 6 election. Early voting starts Oct. 20 in the Silver State.
Online voter registration will end at
7:59 p.m. today , not 11:59 p.m. as originally advertised by Secretary of State Ross Miller. Miller said the change is because of maintenance on the Department of Motor Vehicles computer system. On Friday, Miller apologized for the error in setting the deadline.
"We clearly made a planning mistake, and I take full responsibility," Miller said via Twitter.
Nevadans can still register to vote in person through Oct. 16 at county clerk or registrar of voters offices.
Contact Laura Myers at lmyers@reviewjournal.com or 702-387-2919. Follow @lmyerslvrj on Twitter.