Boaters finding mussels big pain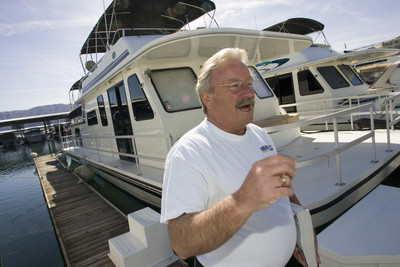 Quagga mussels are clinging to thousands of boats berthed in Lake Mead's marinas, stirring concern among recreational boaters that they will continue to coat hulls, clog cooling water intakes and cause engines to overheat unless preventive measures are taken.
The problem with the invasive mollusks has magnified since they were discovered a year ago in the lake's Boulder Basin and later downstream from Hoover Dam in lakes Mohave and Havasu. Lake Mead alone has more than 2,000 marina slips.
Scientists say warmer water temperatures and the calcium content of the Southwest's lakes has caused quaggas, a zebra-type mussel, to reproduce three times faster than in the Great Lakes region. That's where they turned up in the mid-1980s after hitchhiking in the ballast water of foreign ships.
Wen Baldwin, director of the Lake Mead Boat Owners Association, was first to identify quaggas that were found in the lake by a diver in January 2007.
"I made the comment then, 'If you think there are mussels out here now, give it a year.' I would have been very happy to have been wrong," Baldwin said Friday. "These things are very prolific."
At Lake Mead's Callville Bay Marina, boat broker Brent Thompson is exploring ways to cope with quagga mussels. Routine maintenance costs to remove them from vessels can be thousands of dollars, depending on the boat's size.
Owners of boats that are less than 32 feet long can deal with mussels by periodically pulling them out for cleaning at Callville's high-pressure, hot-wash station.
Mobile cleaning services are also available at the other three marinas on Lake Mead and three on Lake Mohave.
But Thompson, who owns a 50-foot cabin yacht, said it's not practical for him to haul his boat out, pay $600 and have it decontaminated "two or three times a year."
"I'm trying to save my own shirt and do my boating here and not destroy my boat."
Without regular maintenance to brush away the fingernail-size mussels, colonies can build up on the hull and in the cooling water intake of outdrives. Thompson said he fears that this summer skippers who haven't done the maintenance will fall victim to serious safety problems caused by drag on the boat and lack of cooling water.
"They will go up the lake, overheat, melt hoses and that results in fires," he said last week, sitting in the cabin of the vessel, Sand Castle.
Baldwin agrees and points to another potentially dangerous situation: A boat goes adrift in the wind after a cooling intake, plugged by quaggas, causes the engine to overheat.
In a September letter to Thompson, Baldwin described the scenario that would complicate matters for National Park Service staff and other responders.
"Depending on the wind, this could have been a very dangerous situation. It would also have taken resources away from their already busy schedules to go out and tow the boat to shore."
While walking on the dock among the marina's slips last week, Thompson said, "Every boat that's floating here is affected. … It's another maintenance issue. I don't want to scare people away from boating."
Randy Roundtree, general manager at Callville Bay Marina, said he is "a little surprised" at how fast quaggas have spread throughout the lake.
"We're dealing with it. Everybody's going to have to keep an eye on their boats and take them out and clean them," he said Friday.
Thompson has offered a potential solution to the National Park Service that entails having an easily accessible slip for larger boats that can surround them in the water with a thick plastic slip liner. Once in position, a diver can then brush off the mussels and collect them in bags for disposal, all without having to pull the boat out of the water and transport it to a wash station.
He said the cost of a slip liner for a 65-footer would be about $6,500.
Another way of coping with the mussel problem is to invest in a hoist that lifts the boat out of the water at the slip, where it can be stored out of the water and easily lowered back down.
Erik Steensen, manager of HydroHoist Southwest in Boulder City, said the largest boat lift his company has installed at a Lake Mead marina can accommodate a 42-foot, 40,000-pound boat. The price was $40,000. A hoist for a smaller, 30-foot, 10,000-pound boat runs about $11,000.
Bottom paint that contains metals toxic to mussels is also effective. But Baldwin said expensive bottom paint doesn't cure the problem with mussels clogging engine cooling intakes.
In addition, he said, a boat that is pulled up on a beach can develop scratches in bottom paint, opening spots for mussels to colonize. Then, when they fall off or are scraped off, the toxic bottom paint goes with them back into the lake.
A chlorine solution is also effective for killing quaggas, but with that comes other environmental problems with water contamination that could violate state and federal laws.
"Bleach does clean them out, but boat manufacturers said bleach can damage engines and void out the warranty," said Roxanne Dey, a National Park Service spokeswoman.
She said the park service staff at Lake Mead National Recreation Area has fielded numerous inquiries regarding quagga removal and cleaning them off boats in the water.
Whatever technology is approved for the lake would have to be permitted by Nevada and Arizona environmental officials.
"We would have to have clear evidence that whatever technology is brought forth" must have its effectiveness demonstrated, Dey said.
"We don't feel like taxpayers should have to pay for that service. You need to do your own homework," she said.
The park's main concerns are environmental.
"What else is getting in the water? Paint? Fiberglass? Oil? What is getting scraped off?" Dey asked.
For example, engines would have to be flushed out in a way that's environmentally sound.
"The idea of divers in the water around busy boat harbors is a concern itself," Dey said.
"Until basic concerns are addressed, we're not considering any proposal that's been given to us. We're not going to do one thing that gets rid of quaggas on the hull that creates another problem environmentally."
Contact reporter Keith Rogers at krogers @reviewjournal.com or (702) 383-0308.