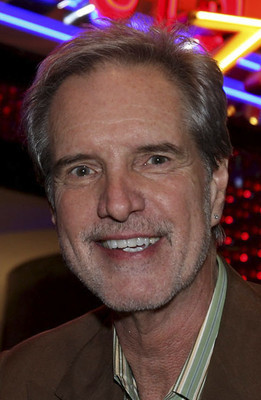 Bob Gaudio, the songwriting force behind Frankie Valli and The Four Seasons, brought a special chunk of history to town for the opening of "Jersey Boys" on Friday.
Of all the autographs signed by Frank Sinatra, Gaudio may have the grand- daddy of 'em all.
He got 'ol Blue Eyes' signature in 1969, when Gaudio, one of the original members of The Four Seasons, was producing Sinatra's "Watertown" album.
One day while they were chatting in the Waldorf Astoria hotel in New York City, Gaudio invited Sinatra to a pool party at Gaudio's home.
When Sinatra accepted the invitation, Gaudio had a major crisis on his hands. "I didn't have a pool," he said.
With a week to make it happen, Gaudio organized a group of friends and frantically started the pool project.
When Sinatra showed up, there was a pool, but there was also a torrential downpour that caused the sod to seep into the pool, creating a muddy mess.
But Sinatra was a good sport about it and signed his name in the cement, adding a smiley face.
"It might be the first-ever smiley face," Gaudio said.
Years later, Gaudio had the 110-pound cement chunk dug up and put away for posterity.
It's on display in the "Jersey Boys" gift shop, with other memorabilia from The Four Seasons' heyday.
His songwriting produced such hits as "Sherry," "Big Girls Don't Cry," "Walk Like a Man," "Rag Doll" and "Can't Take My Eyes Off You."
BLOGGER FEUD
Local writer/podcaster Steve Friess is accusing celebrity blogger Perez Hilton of plagiarism involving Tina Turner's tour announcement last Saturday.
Friess attended Oprah Winfrey's taping at the Colosseum at Caesars Palace and posted this snippet on VegasHappensHere.com: "Tina's going on tour having been prodded, she said, by Sophia Loren to stop lolling about her Swiss home and go back to work."
A short time later, a post on PerezHilton.com read as follows: "The 68-year-old legend says that Sophia Loren told her to stop 'lolling about her Swiss home and get back to work.' "
When Friess called that plagiarism, Perez Hilton countered with an e-mail saying, "A reader sent me that item as their own."
He admonished Friess for bringing the plagiarism issue to the attention of the Los Angeles Times, calling it "desperate and pathetic."
Friess responded that "it is neither pathetic nor desperate to seek proper credit for one's work."
THE SCENE AND HEARD
The four finalists from "American Idol" are taking in "Love" (The Mirage) on Saturday. They will appear in front of The Mirage at 2 p.m. and be on the red carpet at 4 p.m. in the "Love" lobby. … Sen. Harry Reid's book "The Good Fight" goes on sale today.
SIGHTINGS
Avril Lavigne, at a Palms roulette wheel at 3 a.m. Wednesday with three gals and two bodyguards. All four women went into the bathroom for more than 10 minutes and then came out and headed directly to the roulette tables. Lavigne was dancing on the cement tables at Tabú Ultra Lounge (MGM Grand) on Monday night and partied at Privé Las Vegas (Planet Hollywood Resort). Also in the house: rapper Too Short, who was celebrating his 42nd birthday. Hip-hop star Pitbull performed three songs. … Dhani Harrison, son of the Beatles' George Harrison and his wife, Olivia, at a bachelor party at "Love" (Mirage) on Monday. In another group: Damon Wayans. … Members of the music group Boys Like Girls at Moon nightclub (Palms) on Monday.
THE PUNCH LINE
"Today, John McCain campaigned across the state of Florida. McCain likes campaigning in Florida because everyone there calls him 'the kid.' " — Conan O'Brien
Norm Clarke can be reached at (702) 383-0244 or norm@reviewjournal.com. Find additional sightings and more online at www.normclarke.com.