February 7, 1999 - 12:02 am
Updated September 12, 1999 - 1:00 am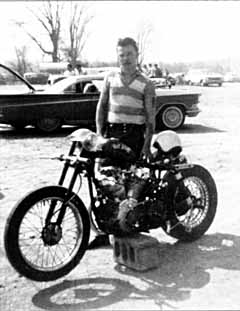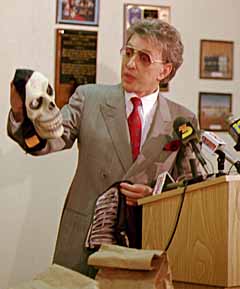 Leave it to Bob Stupak, perhaps the greatest huckster in Las Vegas history, to defy the odds.
Here is a man who took the worst piece of real estate on Las Vegas Boulevard, a site fit only for a car lot, and, against conventional wisdom, developed a successful casino there. As gaudy as it was, Bob Stupak's Vegas World was a big-time moneymaker.
Here is a man who, on March 31, 1995, crashed his Harley Davidson motorcycle going more than 60 mph, breaking every bone in his face. Emergency room physicians were sure he would not live. Even if he did, he'd remain in a vegetative state for the rest of his days. He emerged from his coma and over the following months struggled to regain his health.
Finally, here is a man who constructed his dream project — the Stratosphere Tower — and at last won over his many critics. For the first time in his life, it seemed that everyone agreed Bob Stupak had a winner in the 1,049-foot tower with the rooftop roller-coaster and the NASAlike rocket ride. A sure winner, indeed.
So, naturally, it went bankrupt.
On the way down, Stupak lost more than $100 million in stock value. He lost the trust of hundreds of investors.
Somehow, he managed to maintain his sense of humor. It would serve him well throughout his rocky travels.
Bob Stupak was born April 6, 1942, in Pittsburgh to Florence and Chester Stupak. Chester was the reigning king of the South Side gambling rackets at a time the mob muscled the action and for a relatively few bucks most of the cops and politicians looked the other way. From the time he was in knee pants, Bob began to appreciate the importance of making friends and influencing people.
When he wasn't hustling a buck or hanging out on the street corner, taking in movies or getting kicked out of school, Bob Stupak watched his father's every move. Little Chester Stupak remained a big man on the streets of the South Side from just after World War II to the early 1980s. His dice games were so open that every cop in the precinct knew the names of every player.
After leaving school, Bob Stupak pursued several interests simultaneously. He roped gamblers and ran his own illegal card games, bought and sold watches, raced motorcycles and nearly killed himself, became a nightclub singer and cut several singles while under a brief recording contract as "Bobby Star." He served in the National Guard, and started a thriving business selling two-for-one coupon books.
"I never had a steady job," Stupak once said. "All the jobs I had were self-inflicted."
The coupon books took him all the way to Australia, where he developed a lucrative telemarketing operation. With his own cash and dollars raised from his father's friends, Stupak acquired a homely 1.5-acre parcel north of Sahara Avenue at Las Vegas Boulevard South that once was home to a car lot. What rose in its place and opened on March 31, 1974, was a small slot joint absurdly named Bob Stupak's World Famous Historic Gambling Museum.
"The name was about 10 feet longer than the casino," Stupak recalled years later.
On May 21, an air conditioner caught fire and burned the joint down. Arson was suspected, but the insurance company eventually settled the claim.
By then, Stupak was on his way to creating Vegas World, a testament to Stupak's persistence in the financial marketplace. By the late 1970s, Las Vegas casino culture had become populated with college graduates and experienced hoteliers who dressed more like bankers than pit bosses. With his wild sport coats and nonstop patter, Stupak was a brother from another planet. Yet he managed to persuade Valley Bank legends Ken Sullivan and E. Parry Thomas to part with more than $1 million to get Vegas World, a 20-story tower, off the ground.
It opened on a Friday the 13th, 1979. Stupak not only suffered from a mediocre location and a scrawny bankroll — he was neither downtown nor on the Strip, and the cost of construction had eaten up all his reserve funds — but the only thing his club offered the curious was his unique personality and gift of promotion. His motto was plastered across the building: "The Sky's the Limit."
"Don't come to the big place with the small bankroll," Stupak was fond of saying, as he echoed Horseshoe patriarch Benny Binion. "Come to the small place with the big bankroll."
For the next decade, that would be enough. Stupak developed quirky and interesting angles on traditional games such as blackjack and craps. Double Exposure 21 and Experto became well-known to avid players and card counters. There were Crapless Craps and Polish Roulette.
He accepted high-limit wagers at the tables and in his sports book, where he sometimes recklessly shifted the odds in order to generate action.
His coupon promotions, which would return to haunt him and generate big fines and reprimands from Nevada gaming regulators and the Missouri attorney general's office, would bring tens of thousands of customers to town for Bob Stupak's Vegas World Vacation.
Stupak constantly promoted himself. He appeared in many movies and TV series and once starred in a 1987 episode of "Crime Story."
He also used politics as a promotional tool. He ran for mayor in 1987, surviving the primary with 33 percent of the vote, but losing in the general to incumbent Ron Lurie. His next big political push was in 1991, running his daughter, Nicole Stupak, for City Council against Frank Hawkins. Despite plenty of dirty tricks and thousands of dollars spent, Hawkins pulled out the victory. Stupak also financed much of the 1999 campaign by his son, Nevada, to unseat incumbent Councilman Gary Reese in Ward 3. Reese won by a handful of votes.
Many of his wagers appear to have been made as much for promotional reasons as for profit. He played no-limit poker for $500,000 against the ORAC computer on a national television program, made a $1 million bet on Super Bowl XXIII and made regular appearances at the World Series of Poker. The fact he won many of his bets was overshadowed by the advertising Vegas World and its owner received.
At its peak, Bob Stupak's Vegas World generated more than $100 million in annual gambling revenues. Ever the gambler, in the late 1980s Stupak began devising a way to make an even bigger mark in Las Vegas.
All he had to do was risk everything he owned.
The idea for the Stratosphere Tower began after a heavy windstorm blew down the sign in front of Vegas World. With hyperbole running through his veins, Stupak determined that the best way to attract attention for his casino was to erect the world's tallest sign. A trip to Australia to see his daughter, Nicole, found him within sight of the Sydney Tower, and he became intrigued.
Upon returning to Las Vegas, Stupak began researching observation towers and found that, throughout history, they not only had redefined the skyline but also attracted a crowd.
But they weren't cheap.
Stupak began building his dream project out of the cash flow at Vegas World, all the while attempting to round up investors and stage a initial public offering of stock in the Stratosphere Corp.
But getting a skeptical public to trust the same Bob Stupak who gave it Vegas World, who gave the voters fits with his outrageous campaigns, and who gave the Gaming Control Board headaches with his complaint-generating two-for-one coupon vacations, wouldn't be easy.
By late August 1993, the tower was a stumpy but not unsubstantial 510 feet high. The offering was similarly situated. With a deadline looming, there were still millions to raise.
A fire on Aug. 29 ruined Stupak's chances for a late rally. Although no structural damage was reported, few are the people willing to invest in a project that had already been labeled a "towering inferno" in the press.
At the time of the fire, Stupak was in Minnesota attempting to carve out a partnership in the project with Lyle Berman of Grand Casinos Inc. Berman was on the hottest roll in all of the casino industry, and when he agreed to take on the project it meant two things: First, Stupak would finally see his dream tower completed; second, that he would no longer be in charge of the deal. He would become just an investor, albeit a major one.
And that's the way it went until the night of March 31, 1995, when Bob Stupak and his son, Nevada, were involved in a devastating motorcycle accident on Rancho Drive.
"It was the worst-looking thing you've ever seen," Stupak's longtime friend Eddie Baranski said. "There was no way he could live. His head was swollen to the size of a basketball."
Added Stupak's companion, singer Phyllis McGuire, "I don't know how anyone could have survived. Every bone in his face was fragmented. It was worse than anything you could see in a horror movie."
But with daily assistance from doctors and McGuire, Stupak recovered and continued his rehabilitation as Stratosphere moved toward completion.
Its costs had skyrocketed. Its debts were mounting.
Although Stupak faced potential fines totaling $2.9 million for gaming violations linked to his vacation programs, the regulatory matters were resolved with a much smaller fine.
By the time he was back on the street, Stupak began selling stock and cutting checks to charity. The huckster was clearly grateful to be alive.
Then, reality began to set in.
When the Stratosphere opened at the end of April, it was touted as a $550 million project, the third most expensive hotel/casino in the history of Las Vegas.
It attracted big crowds of tourists. Problem was, not enough of them paused to gamble or dine or shop. Stratosphere's stock price dropped from $17 a share to a few bucks in a matter of weeks.
It later went bankrupt, changed management hands, and was later purchased by takeover magnate Carl Icahn.
Stupak rarely sets foot in the place these days.
In the spring of 1999 the Las Vegas City Council nixed his plan to build a 280-foot time-share, shaped like the Titanic ocean liner. As quickly as that plan was rejected, he announced intentions to buy the Moulin Rouge on Bonanza Road.
But can he make a comeback in the casino game?
"The big problem Bob has is you can't enter the game as easily as you could in the old days," author and poker expert David Sklansky said. "If you don't have $100 million to throw around, it's hard to get into the game. The sad part about it is Bob had to be almost ruined before he could make a resurgence."
McGuire had a different perspective.
"He's not really down," she said. "He saw his dream realized. The dream that he'd had so long is that the tower should be finished. I've never seen him so happy as the night it opened. He's already survived the biggest challenge of his life."
But even Stupak does not sound optimistic about making a comeback. "The days of those characters are gone," Stupak once said. "There's no more Jay Sarnos around. There's no more me's around. It's all over."
For better and worse, richer and poorer, Bob Stupak's name will always scream "Vegas Guy."
He has changed Nevada gaming regulation and the Las Vegas skyline forever.
How many hucksters can say that for themselves?
Part III: A City In Full