'Bottoms Up' revue comedian Breck Wall dies at 75
November 16, 2010 - 12:00 am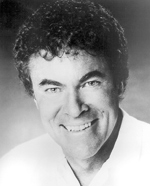 Breck Wall, the comedian synonymous with more than 40 years of the comic revue "Bottoms Up," died Monday. He was 75.
The blackout sketch revue first came to the Castaways in 1964 and played at many Las Vegas casinos over the years, before its last stand at the Harmon Theater in 2007.
Wall had been battling Alzheimer's disease. He died early Monday in a local assisted living facility.
Known for his contagious grin, a joke with every phone call and a willingness to strip nearly naked onstage well into his 60s, Wall and a close-knit ensemble led "Bottoms Up" through countless iterations.
"His history is so rich, with all the people he knew and all the performers he gave opportunities to," Jimmy Emerson said Monday. Emerson worked for Wall before settling into a long run in the Riviera's "An Evening at La Cage."
Wall was born Billy Ray Wilson in Jacksonville, Fla., on Nov. 21, 1934, and was raised in Freeport, Texas. He left the University of Texas after one year and spent time in New York before creating "Bottoms Up" with friends in 1958, inspired in part by the 1938 Broadway hit "Hellzapoppin'."
The first incarnation ran in Dallas, playing nightclubs affiliated with Jack Ruby before settling into a two-year stretch at the Adolphus Hotel.
Wall's connections with Ruby, who fatally shot Lee Harvey Oswald, the accused assassin of President John F. Kennedy, led to him testifying in August 1964 before the presidential commission investigating the Kennedy assassination.
Wall and partner Joe Peterson brought "Bottoms Up" to the Castaways in March 1964. Though it first played late nights — with weekend performances as late as 3 a.m. — it later broke ground as an afternoon revue at the Thunderbird, then a rarity for the Strip.
The show would play for years at a stretch, then tour before returning to a new venue on the Strip. Casinos that hosted the revue include the Aladdin, Caesars Palace, the Hacienda, the Mint, the International, the Sands, the Flamingo (twice), Bally's, the Sahara and Fitzgeralds.
Longtime sidekick David Harris said the show focused on more sophisticated, Second City-type material until the Watergate scandal soured the climate for political humor. At that point, the cast looked to burlesque revivals that were thriving on the Strip and said, "We can do that," Harris recalled Monday.
From then on, "Bottoms Up" was all about Vaudeville-era jokes and skits, framed with generations of new dancers and pop music.
"It was a little Milton Berle and a little Janet Jackson at the same time," Sue Motsinger said. She had been part of the comic ensemble since 1975.
"Corn is good," she said. "I think people could relate to corn and the nostalgia."
"Breck's main talent was his ability to assemble very talented people around him," Harris said. "There were a lot of laughs over 45 years, and not just onstage."
Wall had no survivors. He will be cremated, but friends are organizing a memorial service for a date to be determined. There probably will be an initiative to fund a star on the Las Vegas Walk of Stars, something the entertainer always said he wanted, his friend Carrie Proffitt said Monday.