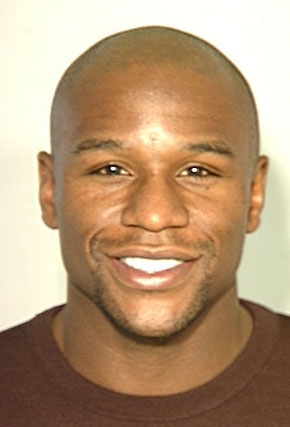 Boxing champion Floyd Mayweather Jr. is donating $100,000 to the Susan G. Komen for the Cure's Southern Nevada affiliate in a presentation ceremony today.
Tuesday's announcement, in a news release from the breast cancer organization, came 12 days after a Las Vegas judge deferred Mayweather's three-month jail sentence on a domestic violence plea from Jan. 6 to June 1 so that he can fight May 5 against an undetermined opponent at the MGM Grand.
Justice of the Peace Melissa Saragosa granted the request by Mayweather's attorney, Richard Wright, who contended that the Cinco de Mayo fight would be worth "more than $100 million" to the Las Vegas community.
Last week, Mayweather made it clear on Twitter that he wanted Manny Pacquiao on May 5 for the long-sought superfight.
"Manny Pacquiao I'm calling you out let's fight May 5th and give the world what they want to see," Mayweather tweeted.
In his next tweet, he taunted Pacquiao, saying: "My Jail Sentence was pushed back because the date was locked in. Step up Punk."
That, said Pacquiao's trainer, Freddie Roach, "was typical."
He told ESPN.com on Thursday: "We've been chasing him for two years. All of a sudden he gets his get-out-of-jail-free card and wants to call the shots."
Media have been invited to Mayweather's gym today for the presentation ceremony.
THE SCENE AND HEARD
A well-known comedian/actor got tossed out of a major Strip property Friday and has been banned from the hotel-casino's sister properties, a source said. …
The pilot for the TV drama series "Ralph Lamb" was delivered to CBS in recent days, and a decision could come as early as this week. Nick Pileggi, the author behind the mob film classics "Casino" and "Goodfellas," has been working for years on a script with the legendary Las Vegas cowboy-turned-sheriff. Pileggi also has agreed to host a short film on how the mob is portrayed in pop culture for The Mob Museum, which opens Feb. 14. …
Wayne Newton shot a music video in Los Angeles over the weekend with the All-American Rejects. The band's fourth album, "Kids in the Street," will be released in late March. …
A Celine Dion concert at Caesars Palace on Sunday helped raise $1 million of the $6 million needed for a sickle cell fundraising campaign for Children's Hospital Boston. Dion, Caesars Entertainment and AEG donated the evening's proceeds to the benefit, which also featured singer/songwriter A.J. Green of Agassi Prep.
SIGHTINGS
Retired Army Maj. Ralph L. Turner, a captain with the Tuskegee Airmen in 1947, addressing a screening of "Red Tails" hosted by Commissioner Lawrence Weekly on Tuesday at the Brenden Theatres (Palms). Also there: entertainer Bubba Knight. Las Vegas music superstar Ne-Yo has a starring role as Smokey, one of the fighter pilots. … George Reinas of the History Channel's "Top Shot," spotted Tuesday at The Mirage. … Joey Fatone, ordering a Wellness shake and bison burger with tofu fries for lunch at Greens and Proteins in Henderson. Fatone is in town to host "The Price is Right" for three months. … Jon Lovitz, dining Sunday with his girlfriend at Joe's Stone Crab (Forum Shops at Caesars). … Alfonso Ribeiro, best known as Carlton on "The Fresh Prince of Bel-Air," dining at Rao's (Caesars Palace) on Sunday. … Chicago Bears linebacker Brian Urlacher, at a table at Hyde (Bellagio) with Aria President Bill McBeath on Saturday.
THE PUNCH LINE
"One of the products unveiled at the Consumers Electronics Show is a remote for your television that you control with your mind. When you think 'on,' it turns on the TV. When you stop thinking completely, it turns on 'Jersey Shore.' " — Conan O'Brien
Norm Clarke can be reached at 702-383-0244 or norm@reviewjournal.com. Find additional sightings and more online at www.normclarke.com. Follow Norm on Twitter @Norm_Clarke.