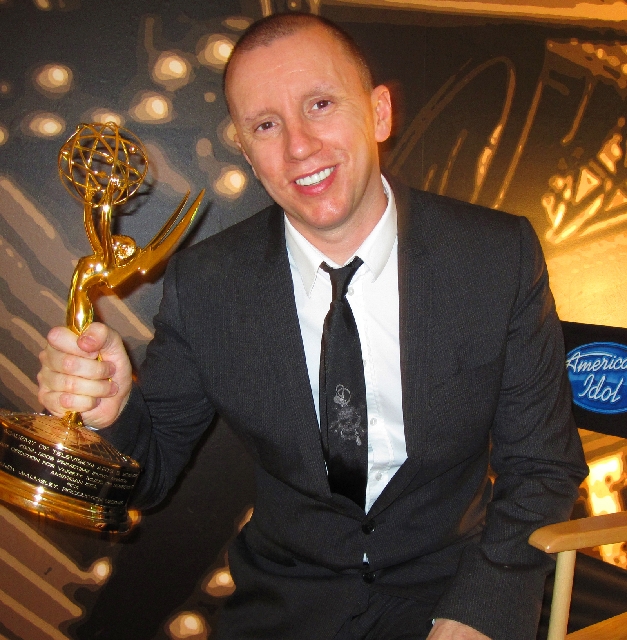 Anytime you have watched "American Idol" over the years, you were looking at a TV stage set designed by a Vegas guy.
His name is Andy Walmsley, a Brit who moved here years ago just because he loves Vegas.
Meanwhile, he has been designing stage sets for TV hits "Who Wants to Be a Millionaire," "America's Got Talent" and "The Biggest Loser," plus the British Academy Awards, Vegas shows, ballet, opera and theaters in London and on Broadway.
I know Walmsley personally, so I want you to know that as a disclaimer. But he is the real deal, a typical British expat in that he can be both humble and cheeky at the same time.
Example: He won an Emmy in 2008 for "Idol." Sometimes when he goes to meetings, he walks in with his Emmy and sets it down as a tongue-in-cheek way to establish his bona fides.
"I actually thought about mounting it on the front of my car," a Bentley, he jokes. "That would be particularly douche-y in Las Vegas."
Walmsley's stage set for "Who Wants to Be a Millionaire" has been reproduced for "Millionaire" TV productions in 108 countries.
That means his set appeared in the Oscar-winning film "Slumdog Millionaire."
In one country with poor access to construction materials, his "Millionaire" set was built out of bamboo.
"That set, if you remember it, is very high-tech, and chrome and metallic and stainless steel. And they built the whole thing out of bamboo!"
Walmsley's childhood was wild, growing up backstage at burlesque shows in Blackpool, England, where showgirls were "running around in underwear."
"My mother was a fire-eater," he says.
His mother was Judy Allen. His father was a famous comedian named Syd Francis.
"I was used to getting a lot of female attention from showgirls," he says. Even today: "I'm very much attracted to glamorous girls … the fake lashes and all that stuff." (He once dated Mexican-American Playboy Playmate and TV host Gaby Ramirez.)
At age 15, Walmsley was building sets out of LEGOs when a friend of his family, Paul Daniels ("the David Copperfield of England), saw his work and gave him his first job designing a TV set.
Then he went to college, and landed a job working for his Muppets idol, Jim Henson.
Later, he moved to Los Angeles and got that "Idol" gig. But he loved Vegas so much, he moved here.
"I'm really only happy when I'm here. I like LA, but a few days in LA, and I'm missing Vegas."
On the Strip, he has designed sets for Terry Fator, the new Human Nature show in The Venetian, Nathan Burton, and the new "America's Got Talent Live" show.
Lately, he is in meetings with money people to start producing Strip shows.
And he runs a ticketing site, VegasLiveShow.com, plus a site (VegasHungover.com) where people consensually post photos of themselves with their heads in toilets and half-naked.
But work keeps pouring in for set designs.
"I just (designed a set for) a late-night chat show with a Mexican clown," he says.
"And I'm not making this up. He has a pink Afro wig and red nose, but apart from that he doesn't act like a clown. So he's like (David) Letterman or Jay Leno … but with a pink Afro and a red nose."
You can hear our whole fun interview online by clicking play on the podcast link next to this column.
BONUS COLUMN
Read my blog for a bonus column, telling you where to see celebrities shaving their heads today for the children's charity St. Baldrick's Foundation.
Doug Elfman's column appears Mondays, Tuesdays, Thursdays and Saturdays. He also writes for Neon on Fridays. Email him at delfman@reviewjournal.com. He blogs at reviewjournal.com/elfman.