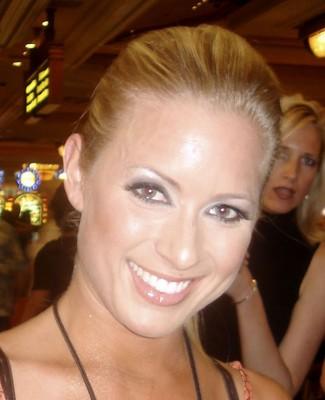 Weary of her wig and longing for her blond locks, Britney Spears had a playful request for her four blond dancers during her four-city mini-tour.
"Would y'all cut your hair?" she said, according to Criscilla Crossland, one of the dancers.
Spears showed the dancers her buzz cut, but no one took her up on the invitation.
Almost three months after shaving her own head, Spears has gone from cue-ball bald to a 2-inch crop of hair.
It's a stunning look, Crossland said: "She looks so good she should model."
Prediction: Look for Brit to sell her Annie Lennox look for a magazine cover any day now.
Spears wore her brown wig during Sunday's 14-minute lip-synching performance at the House of Blues in Las Vegas.
The mini-tour was a success, Crossland said.
"It was just to create a buzz, and it worked," said Crossland, who has spent most of the past 10 months as a dancer on tours with Tyrese and rapper Snoop Dogg.
Crossland said Spears has been rehearsing two of her songs from her upcoming album. "They're amazing," the dancer said.
THE SCENE AND HEARD
David Hasselhoff had visitation rights to his children suspended Monday by a Los Angeles County Superior Court judge. It's the latest fallout from the videotape of an intoxicated Hasselhoff barely able to talk while his 16-year-old daughter filmed him. Hasselhoff is allowed to have telephone contact only, according to the celebrity Web site tmz.com. A May 21 hearing has been set to determine his long-term visitation rights after the judge reviews the video. Hasselhoff ended his three-month contract with "The Producers" at Paris Las Vegas on Sunday night.
SIGHTINGS
Spears, sipping Red Bull and Voss bottled water during a brief appearance about midnight Sunday at Pure in Caesars Palace. She gave the crowd a few minutes of dance moves before heading back to the two black Escalades that transported her and her group from Los Angeles. … Singing legend Tom Jones and sidekick Cook E. Jarr, partying Sunday night at Café Martorano in the Rio. While sharing the mic with Jarr, Jones sang a handful of his hits, including "It's Not Unusual" and "Never Gonna Fall in Love Again." Jones' reward included a $1,200 bottle of Hennessy Paradis. … Fox News Channel's Shepard Smith and Alexis Glick, dining Monday evening at Aureole in Mandalay Bay with KXNT-AM, 840 talk-show host Alan Stock and program director Jack Landreth. … …At Rehab in Hard Rock Hotel on Sunday: San Francisco 49ers quarterback Alex Smith, British superstar Robbie Williams, record producer Swizz Beatz and cast members from HBO's "The Wire," Dominic West, Michael Kenneth Williams and Jamie Hector. … Leonardo DiCaprio and Kevin Connolly, at Fix in Bellagio on Sunday for the second time over the weekend. … "Desperate Housewives" star Eva Longoria, chatting with NBA legend Michael Jordan, in the VIP section Saturday at Jet nightclub in The Mirage. … Will Ferrell, dining at Riva, Wolfgang Puck's poolside restaurant at The Venetian, on Saturday. … Sacha Baron Cohen, better known as Borat, politely declining photo requests Saturday at the HBO after-party at the MGM Grand pool. Cohen was standing in a group that included Polly Esther's nightclub co-owner Drew Adelman, who was with his friend John Slattery — Longoria's love interest in "Desperate Housewives" — Bob Saget and Kevin Dillon of "Entourage." When Adelman asked whether he could get a photo with Cohen for his 16-year-old daughter, Nicole, a "Borat" fan, Cohen declined, saying Adelman was "too good looking."… Magic Johnson, at the Boyz II Men show Sunday night at The Orleans. … Members of the X Girls revue at the Flamingo, topless tubing at Lake Mead on Sunday afternoon.
THE PUNCH LINE
"Tomorrow is Cinco de Mayo, and earlier today, Barry Bonds tested positive for salsa … Donald Trump styled his hair into a sombrero." — David Letterman
Norm Clarke can be reached at 383-0244 or norm@reviewjournal.com. Find additional sightings and more online at www.normclarke.com.
NORM CLARKEMORE COLUMNS