Ammon Bundy jury pool shrinks in Oregon with eliminations
August 23, 2016 - 10:57 am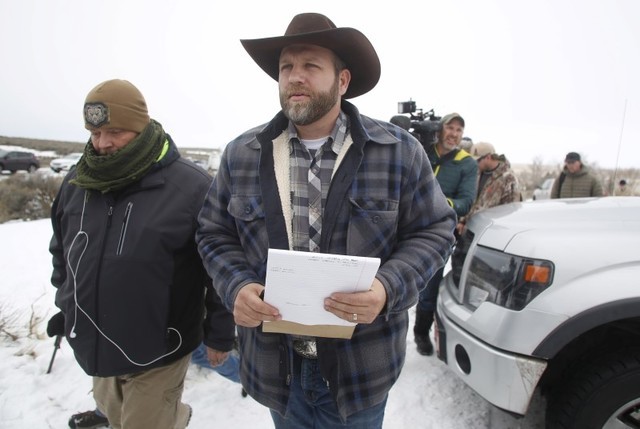 PORTLAND — More than 90 potential jurors for the upcoming trial of rancher Ammon Bundy for his alleged role in the 41-day occupation of an Oregon bird sanctuary have been excluded from the jury pool, leaving prosecutors and defense lawyers with about 200 more to assess until 12 are selected to serve on the jury.
The federal court presided by U.S. District Judge Anna Brown sent out 1,500 juror questionnaires and received 350 back ahead of the Sept. 7 trial.
About 25 percent of the people who filled them out were eliminated from the jury pool due to alleged bias or hardship, The Oregonian/OregonLivereported Tuesday.
Brown spent hours Monday ruling on pretrial requests by prosecutors and defense lawyers to exclude potential jurors.
Bundy, of Emmett, Idaho, will face trial with seven other defendants who wanted the federal government to relinquish control of Western public land and free two imprisoned ranchers. The eight are charged with conspiring to impede Interior Department employees from doing their jobs during the group's bird sanctuary occupation.
Some of those excluded wrote on their questionnaires that they thought Bundy and the others were guilty, while one wrote of thinking about "joining them … or a state or national militia group."
One potential juror wrote of simply not wanting to be part of the trial, prompting Brown to quip: "If that were the test, none of us would be here, right?"
Besides jury selection, Monday also included the first of what are expected to be days of pretrial conferences to determine what evidence will be allowed.
Prosecutors said they plan to call seven Interior Department employees to testify.
Assistant U.S. Attorney Geoffrey Barrow said the government workers will explain their jobs at the Malheur National Wildlife Refuge and how they were prevented from doing them during the armed occupation by Bundy and others.
Their testimony, he said, will show that the defendants accomplished their objective in obstructing the employees.
The judge agreed with a defense lawyer that the employees cannot simply testify about subjective fears they felt during the occupation that started on Jan. 2.
"The fact that the community was afraid is not the point," the judge said.
Defense lawyers argued that prosecutors should not be allowed to discuss an April 2014 armed standoff between Bundy followers and federal officers over grazing rights on public land near Ammon Bundy's father's ranch in Bunkerville, Nevada.
Ammon Bundy, his brother Ryan Bundy and their father, Cliven Bundy, were indicted in that case on charges including assaulting and threatening a federal officer and interference with interstate commerce by extortion. Their trial is scheduled to start Feb. 2 in Las Vegas.
In the Oregon case, Assistant U.S. Attorney Craig Gabriel defended being allowed to introduce evidence about the Bunkerville standoff, saying details would provide the jury with context about why the Bundy brothers and their co-defendants took over the Oregon refuge.
Prosecutors plan to use statements from defendant Pete Santilli referring to the Oregon refuge occupation as "another Bunkerville," Gabriel said.
Defense attorney Matthew Schindler argued that the Bunkerville standoff should not be mentioned and that hundreds of prosecution exhibits on guns and ammunition should be reduced to weapon exhibits that can be tied to each defendant.
Brown questioned whether the prosecution's weapon exhibits should be reduced, noting the defendants are charged with being part of a conspiracy.
"If a person joins a conspiracy, they're liable for acts that occurred during the course of a conspiracy," the judge said.
Twenty-six people were indicted in the Oregon case and 11 pleaded guilty to conspiracy charges.
After September's trial of the eight defendants, another seven are scheduled to go on trial on Feb. 14.
Previous coverage
See a timeline of events leading up Cliven Bundy's conflict with the Bureau of Land Management in 2014. Also, see the most recent reports involving Bundy and his family.
RELATED
Ammon Bundy questions authority of feds to prosecute him
Judge denies venue change in Oregon standoff case
Judge allows 'special accommodation' for 6 accused in Oregon standoff
Bundy brothers, three others refuse to enter pleas in Bunkerville standoff