BLM: 2 bulls euthanized during Cliven Bundy cattle roundup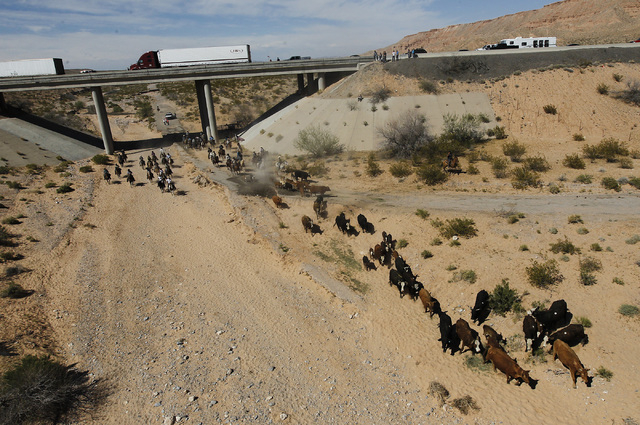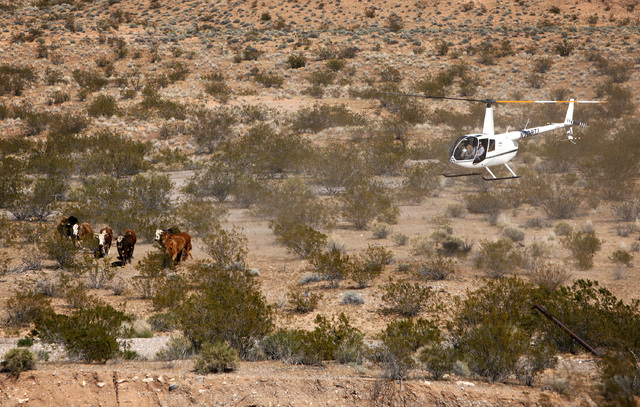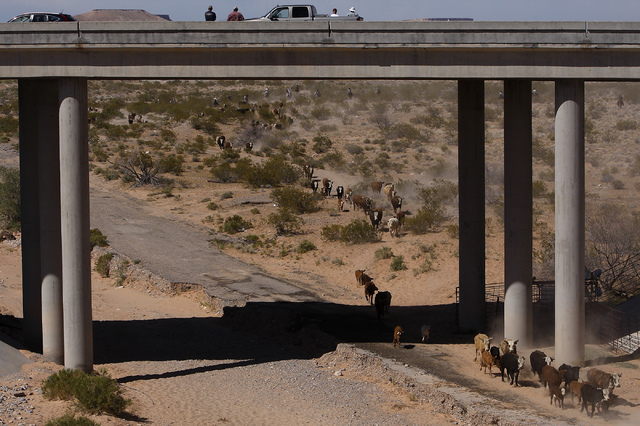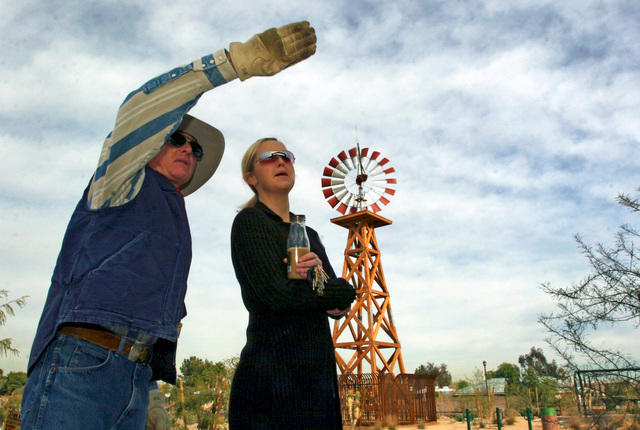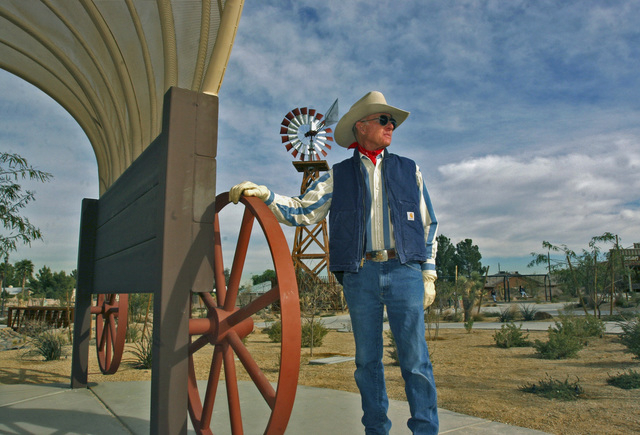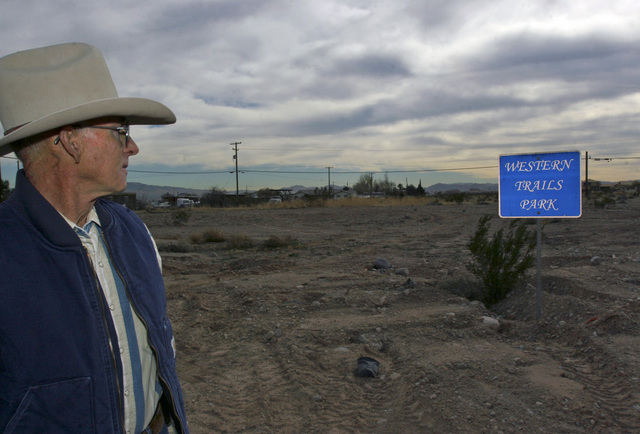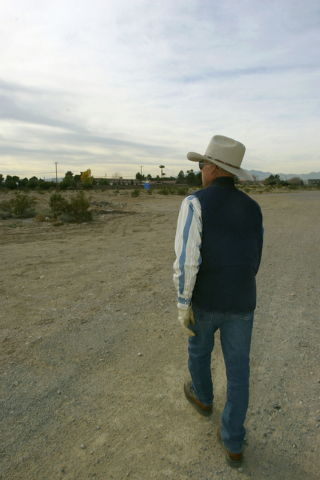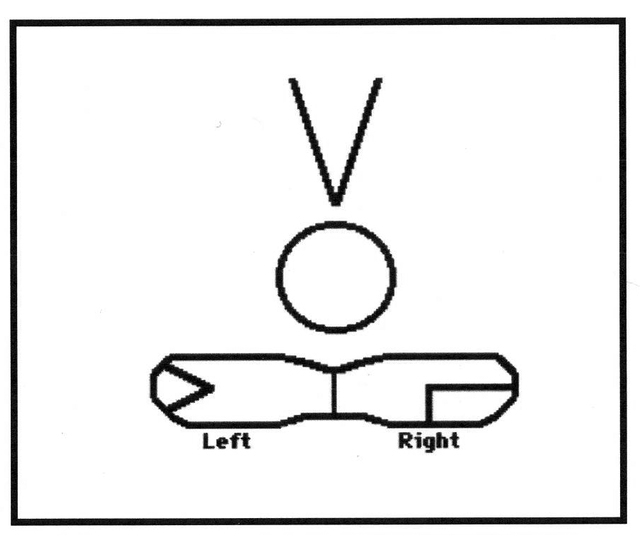 The only known shots fired in the grazing feud between Bunkerville rancher Cliven Bundy and the Bureau of Land Management came from federal agents or contractors who euthanized at least two bulls, Bundy's son-in-law said Thursday.
That's not counting other cattle that died of exhaustion and had to be put down, Bundy's son-in-law Josh Logue said.
"There's more dead that are dead through shot or … dehydration from running in the desert," Logue said.
A BLM spokesman confirmed Thursday that two bulls had been killed during the agency's weeklong roundup, which ended Saturday with an armed standoff between supporters of rancher Cliven Bundy and federal agents.
The two bulls posed "a safety hazard," said BLM spokesman Craig Leff, who didn't elaborate on the circumstances.
The Bundy family has been critical of the agency's roundup practices, saying it led to injured calves, slaughtered cows buried in holes and damaged water system equipment.
Bundy, for his part, criticized the work of the contracted cowboys who did the work, pointing to the injuries and conditions as unprofessional.
"What kind of cowboy would treat animals like that?" Bundy asked Tuesday, as he showed a Review-Journal reporter around his ranch. "Only the contract cowboys low enough to work for the BLM."
Bailey Bundy-Logue, 22, one of Bundy's daughters, said the treatment of the cattle angered her.
"It was all wrong," she said.
The BLM didn't address the family's claims of damage to the water troughs. The agency would not provide answers to questions about its next move after armed agents failed to enforce a court order that prompted the roundup.
State brand inspector officials did not respond to questions Thursday from the Review-Journal about whether there will be an investigation into the dead bulls.
A deputy brand inspector from Las Vegas said the bulls "might have got frightened, but that's no reason to shoot a bull."
Occasionally they charge people, and "sometimes they charge horseback riders," said Don Bamberry, a deputy brand inspector the Nevada Department of Agriculture, who wasn't at the scene.
Bamberry said it would "take a pretty good-size weapon" to kill the special breed bulls that Bundy owns.
Bundy's state brand certificate, which expires Dec. 31, 2015, is a "V over O" on the hip of his cattle.
Bamberry said in a typical cow-shooting situation, any violation would depend on if the animal had a brand.
"Was it somebody else's property, which is worth a lot of money?" Bamberry said.
He said a bull that is 4 or 5 years old would weigh between 1,200 to 1,500 pounds.
On the local market, a bull that size would be worth more than $2,500 based on the retail price of $4.29 per pound for a side of beef.
BLM officials have not said whether the bulls that were euthanized had Bundy's brand or any brand.
Bamberry described Bundy's herd as "desert cattle" and as a mixed-Brahman breed with "big ears" and fit for surviving in hot climates.
"They have a built-in hereditary trait. They don't like people on their back. They make good broncin' bulls. They're a little ornery," he said.
Bundy hasn't paid federal grazing fees for the use of public land in 20 years.
The BLM abruptly ended the roundup near Bundy's ranch in Bunkerville, 80 miles northeast of Las Vegas, on Saturday.
The roundup was halted because of employee safety concerns. Federal agents released Bundy's livestock after a brief standoff with protesters and armed militia members who rallied to support the rancher.
Government contracting records show the BLM inked a $966,000 contract in February for the roundup with Shayne Sampson of Sampson Livestock, based in Meadow, Utah.
It's unclear how much money the company will get paid after the release of the cattle on Saturday to the Bundys. BLM officials didn't respond to a request from the Review-Journal asking about the cost of the roundup. Before the roundup's end after one week, officials had said the cost will be based on a variety of factors, including the duration of the roundup.
Sampson didn't return a call for comment.
Contact Ben Botkin at bbotkin@reviewjournal.com or 702-405-9781. Find him on Twitter: @BenBotkin1. Contact Keith Rogers at krogers@reviewjournal.com or 702-383-0308. Find him on Twitter: @KeithRogers2.