Lawyers give closing arguments in 1st Bunkerville standoff trial
Updated April 12, 2017 - 4:58 pm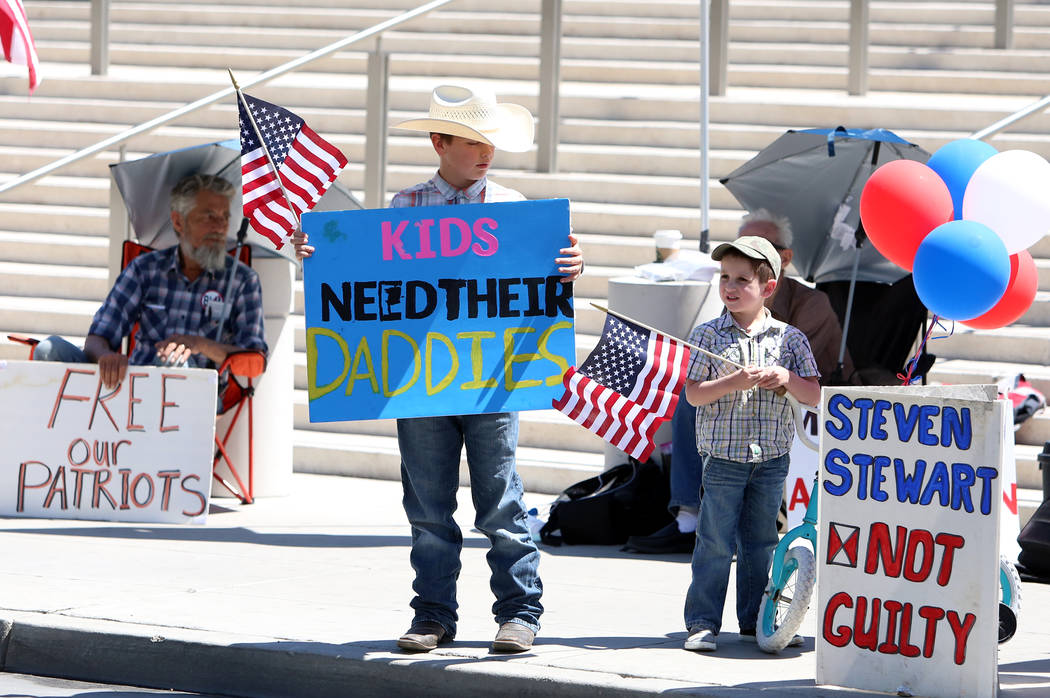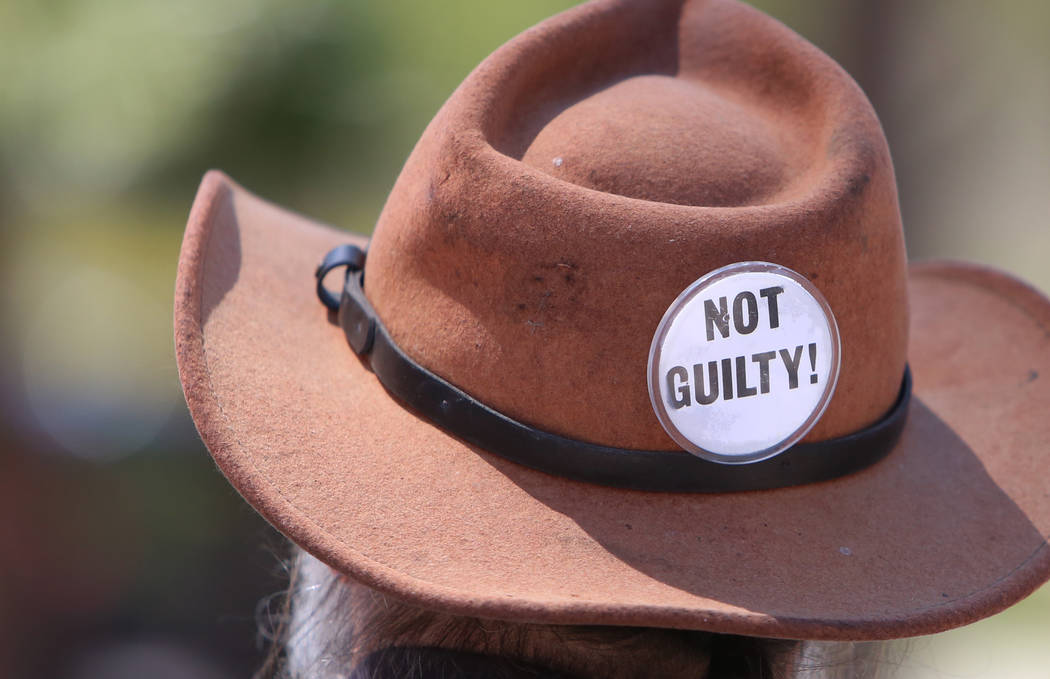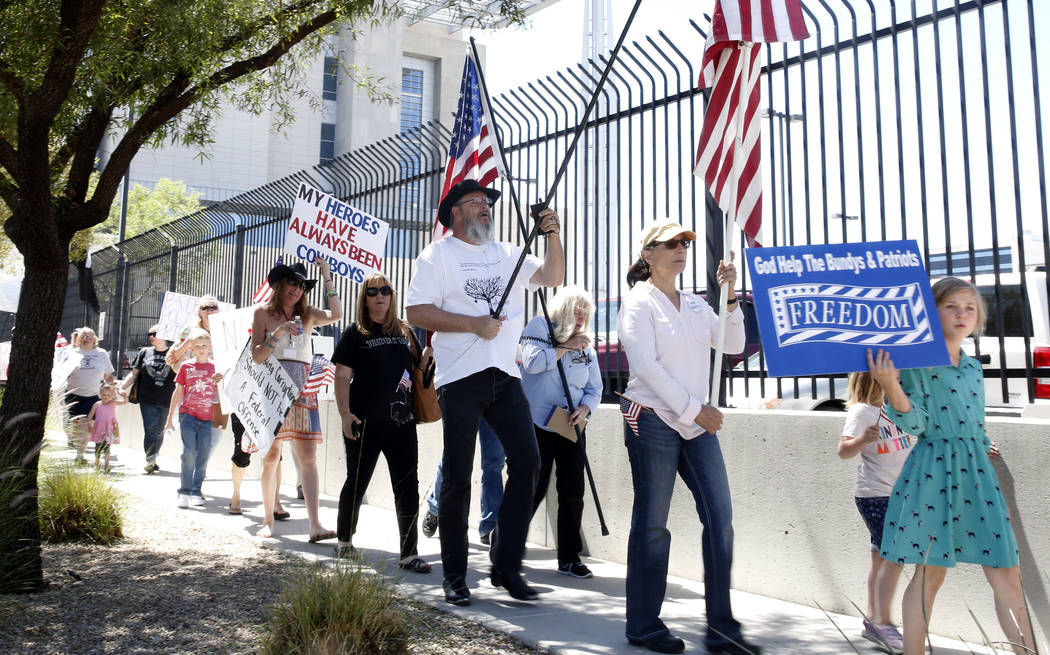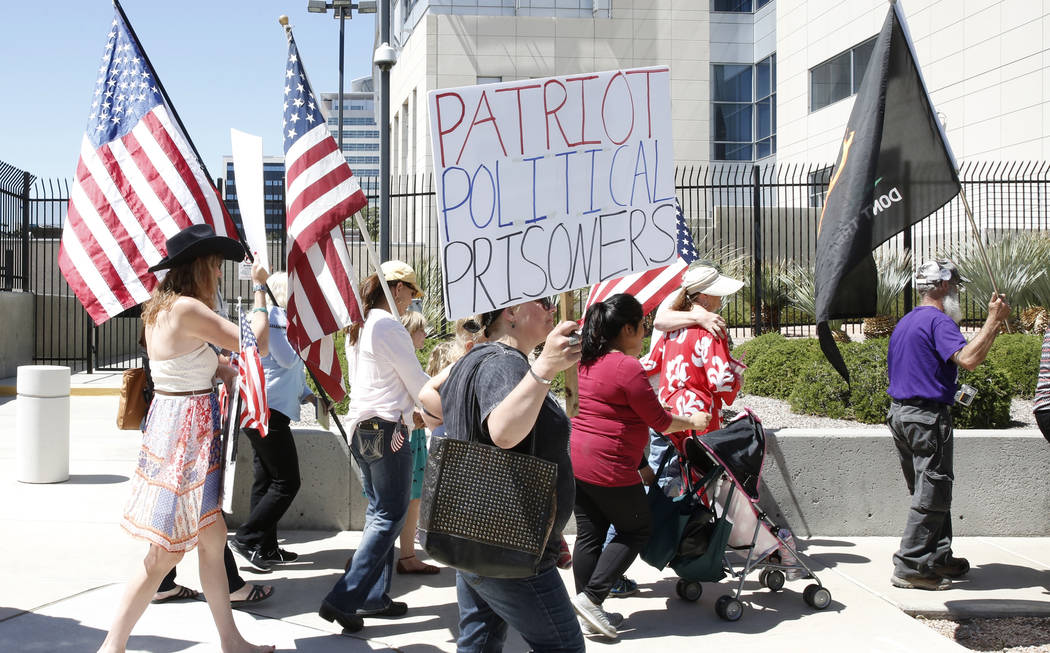 A federal prosecutor on Wednesday characterized six Bunkerville protesters as militiamen who heeded rancher Cliven Bundy's call to arms, while defense attorneys used closing arguments to portray the men as peaceful demonstrators who asserted their constitutional rights.
After six hours of impassioned arguments in a full-to-capacity Las Vegas courtroom, the first of three conspiracy trials resulting from the 2014 standoff in Bunkerville still had not been sent to the jury. Several more lawyers are scheduled to give their closing arguments when court resumes Thursday.
The day opened with Assistant U.S. Attorney Nicholas Dickinson telling jurors that the night before the April 2014 standoff, federal investigators' intelligence information showed a buildup of militia "like they had never seen before."
The six defendants on trial are part of that militia, Dickinson said. Those six gunmen, he charged, provided the firepower in a conspiracy to intimidate federal authorities into abandoning their roundup of Bundy's cows.
"Cliven Bundy always said he would do whatever it takes," Dickinson said. When the BLM started rounding up his cattle, "he realized he needed more help."
So, Dickinson said, the Bundy family "recruited gunmen to travel to Nevada." And when they arrived, the prosecutor said, they staged a massive assault that put federal authorities in fear for their lives and caused them to release the cows and head home.
None of the defendants in the first trial lives in Nevada. All of them traveled to Bunkerville from out of state on what their lawyers say was a belief that their rights were being threatened.
"This was a protest, not a conspiracy," defense attorney Rich Tanasi, who represents Idaho resident Steven Stewart, said in his closing argument to jurors.
"How did he help Cliven get his cattle back?" Tanasi said of his client. "Protesting. They're protesting, folks."
Constitutional arguments
Stewart didn't travel to Bunkerville to commit crimes or assault federal officers, but to "exercise his first Amendment right to protest," Tanasi said. "And he did so with his Second Amendment right."
Several defendants have said that a roped-off First Amendment zone in the middle of the desert led to their decision to join the protests. Days before the standoff, Nevada Gov. Brian Sandoval issued a press release blasting the BLM for its actions.
"A First Amendment zone in the middle of the desert where people were being herded like cattle to speak their minds," Tanasi said.
Dickinson, however, reminded jurors that there are limits to free assembly when a government agency needs to shut down an area for safety concerns associated with rounding up hundreds of cows.
"The First Amendment area … didn't prevent people from protesting or exercising their First Amendment right in any area the BLM was not operating," the prosecutor said.
Defense lawyer Jess Marchese, who represents Stewart's friend, Eric Parker, said the "government basically shut down this small town … put all these small-town people in a little box. "
Marchese said Parker drove to Bunkerville after seeing videos that, by his interpretation, depicted peaceful protesters getting bullied by police. He referenced a comment from a Clark County official who said people coming to the Bundy ranch should bring funeral money and body bags. The government contends the comment was taken out of context, and instead describes the threat militiamen posed to themselves.
Marchese hammered federal investigators for an undercover operation in which they posed as documentary filmmakers to interview people about the events in Bunkerville. His client, Parker, was among those interviewed. Prosecutors played the video for jurors during the trial.
"Listen to the video — he constantly says, 'I don't want to put words in your mouth,'" Marchese says, referring to the undercover FBI agent. "Well, that's exactly what you're doing … I wasn't sure if this guy was an undercover agent or a used-car salesman selling defective cars to senior citizens."
Facebook evidence
Throughout his closing argument, Dickinson repeatedly referred to defendants' Facebook posts in the days leading up to the standoff to argue that the men had full knowledge of Bundy's plan to block federal authorities from carrying out a court order.
Some of the defendants have challenged the government's assertion that they were part of the militia. Dickinson displayed Facebook posts that have come into evidence during the trial to suggest otherwise. Multiple defendants' posts mentioned "the hallowed halls of Valhalla," a mythological reference to Viking warriors' final resting place.
"You can't just go be vigilante and do whatever you want because you don't like what the law enforcement officers are doing," Dickinson said. "They showed force, they matched force, they overcame, and then they bragged about it."
All of the defendants were photographed holding or pointing weapons in Bunkerville. All of them, however, say they never intended violence and brought the guns only for self-defense.
Todd Engel, who is representing himself, said in closing arguments that when he was standing on the highway bridge overlooking the impoundment site, he heard someone say that federal authorities "were pointing guns at people underneath the bridge."
"It's what I heard," Engel said, justifying his decision to have his gun on the overpass.
Wednesday's closing arguments occurred three years to the date after the nearly deadly standoff.
Contact Jenny Wilson at jenwilson@reviewjournal.com or 702-384-8710. Follow @jennydwilson on Twitter.
Related
Read more coverage of Bundy and the BLM