Prosecutors want to keep Cliven Bundy behind bars in Bunkerville standoff case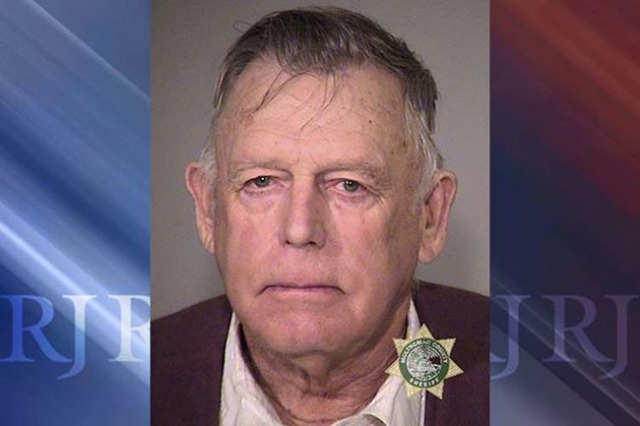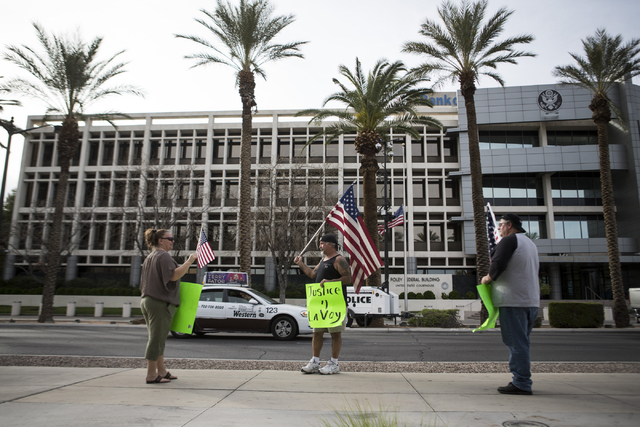 Federal prosecutors are pushing to keep Nevada rancher Cliven Bundy behind bars Thursday as he faces arraignment on a string of felony charges stemming from the April 2014 armed standoff with federal officers near Bunkerville.
The arraignment comes as Bundy supporters prepare to protest outside the federal courthouse before his 2 p.m. appearance in U.S. Magistrate Judge Bill Hoffman's courtroom. Police will be at the demonstration and security will be tight inside the courthouse.
Late Wednesday, several Bundy supporters, some carrying large American flags, showed up outside the courthouse to call attention to the death of government protester Robert "LaVoy" Finicum in Oregon. Finicum was shot to death by state police in February toward the end of a 41-day armed standoff at a federal wildlife refuge in eastern Oregon. Authorities said he resisted arrest and reached for a loaded handgun in his pocket.
The protesters contended Finicum was murdered by law enforcement.
Bundy, 69, was arrested in Portland, Ore., last month on his way to support the anti-government occupation of the refuge.
A federal judge ordered him held without bail and returned to Las Vegas after prosecutors called him a "lawless and violent" man.
Prosecutors argued the defiant Bundy patriarch was a flight risk and posed a danger to the community.
Two of Bundy's co-defendants, his son David Bundy and Gerald DeLemus, were ordered held without bail Wednesday on those grounds in Utah and New Hampshire, respectively, and transported to Las Vegas.
Prosecutors argued in February that the elder Bundy refused to obey court orders and used force and violence in the past against authorities and pledged to use it again.
"The evidence overwhelmingly establishes that Bundy was the leader, organizer and main beneficiary of the conspiracy to impede and assault federal officers," prosecutors wrote in court papers.
Bundy faces 16 felony counts, including extortion, obstruction of justice, conspiracy to commit an offense against the United States, conspiracy to impede or injure a federal officer, assault on a federal officer, threatening a federal law enforcement officer and using and carrying a firearm in a crime of violence.
Bundy and 18 others — including four of his sons, Ammon, Ryan, Melvyn and David — were charged in a new federal indictment in Las Vegas last week in connection with the April 12, 2014, Bunkerville showdown. Ammon and Ryan, who are in federal custody, also are charged in the Oregon takeover and must be transported to the valley to face the Las Vegas charges.
The Bunkerville confrontation aimed to force federal officials to abandon about 400 Bundy cattle they had rounded up under court orders, according to the indictment.
The Bundy family had been illegally grazing cattle on federal public lands for more than 20 years, the indictment states.
Contact Jeff German at jgerman@reviewjournal.com or 702-380-8135. Find him on Twitter: @JGermanRJ