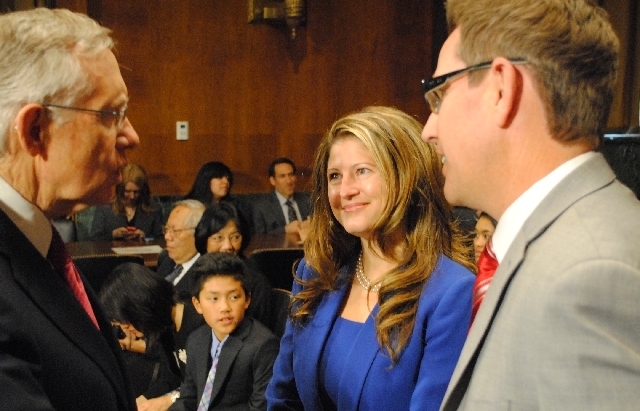 WASHINGTON — Las Vegas attorney Jennifer Dorsey's bid to become a Nevada federal judge is coming under fresh scrutiny after a report of campaign contributions that coincided with her nomination.
Sen. Charles Grassley, R-Iowa, plans to ask Dorsey about the donations in written questions to be sent to her this week, a spokeswoman said Monday.
Grassley is the ranking Republican on the Senate Judiciary Committee. He questioned Dorsey about her experience and credentials at a confirmation hearing last week, and senators customarily are given an additional week to submit follow-up questions in writing.
The new questions follow a report that two senior partners at Dorsey's firm, Kemp, Jones & Coulthard, donated $150,000 to a political action committee for Senate Democrats around the same time Sen. Harry Reid, D-Nev., was considering Dorsey for possible nomination to U.S. District Court.
"Senator Grassley plans to submit questions for the record to Ms. Dorsey on the subject," said Beth Levine, the spokeswoman for Grassley and Judiciary Committee Republicans.
When Grassley completed questioning of Dorsey at the public meeting, he said he was considering submitting more questions in writing.
He did not indicate what they might cover, and it was not clear whether Judiciary Committee members already may have been aware of potentially complicating issues surrounding the nomination.
Likewise, Sen. Dean Heller, R-Nev., has distanced himself from the Dorsey nomination but has not said why. He remained silent Monday.
The Kemp, Jones & Coulthard partners have not responded to Review-Journal queries about the donations.
Founding partner Will Kemp, whose $100,000 donation to the Senate Majority PAC was reported on May 1, 2012, told Las Vegas political blogger Jon Ralston on Saturday that Reid solicited a contribution to the PAC earlier in the year, but the question of Dorsey's nomination "never came up in any conversation then or later."
Law firm founding partner J. Randall Jones made a $50,000 donation to the Senate Majority PAC that was reported on May 14, 2012.
The political action committee was founded and is run by former Reid strategists.
In a Senate questionnaire, Dorsey, 42, said she expressed interest to Reid in March 2012 about becoming a judge. She said she spoke with Reid or his staff twice more, on May 21, and June 11, about her practice and experience, and was notified on June 12 that Reid was submitting her name to the White House for further examination.
President Barack Obama nominated Dorsey on Sept. 19 for a federal judgeship.
Dorsey made a $2,500 contribution to Reid's campaign committee on March 31, 2012. Reid returned it a month later, out of concern it would be perceived as a conflict, his staff has said.
Asked for comment on Monday, a Reid spokeswoman pointed to a statement he gave last week in which he called for Dorsey to be considered on her merits.
"Jennifer Dorsey's academic background and courtroom experience speak for themselves," Reid said then. "She has great respect from her peers and colleagues in Nevada, and I am confident she will serve the bench with distinction."
Contact Stephens Washington Bureau Chief Steve Tetreault at stetreault@stephensmedia.com or 202-783-1760. Follow him on Twitter @STetreaultDC.