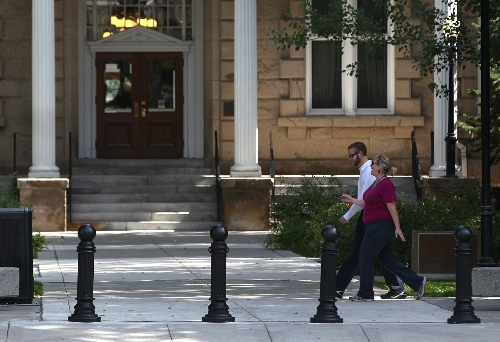 CARSON CITY — The big, ugly boulders placed in front of all entrances of the Capitol last year are gone, replaced by decorative bollards that provide security and blend in with the surroundings.
State Buildings and Grounds workers last week finished placing covers over the nine 3-feet tall steel posts designed to stop any vehicle from slamming into the Capitol.
"They most definitely will provide more security than the rocks," Capitol Police Chief Jay Logue said. "And I think they look nice. They fit right in with the fence."
Then-Gov. Jim Gibbons ordered the boulders put around the Capitol grounds in April 2010 after he received a letter from the Guardians of the Free Republics that warned him to resign his seat or "be removed." Most other governors received the same letter but did not take added security precautions. The FBI investigated the group but made no arrests.
Gov. Brian Sandoval had the boulders removed and bollards installed shortly after his inauguration in January. The decorative covers, which match the wrought iron fence surrounding the Capitol grounds, were put in place last week.
The $5,800 cost came from United We Stand special license plate revenue. The bollards lock in place but can be removed when trucks must bring chairs, Christmas lights and other items onto the Capitol grounds.
Sandoval thinks the extra safety measure is needed but added it should be "done in an aesthetically pleasing" way because the Capitol is a popular attraction for anyone with a camera.
Bollards also have been placed around the grounds of many other state capitols and government buildings, Logue said.
He said Nevada governors receive complaints all the time, but seldom do they reach the level of actual threats.
Nonetheless, he said Homeland Security officials visited the Capitol and concluded the extra security step was needed.
In the mid-1990s, a Carson City cabdriver, bent on committing suicide, slammed his cab into the front entrance of the Legislative Building, 100 yards south of the state Capitol. He suffered only leg injuries. The legislative staff immediately took precautionary steps.
Planters, a clock, concrete benches and other items have been placed in front of the building's entrances. Besides being useful for visitors, they keep vehicles from slamming into or parking near the building.
Also in the mid-1990s, domestic terrorist Timothy McVeigh detonated explosives placed in a truck parked near a federal building in Oklahoma City. That detonation killed 168 people.
But the entrances to the Capitol remained open until Gibbons received the questionable letter.
"It's for the safety of everyone," said Logue about the bollards. "The state has tried to be publicly friendly as much as possible, but we need to start having additional security."
Contact Capital Bureau Chief Ed Vogel at evogel@reviewjournal.com or 775-687-3901.