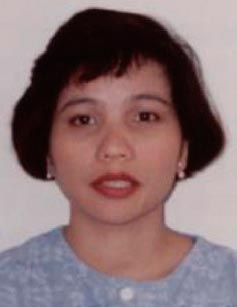 The fist driven into the right side of nurse Marilou Tan's jaw made her feel as though her head might be ripped from her neck.
"Oh, my God, why? I was just trying to help you," she remembers crying as the man who hit her — she had been placing a dressing on his right arm — silently stared at her.
It was two days before Christmas. Dr. Dale Carrison and off-duty Las Vegas police Sgt. Tanjo Beck came running to help the diminutive caregiver trying to regain her balance in the University Medical Center emergency room.
In the mayhem that followed, Carrison, the head of the UMC emergency department, also would be punched by Frederick Walker, the blow breaking his glasses and leaving him bleeding around his right eye.
As she watched the scene play out less than a month ago, the 50-year-old Tan said Thursday that she "just knew" it wouldn't be long before someone in the medical field would be killed in Las Vegas.
"It was just a feeling I had, because I've seen so much of this in my career here and in Harlem," Tan said. "You don't really know what is going on with so many people that you have to see — why they're so angry. They can be drinking, on drugs or not in their right mind, and they're feeling bad and then it happens."
When Dr. Edna Makabenta was fatally shot Monday by a patient at her office, Tan mourned the physician who, like her, immigrated to the United States from the Philippines for a better life.
And Tan wished her prediction had been wrong.
"It's just a sense I have that violence is getting much worse in health care," she said. "It's been bad for a long time, and I think it's getting worse. I still can't believe such a nice person as Dr. Makabenta is dead. She wouldn't hurt anybody."
According to the federal government, Tan's description of violence in the health care industry is on the mark.
Bureau of Labor Statistics data in 2007 show the incidence of assaults in the health care and social assistance settings is four times as high as in the private sector.
Surveys show a majority of emergency department health care workers report being afraid of patients and a quarter of them have had to take days off work because of violence.
The government found in 2007 that hospitals, including psychiatric and substance abuse institutions, reported 2,650 nonfatal assaults.
In physician's offices, nonfatal attacks were far less frequent, with 50 reported. And yet there were five fatal attacks at doctors' offices nationwide, compared to three at hospitals across the country.
Ruben Gurrola, director of public safety at UMC, isn't surprised that a deadly incident could occur at a physician's office.
"Security is virtually non-existent at doctors' offices but highly visible at hospitals," he said. Gurrola also said patient expectations are different at a doctor's office.
"Patients develop a long-standing relationship with their primary care physician," he said. "And when something goes wrong, or they think it goes wrong, it becomes very personal. When you have what is thought to be a betrayal of relationship, there are many more emotions. You expect to be seen and treated differently there than at an emergency room, where you don't really know anyone. "
The attack on Makabenta has precedent in Las Vegas.
In 2006, a 74-year-old man shot Dr. Avi Abraham Ostrowsky in his office at the MountainView Hospital Medical Office Building and then killed himself, the exact modus operandi that Eliseo Santos carried out in his assault on Makabenta.
Ostrowsky survived. One bullet grazed his neck and two others struck him in the shoulders.
Dr. Ivan Goldsmith, a Las Vegas physician, said he once had to barricade himself in his office for an hour after a patient's relatives didn't agree with his diagnosis of their loved one.
He said patients are more antagonistic than ever today.
High medical costs, coupled with the recession and long office waits, have much to do with it, Goldsmith believes.
"There are too few doctors in Las Vegas, and people don't like to wait. I had someone yelling and screaming about that the other day, and here I am working until 7:30 at night."
Goldsmith also believes that Las Vegans suffering from serious ailments are angry that they are finding it difficult to get prescription painkillers from physicians.
He said the highly publicized case of a Henderson physician stripped of his ability to prescribe controlled substances has made physicians reluctant to prescribe needed pain medication.
"Physicians don't want to risk running afoul of the law and … patients have to suffer," he said.
Though no motive has been established in Makabenta's slaying, a friend of the physician said Santos was in pain from prostate cancer.
The friend said Makabenta was Santos' primary physician and that Santos apparently had used Makabenta as a scapegoat for his health ailments.
A study presented in Florida last year at the American Pain Society's annual meeting disclosed that chronic pain triggered a desire in one in 20 patients in physical rehabilitation to kill their doctors.
THE FRONT LINES
Carrison said nurses suffer the brunt of violence.
"They're on the front lines," said Carrison, who is also chairman of the Nevada Homeland Security Commission. "I worry about them a great deal at emergency rooms all over the Las Vegas Valley. There isn't a hospital in Southern Nevada that isn't affected."
Bill Briggs, president of the Emergency Nurses Association, said a 2008 study by his national organization found 72 percent of emergency room nurses do not feel safe in their workplace.
That same study found that 27 percent of ER nurses reported experiencing at least 20 physical acts of violence in the last three years.
Briggs said many hospitals refuse to acknowledge the violence or act on it aggressively on behalf of their nurses and health care staff.
"They think that it's going to hurt them in the eyes of the public; but the fact is that nurses across the country — whether they're at nonprofit or for-profit hospitals — are experiencing problems, and they need administrators to help them," he said.
Repeated attempts to reach administrators about security issues for the nonprofit St. Rose Dominican Hospitals and at the for-profit Valley Health System, which includes Centennial Hills, Desert Springs, Spring Valley, Summerlin and Valley hospitals, were unsuccessful.
UMC security chief Gurrola said his facility and St. Rose are the only two that have armed security. At most hospitals, security consists of unarmed guards, cameras and a locked door to the inner workings of emergency departments.
Some emergency personnel say more liberal use of physical restraints on psychiatric patients, coupled with metal detectors to screen out weapons, might be necessary.
But Carrison, a former FBI agent who says guns have been found on some patients, does not think metal detectors would be helpful.
He cited costs and the fact that someone who wants to get a gun past authorities generally can.
"Besides, I think we're sending the wrong message with metal detectors," he said. "This is supposed to be a hospital that helps people, not a jail."
Gurrola said he chairs regular meetings with security chiefs from all hospitals in the Las Vegas Valley, emphasizing that personnel at each realize "they have considerable challenges to deal with, and we're always sharing information."
Dan Davidson, a spokesman for the Sunrise Health System, which includes Sunrise, MountainView and Southern Hills hospitals, said staffers at his facilities are all trained to defuse situations.
In addition to having security on site — including cameras and guards — he said the staff gets mandatory training for staff in crisis-intervention training. There is also a close relationship with Las Vegas police, he said.
Davidson refused to divulge the number of assaults at his hospitals, saying it "may create a false impression."
He said verbal threats are also characterized as assaults at his health system.
UMC reported 13 physical disturbances in 2008 and 18 threats that ranged from throwing papers to cursing.
THE LAW
Nevada legislators in 2003 made an attack on a health care provider that creates a substantial risk of death or results in serious disfigurement a felony.
Most assaults against health care providers are initially charged as gross misdemeanors. But they are frequently negotiated down to simple misdemeanors, which carry far less jail time, according to Clark County Deputy District Attorney Jeffrey Rogan, who prosecuted Walker for the incident involving Carrison and Tan.
Carrison said the vision in his right eye still is compromised because of the attack.
According to the police report, Walker first told authorities that he didn't hit anyone. He then changed his story to say that hospital personnel hit him first.
Will Ewing, the public defender who handled Walker's case, said his client told him he didn't remember what happened. Ewing also said Walker has a history of seizures.
Originally charged with a gross misdemeanor for battery on a health care provider, Walker pleaded guilty Monday in Las Vegas Justice Court to simple battery and was sentenced to 45 days in jail.
Walker was allowed to plea bargain, despite the fact that Carrison said Walker had threatened hospital employees on an earlier emergency room visit. He also had a considerable criminal record.
Rogan revealed that in addition to drug- and sex-related convictions, Walker was convicted in 2002 of battery with a deadly weapon and received a prison sentence of 12 to 48 months.
In 2005, Walker was convicted of assault with a deadly weapon, for which he received a sentence of 12 to 60 months in prison, Rogan said.
"Unfortunately, that is the way the criminal justice system works," Carrison said. "I know you can't have a trial on every case, or the system would grind to a halt, but I do think these cases have to be prosecuted to the full extent of the law."
What must be created in Southern Nevada is "a new culture," Carrison said.
"People have to see hospitals and doctor's offices as neutral ground, where people are there to help you. We should not be a target for their anger. We can't have what happened to Dr. Makabenta happening again."
Contact reporter Paul Harasim at pharasim@reviewjournal.com or 702-387-2908.
FACTS ON VIOLENCE IN HEALTH-CARE SETTINGS
Ninety percent of Emergency Department managers cite patient violence as the greatest threat to emergency personnel.
Seventy-three percent report being afraid of patients, and 25 percent took days off because of violence.
Health care workers are more likely to be attacked than prison guards or police officers.
SOURCES: Bureau of Labor Statistics, Emergency Nurses Association