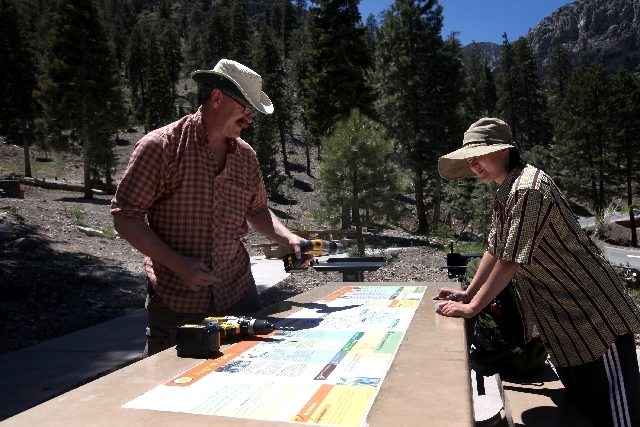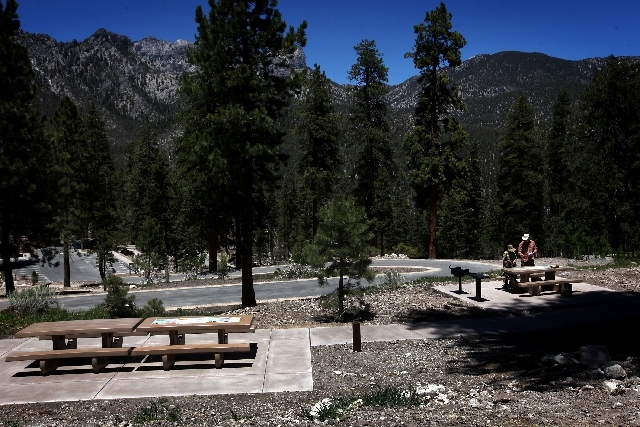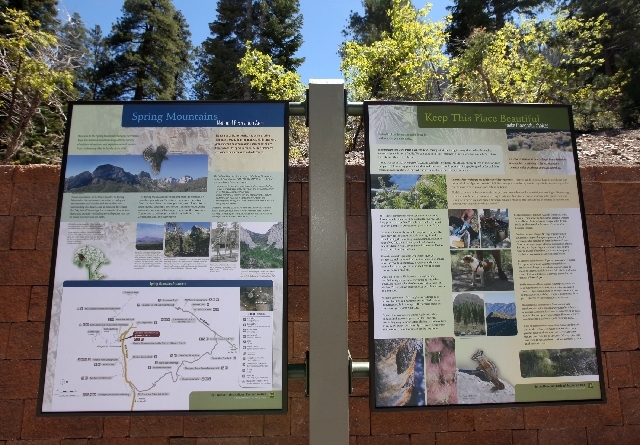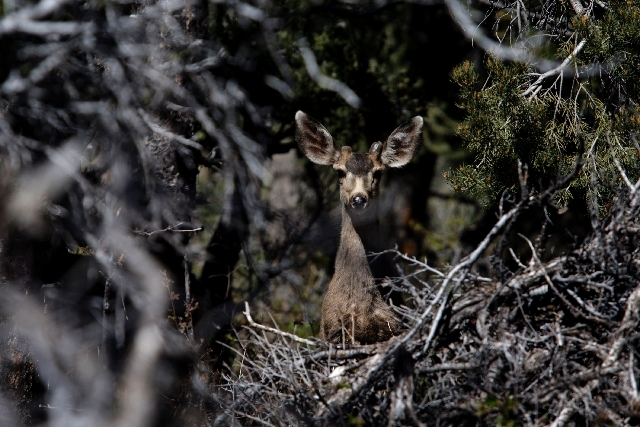 With last Tuesday's reopening of the Cathedral Rock area near Mount Charleston, hikers and picnickers now have access to new picnic and hiking amenities in Kyle Canyon, including a wading pool excavated from old avalanche debris and an event amphitheater.
Improvements from the 10-month construction and renovation project also include an 80-spot picnic area, paved trails, more parking, three restrooms — two with flushing toilets — and geological restorations from the 1930s. The amphitheater and two large-group picnic areas feature rock work preserved from the area's original construction.
Massage therapist Angela Reyes, 36, who is training to climb Mount Whitney in August, says the renovations have made Cathedral Rock a much nicer area compared to other spots around Mount Charleston.
"I think it's great," she says. "It'll bring more people up here, and I think people will have more respect for the area."
A new parking lot with 75 spaces will accommodate traffic more safely, replacing one that previously accommodated only about a dozen vehicles.
Marc Banner, a Las Vegas native and retired blackjack dealer, says parking has been a problem throughout Kyle Canyon for years.
"You could come up here and not even find a parking spot," says Banner, 59. "You'd either have to drive around until someone finally left, or you would just leave because you'd get so frustrated."
While the bigger lot is significant, he doubts the additional spaces will help alleviate congestion on the narrow canyon road. Banner predicts visitors will still be forced to leave their cars along the roadside on busy days.
"The parking spots are going to help a little bit, but for the amount of money they spent, it's not going to be enough," he said.
Much of the $8 million project budget went toward extensive demolition. The old parking lot and trailhead stairs, hazardous trees and undergrowth were all removed to make the ground a healthier place for trees to grow, according to lead engineer Mike Balen.
Also costly was piping water to the restrooms and installing new bilingual signs that explain the history and geological significance of the area.
No updates had been made to the recreation area since it was established in the 1960s.
Fletcher View and Hilltop Campgrounds are also open, while other sites and trails undergo renovations and parking expansions.
Contact reporter Annalise Porter at aporter@reviewjournal.com or 702-383-0264. Contact reporter Melissah Yang at myang@reviewjournal.com or 702-383-0491.