Chachas quits N.Y. job to run in primary
February 15, 2010 - 10:00 pm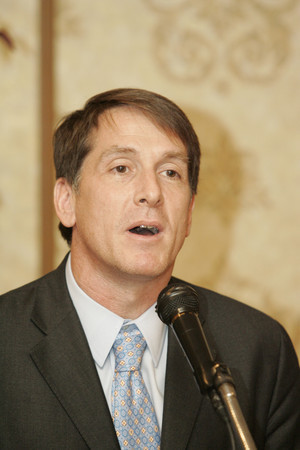 The Web site is up. The billboards are up. And in February the first TV ads will go up.
John Chachas, after months of quietly building a campaign team and the beginnings of a multimillion-dollar war chest that includes $1.3 million of his own money, has finally quit his job as a New York investment banker to run full time in the Republican primary of the U.S. Senate race.
In his first extensive interview since resigning in mid-January and hitting the campaign trail, the Ely native said he's no carpetbagger returning to Nevada after more than two decades to buy an election.
Instead, he counts himself among Americans fed up with the Washington way of doing business: spending, spending, spending the nation into deep debt while political battles between Republicans and Democrats rage without resolving the country's economic crisis.
"I hit my 45th birthday and concluded it was time to do something good for the country," he said when asked why he left a successful East Coast career and cozy family life for the wilds of Nevada and national politics. "I guess I looked at the financial crisis of October-November '08, and the response of the people in Washington, I have to confess, left me cold — the depth of misunderstanding.
"So I felt something calling me to stop being angry about it and actually put myself in the game."
What are his qualifications for the job?
"The first qualification is not being from Washington," Chachas said. "The problem today is the town is essentially populated by people who are perpetually interested in their own re-election."
Chachas, during the past two decades, made his millions and his name in investment banking, becoming a managing director at Lazard Freres & Co. He and his partners helped turn around troubled businesses, including large media companies such as Walt Disney Co., Hearst Corp. and Clear Channel Communications. He also has given restructuring advice to The Tribune Co., The Journal Register Co. and the Minneapolis Star Tribune, according to his Web site biography.
Although Chachas is new to politics, he has been involved in fundraising and knows top donors from Wall Street and Washington to Hollywood and the Hamptons.
He has got far more cash on hand to spend than his Republican opponents: $1.7 million at the end of 2009 out of a total of $1.9 million raised, including the seven figures he loaned himself and money donated from dozens of wealthy CEOs, money managers and executives.
But he is far behind his chief Republican foes in early polls, mostly because he is unknown in Nevada, where his family moved three generations ago from Greece. Chachas left the state at age 18 to attend Columbia University in New York and then Harvard Business School for a master's degree.
That makes him a dark horse with deep pockets in a race where anything can happen.
His top opponents include casino businesswoman and former state Sen. Sue Lowden and Danny Tarkanian, a real estate businessman and former UNLV basketball star.
Lowden and Tarkanian were running in a dead heat in a pre-primary poll commissioned by the Las Vegas Review-Journal and released in January. Running behind them is former Reno Assemblywoman Sharron Angle. All three would beat Reid, according to the Mason-Dixon poll. Chachas was at the back of the primary pack, gaining only 1 percent support.
Chachas said his internal polls show him beating the Democrat Reid "like everybody else" in a potential general election but not doing well against his GOP rivals four months from the June 8 primary.
"Until people know me better, it's going to be hard," Chachas said Friday in an hourlong telephone interview from Carson City, where he was campaigning. "But I think I'm going to emerge. Nobody works harder. Nobody has my unique set of financial skills and businessman's view of how government needs to work to be more responsible. I'm for small, efficient government."
Besides his Web site, billboards promoting Chachas have gone up in rural Nevada, where the candidate has joined his rivals on the February "Lincoln Day" dinner circuit. He has campaign stops in nearly half of the state's 17 counties, including Washoe, Carson, Mineral, Elko, Humboldt, Lander and Churchill. He is doing local fundraisers, although most of his money comes from out of state, which is also the case with the top tier in the GOP field as the party and its loyalists target Reid for defeat.
Chachas' campaign will kick into high gear when he launches his first two TV ads this month: one a biographical spot and the other a "positive ad" not focused on his personal story. Chachas wouldn't reveal details, except to note the 2010 election is about "the economy, the economy, the economy."
Lowden was the first GOP candidate to go up with ads, airing two biographical spots on statewide TV and radio at a cost of about $250,000, according to her campaign.
Chachas said his campaign waited to air ads because of the high price tag and the costly need to keep making more commercials after the first is launched to create and maintain momentum.
Asked what he thinks about his opponents, Chachas was generous, but he said the main thing Lowden and Tarkanian have going for them is name recognition.
"I think they are all people who have the best interests of Nevada in mind," Chachas said. "In terms of myself, I have an outsider's view. I am not an establishment, political person."
He had nothing nice to say about Reid, arguing that he had gotten away from core Nevada values and instead has "become a spokesman for a national progressive agenda."
"At some point, people wear out their time in service," Chachas said.
Chachas said the first thing he would do in Washington is to roll back and freeze federal programs so government isn't spending more money than it's taking in. President Barack Obama's proposed budget of $3.8 trillion includes an estimated budget deficit of $1.3 trillion for fiscal year 2011.
Chachas said private business has had to cut back on the number of employees and has reduced or cut other benefits, including pensions with workers getting their own 401(k)s instead.
"You shrink the federal head count and make other structural changes," he said. "The civil servants in America have become the gilded class. Their pensions and health care benefits are beyond what most people in America get."
What about reducing pension and health care benefits for members of Congress?
"Damn straight — absolutely," Chachas said. "We ought to lead by example."
Like most Republicans, Chachas doesn't believe in raising taxes to increase revenue but instead wants to provide tax breaks and incentives for business to create jobs and energize the economy.
"You've got a country today that raises marginal taxes at every corner you can find," he said. "We don't have a revenue problem as much as we have a spending problem. We don't need to be burdening business and burdening people with more taxation. Washington needs to spend more wisely."
For Nevada, one of his ideas to develop the economy beyond tourism, gaming and construction is to have the federal government give to the state land for development. He suggests the Bureau of Land Management give 10 million of the 50 million acres it owns.
The idea is described in one of half a dozen policy papers Chachas has posted on his Web site, laying out his ideas on the economy, energy, health care, financial industry regulatory reform and foreign policy, specifically regarding Israel, Iran and the Middle East.
Of all of the Republican candidates, Chachas has offered up the most detailed proposals.
On the surface, Chachas seems to be a strong candidate. He has the ability to raise money, is a successful businessman, is well-versed on the issues and comes across well on TV and in person.
His main problems are the lack of name recognition and the suspicion that he is a rich political opportunist, taking up temporary residence in Nevada to run for election while his family remains on the East Coast with his three children — ages 13, 11 and 8 — still attending school in New York.
He is registered to vote in Nevada, he said, and has been repairing his Ely home. And he is spending about four days here each week, two days in New York and one day fundraising elsewhere.
But even if he gets past the primary and wins the general election, he doesn't expect his Manhattan-bred children to live in the small north-central town of Ely, about 50 miles from the Utah border.
Instead, Chachas and his wife, Diane, are discussing whether it would be better to send their children to school in Washington, D.C., where he would be spending much of his time, or living in a bigger city in Northern Nevada where there are direct flights to the nation's capital. His wife is from Bethesda, Md., a Washington suburb, "but loves the West" and doesn't oppose living here, he said.
"We're not going to be home-schooling them in Ely," Chachas said. His daughter and two sons have spent time there during summer vacations.
"I don't think we really know yet" where the family would live. "We're taking one month at a time."
Contact Laura Myers at lmyers@reviewjournal.com or 702-387-2919.