Chapels feel jilted by Cupid
February 15, 2008 - 10:00 pm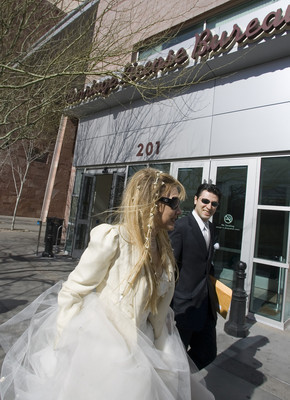 Fabio Sciortino and Danela Devoi looked as though they'd been plucked from the top of a wedding cake — he in a sharp dark suit, she in a billowy cream-colored dress.
They certainly stood out in line at the Las Vegas Marriage Bureau on Valentine's Day. And as it turned out, that line wasn't very long.
"We dreamed all our lives to have our first wedding in Las Vegas," Sciortino said. "We came from New York to celebrate our ceremony and everything."
He was surprised to hear about the reality that local wedding chapels have been facing for three years: Weddings overall are on the decline here.
"It's so celebrated everywhere," Sciortino said. "What I heard is, especially today, people come from all over the world to celebrate in Las Vegas."
That's true. But according to local and statewide statistics, it ain't as true as it used to be.
The marriage bureau issued 456 wedding licenses Wednesday and was up to 239 early Thursday afternoon, said Cheryl Vernon, a shift supervisor in the office.
Those numbers roughly track last year's results: 442 licenses issued Feb. 13 and 362 on Valentine's Day.
"It is not very busy," Vernon said.
The last two Valentine's Days were down sharply from 2006, when about 1,100 licenses were issued over the two-day period. And in 2004 — a banner year for the local wedding industry — more than 2,200 licenses were issued Feb. 13 and 14.
Wedding chapel owners noticed the difference.
"We have room for a whole lot more," Joan Bojorquez, co-owner of the Vegas Adventure Wedding Chapel, said as she stood outside the marriage bureau trying to catch couples who hadn't yet made arrangements.
"With (Valentine's Day) being closer to a weekend, we thought that it would be busier," she said.
Joshua Gust, owner of A Special Memory wedding chapel, said he expected to do 70 weddings Thursday, about 30 fewer than he'd expect on a "good" Valentine's Day.
"Today's going to be a decent day," he said. "Seventy weddings for a Valentine's Day is OK."
The fact that Feb. 14 was a weekday this year might have limited visiting couples, Gust said. Also, since this is a leap year, people who want a special date for their wedding have the option of waiting until Feb. 29.
The lackluster numbers on the day dedicated to lovers reflect a larger trend, both in Clark County and statewide. The number of weddings performed annually has been dropping steadily since 2004.
Data gathered from 14 of Nevada's 17 counties show that weddings declined 16 percent between 2004 and 2007, from 152,600 in 2004 to 127,733 last year. That's the smallest number of weddings per year since 1997, according to information compiled by the Clark County clerk's office.
The vast majority of those weddings took place in Clark County, with Washoe County running a distant second.
Clark County's numbers mirror the statewide figures. Since 2004, weddings have dropped 15 percent, from 125,967 in 2004 to 106,789 last year.
Washoe County was down 22 percent over that same period, from 18,009 in 2004 to 13,960 last year.
The reasons given vary:
• A sluggish economy and high gas prices may discourage couples from making the trip.
• There's more competition from other nuptial destinations, such as Hawaii, Mexico and the Caribbean.
• Bad press for the industry because of years of complaints against the Garden of Love wedding chapel, which lost its business license last year.
• U.S. marriage rates have been declining for decades.
When it comes to the recent Valentine's Day blahs, though, the explanation may be as simple as the day of the week.
In 2004, V-Day was on a Saturday. In 2006 and 2007, it was on a Tuesday and a Wednesday, respectively.
Next year, Valentine's Day will be on Saturday again.
"In more recent years, we've dropped the Valentine's Day-themed wedding packages when it falls on a weekday," said Yvette Monet, spokeswoman for MGM Mirage, which owns 10 casino resorts on Las Vegas Boulevard.
Those will be back next year, which is expected to push weddings up again.
Bojorquez said she's looking forward to 2009 as well, for the same reason.
"It should be better than this year," she said.
Contact reporter Alan Choate at achoate@reviewjournal.com or (702) 229-6435.