Chilling message for 'Buffalo Jim'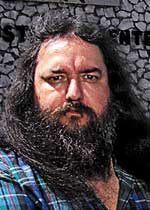 Somebody familiar with James "Buffalo Jim" Barrier's auto shop left a chilling message after an Easter weekend break-in.
Ceiling panels had been kicked down where someone entered and Barrier's office files had been rifled through. On his desk was a tax document that listed his home address.
"They're telling me they know where I live," Barrier told Review-Journal features writer Corey Levitan, who was shown the scene two days later after dropping in to have his car repaired.
A shaken Levitan went home that Wednesday and e-mailed me details of the conversation he had with the colorful wrestling promoter.
I flew to Phoenix the next day for a long weekend and didn't write another column until Sunday.
"Buff called me on Sunday," Levitan recalled Tuesday, "and said, 'Norm didn't run the piece.' He seemed to want it to run. He said, 'I feel like it's protection.'"
With a family reunion, a wedding and all, the Barrier story escaped my mind. It's something I'm going to regret for a long time.
Barrier was found dead Sunday at a Motel 6 on Boulder Highway. His four daughters are convinced that Barrier, a man who wasn't easily intimidated, was murdered.
Barrier called me a few weeks ago, as he often did when he had a hot tip, and left me a message. "Call me, brother. Got a good story for you."
Levitan believes Barrier was going to fill me in on a reality show he had in the works. "He told me he was working with an NBC producer. The show was going to be based on a campaign for mayor he planned to mount for 2011. He was going to run on an anti-corruption ticket."
THE SCENE AND HEARD
Dethroned Miss Nevada USA 2007 Katie Rees goes on trial today on six misdemeanor charges, including resisting arrest. She was arrested about 3 a.m. on Feb. 6 and charged with assorted traffic violations. One question will be answered upon her arrival: Will she tone down her party-girl image? She showed up for her March 7 hearing in a revealing cocktail dress and high heels in Judge Joe M. Bonaventure's courtroom. Her attorney, Michael Cristalli, told reporters at the hearing that he was considering a police brutality lawsuit as a result of a broken tooth Rees suffered in a scuffle during her arrest. …Hugh Hefner's eccentric dining habits were on display over the weekend. Hefner, whose routine includes faxing instructions to his restaurants of choice, ordered his usual at Trader Vic's on Saturday. A regular at Trader Vic's in Beverly Hills, Hef ordered chop suey, mashed potatoes, a tall glass of milk and a Mai Tai. The Palms, which has an exclusive contract with Coca Cola, had to ship in Pepsi for the Playboy founder. "And it has to be opened in front of him," said a spy. … "American Idol" judges Simon Cowell and Randy Jackson, along with host Ryan Seacrest, will host Tryst's two-year anniversary party at the Wynn Las Vegas. The red carpet is scheduled to begin at 11:30 p.m. at Tryst. … Candace Crawford, Miss Missouri USA, is the sister of Chace Crawford, star of the hit TV show "Gossip Girl." His recent breakup with country music star Carrie Underwood, of "American Idol" fame, made news. She confirmed Monday that they called it quits via text message.
SIGHTINGS
Cruz and Romeo Beckham, the youngest sons of David and Victoria Beckham, jumped on stage during Elton John's show (Caesars Palace) and put on a dancing demonstration. Not far from them, also putting on a show, was Pamela Anderson and illusionist Criss Angel, looking like a cozy couple. … Hollywood couple Danny DeVito and Rhea Perlman, dining Sunday with baseball Hall of Famer Johnny Bench at Koi restaurant (Planet Hollywood Resort).
THE PUNCH LINE
"The next stop for the Olympic torch is San Francisco. Police there expect huge protests. It'll be the first time San Francisco's ever protested against anything flaming." — Craig Ferguson
Norm Clarke can be reached at (702) 383-0244 or norm@reviewjournal.com. Find additional sightings and more online at www.normclarke.com.