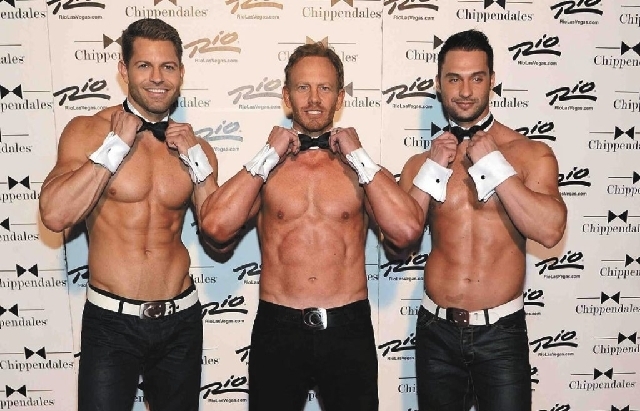 Ever since two Chippendales dancers starred on "The Amazing Race" last year, ticket sales are up 30 percent at the Rio, they are filming their own TV pilots and they could land cameos in "Sharknado 2: The Second One."
"We're two guys who came here (to Vegas) with absolutely nothing. And now we're on billboards up and down the Strip, which is kinda crazy," says Jaymes Vaughan, the Chipplendale with the Virginia drawl.
"I feel like we're One Direction or something."
Vaughan and his "Chippendales" buddy James Davis are in the pilot stages of making a travel show and a reality show. They can't discuss details.
Meanwhile, Ian Ziering, star of Syfy's "Sharknado," is trying to get them in the sequel. He befriended them when he guest-danced at "Chippendales."
"I would die of a heart attack if I got into 'Sharknado 2,' " James says. "That's my ultimate goal and dream right now is to be in 'Sharknado 2' and die in the first 30 seconds by getting bitten in half by a shark and devoured."
I told Jaymes and James to pitch my idea to Syfy: "Vampire Sharks."
"Yeah, vampire sharks," Vaughan says. "And then there's a werewolf shark, and they go head-to-head over a girl. Oh wait, that's 'Twilight.' "
Jaymes and James are also raising money for charities.
This Saturday, they will co-host AFAN's annual spectacular, the "Black & White Party" (AFANLV.org) at The Joint at the Hard Rock Hotel, along with broadcasters Chris Saldaña and Lauren Michaels, plus other Strip performers and the Nevada Ballet Theatre.
Jaymes and James swear to me the best part of "Amazing Race" rewards has been all the charity work. They went on "Amazing Race" largely to try to win money for Vaughan's dad, who was dying of cancer.
"When we lost, I posted on Twitter, 'We lost. I don't know what to do. Help,' " Vaughan says.
He set up a website for donations.
"People from all over the world started sending money to my family. They were able to pay for so much medical stuff, so much treatment, so many things to help my dad be comfortable in the end.
"When people say, 'Do I have faith in humanity?' I say, 'Let me tell you what happened to me. …' "
Now the two Chippendales fly around the country, appearing at cancer fundraisers frequently.
"That's the circle of love. You help somebody. They help somebody else, who helps somebody else. And someday, somebody helps you," Vaughan says.
Vaughan's dad died. Davis has been by his buddy's side the whole time.
When Jaymes and James were in Bangladesh for "Amazing Race," they experienced firsthand the sights and sounds of devastation.
"In Bangladesh, you see the commercials where the children are out on the streets with poverty — but you have the filter of the TV screen," Davis says.
"Once you are actually there in it, it changes you in a personal way. It makes you more compassionate and more motivated to go out and do something. Even if it's something small, you can see it make a huge change in someone's life."
The great thing about charity in Vegas, of course, is we all raise money by paying to party. The "Black & White" event, for instance, will raise money to cover medical and home care for people with HIV and AIDS.
"To raise money to help them, all we've gotta do is go to a party?" Vaughan asks. "How cool is that?"
Doug Elfman's column appears Mondays, Tuesdays, Thursdays and Saturdays. He also writes for Neon on Fridays. Email him at delfman@reviewjournal.com.