Cirque's 'Ka' called 'very dangerous'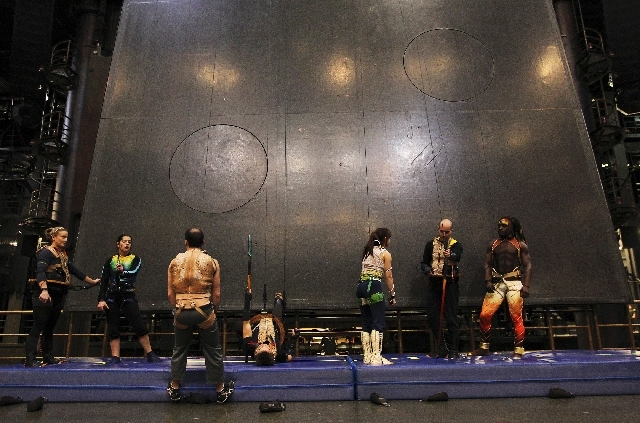 Air bags are regularly used throughout Cirque du Soleil's "Ka," but not in the battle scene in which an acrobat died after a 50-foot fall.
"We have never had air bags deployed during the battle scene due to the logistics of the moving platforms during the act," said Renee-Claude Menard, Cirque's Montreal-based public relations director.
Dancer-acrobat Sarah Guillot-Guyard was performing Saturday night on a hydraulically controlled floating stage that was in a vertical position when she plunged from near the top.
The 31-year-old mother of two children, 8 and 5, was pronounced dead at 11:43 p.m. at University Medical Center.
She was wearing a safety harness connected to a cable in her role as a tattoed spearman who would soar through the air while battling the protectors of the imperial twins.
In a radio interview this year with a British website, cast member Jason Hardabura described the show as "very dangerous all the time. A lot of us have sleeping problems, especially myself."
"You always have to watch out," he told interviewer Alex Belfield. "You always have to be aware of the people around you … of the stage, so many safety issues. You have to be on your toes every day."
In one scene, he said, "I hang from a peg at the top of the stage as it's raised. I fall 60 feet to an air bag and scream bloody murder."
Sometimes, he said, "I get lost in my character (known as comic valet), and I'm actually thinking I'm going to die."
HOT VIDEO
Nick Hissom was living dangerously while wrapping up a music video for his new single, "If I Die Young."
Hissom, the stepson of casino mogul Steve Wynn, was filming in the wrong place at the wrong time.
Somebody picked Death Valley for the site of the shoot Sunday, the day temperatures there hit a high of 129 degrees.
Later, the crew discovered they had more to worry about than deadly heat. After finishing up the shoot in an abandoned, dilapidated structure, they realized they were seated a foot away from a black widow spider and its nest.
"We were there for hours, sitting on the floor. Something new and exciting every day," said Hissom, who arrived in Las Vegas on Monday, the release day of his single. He's in town for his Fourth of July 21st birthday celebration with family and friends.
He has much to celebrate after collaborating with some of the hottest names in music, including producer Mick Schultz, who helped Jeremih hit No. 1 with "Birthday Sex"and "Down on Me." The Scottish band Downtown Drive, who came up with "Believe" for Justin Bieber, delivered "If I Die Young" to Hissom.
It's been a wild year and a half since his immersion into music, with a boost from the white-hot Las Vegas electronics dance music scene and DJ duo Manufactured Superstars.
THE SCENE AND HEARD
There's talk along the Strip that Faith Hill and Tim McGraw are liking the idea of an 18-month extension of their "Soul2Soul" show at The Venetian. …
Cirque's "Michael Jackson One" has moved to No. 1 on my favorite show list. Huge raves for the extraordinary, over-the-top technology and the hologram of Michael Jackson.
SIGHTINGS
Mike Tyson, checking out the bad guys at the Mob Attraction (Tropicana) on Tuesday with a couple of friends. "Iron Man" knew his mob history.
THE PUNCH LINE
"It was so hot in L.A. today that you could cook a tofu-based, cruelty-free egg substitute on the sidewalk." — Jimmy Kimmel
Norm Clarke's column appears Sunday, Wednesday and Friday. He can be reached at 702-383-0244 or email him at norm@reviewjournal.com. Find more online at www.normclarke.com. Follow Norm on Twitter @Norm_Clarke. "Norm Clarke's Vegas," airs Thursdays on the "Morning Blend" on KTNV-TV, Channel 13.