CityCenter's Harmon Hotel delayed
January 8, 2009 - 10:00 pm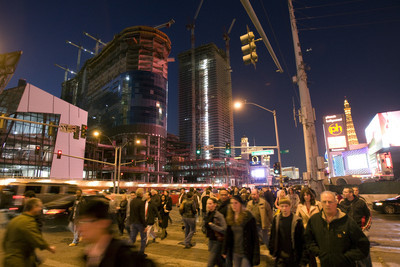 Construction problems caused MGM Mirage to delay and revise a component of its multibillion-dollar CityCenter development Wednesday, but the financial community found some positive aspects to the announcement.
The company said the Harmon Hotel will not open until the end of 2010 and the Harmon's residential condominium portion is being canceled.
The move will save MGM Mirage roughly $200 million by deferring construction costs for a year. Coupled with other cost savings, MGM Mirage said it has shaved $600 million from CityCenter's $9.1 billion budget.
The Harmon, located near the entrance to CityCenter at the 76-acre site's southwest corner near the Strip, is one of five high-rise developments within CityCenter and was to include 200 residential units.
When it's completed about a year behind schedule, the Harmon will have 400 hotel rooms and be about half as tall as its originally planned 47 stories.
"This scope change will be received well by investors," JP Morgan gaming analyst Joe Greff said in a research note. "This news flow has been circulating among the Strip development community and investors for a couple of weeks now."
In September, the Review-Journal reported that construction on the Harmon had been slowed because some structural work was found not to match building plans submitted to Clark County. However, county officials said the building was structurally safe for workers to correct the nonconforming work, believed to exist on 15 of the 22 completed floors.
The Harmon's remediation work involves proper placement of reinforcing bar, commonly known as rebar, in some of the tower's walls.
Some of the rebar was spaced differently — sometimes a distance of only inches — than originally designed, to avoid hitting vertical steel. The affected rebar was placed within horizontal beams that reinforce the structural concrete above doors or other wall openings.
Perini Building Co., the general contractor for CityCenter, released a statement late Wednesday through its Nevada spokeswoman, Lesley Pittman.
"Perini is near completion of all required remediation work on the Harmon Hotel," company Chairman and CEO Craig Shaw said. "We continue to work on completing the project under the revised scope and schedule recently announced by MGM Mirage."
CityCenter CEO Bobby Baldwin said the rest of CityCenter remains on track.
"By canceling the Harmon condominium component, we will be able to avoid the need for substantial redesign of the Harmon resulting from contractor construction errors," Baldwin said in a statement.
MGM Mirage Chairman and CEO Jim Murren told The Associated Press late Wednesday: "It takes pressure off of selling more condominiums, it takes pressure off of occupying more rooms and, on the increment, it allows us to focus on fewer projects to open. It wasn't something that we intended — it certainly wasn't something we planned — but I think we are making a thoughtful and smart decision based on the facts that were presented."
Murren earlier told the Review-Journal that there are no ill feelings between the casino operator and Perini over the construction issues. He said the company's objective is to complete CityCenter.
"With something this large and this complicated, every element is acutely investigated and managed," Murren said. "At the end of the day, we'll settle on the issues. But the road today is to constructively finish the job safely and on time. And it is on time."
Murren said the move to shelve Harmon's condo component was supported by the project's lenders.
"This was a decision by the owners and a good solution," he said. "Clearly, our over-arching objective is to deliver CityCenter to the community, to our owners and to our partners in as cost-effective of manner as possible."
Wall Street thought the move was a good cost-cutting step by MGM Mirage, which announced a deal in December to sell Treasure Island for $775 million to former New Frontier owner Phil Ruffin.
"With the Harmon delay and cancellation and the recent sale of Treasure Island, we believe MGM Mirage has taken a proactive approach towards easing leverage concerns," Stifel Nicolaus gaming analyst Steven Wieczynski said in a note to investors. "The company has proven it can manage through a downturn by cutting costs, securing financing, and improving the customer experience."
The Harmon's condo segment is the third property on the Strip to be halted in mid-construction. Boyd Gaming Corp. shut down its $4.8 billion Echelon project in August, and Las Vegas Sands Corp. halted a $600 million high-rise condominium tower in November.
Perini is expected to complete the Harmon tower to its new 26-floor height and its exterior. The building will be lighted and appear finished but won't be occupied.
MGM Mirage said 88 of the Harmon's residential units were under contract to be sold. Buyers are entitled to receive refunds of their deposits.
Eliminating the Harmon's residential component means there is an overall total of 2,450 high-rise condos for sale at CityCenter's other nongaming hotel projects: Mandarin Oriental, Vdara and Veer Towers.
As of Sept. 30, MGM Mirage officials said they had secured sales reservations for 1,462 units, including what had been sold at the Harmon.
The Harmon will still be managed by the Light Group, which operates 10 nightclubs and restaurants at MGM Mirage Strip resorts. The Harmon included MR CHOW, a branch of the Los Angeles restaurant operated by Michael Chow.
Light Group founder Andrew Sasson was disappointed by the delay but said the company is still determined to operate the Harmon whenever MGM Mirage is ready to restart the project.
"We're 100 percent fully committed to the project," Sasson said. "We've put four years of heart and effort into it already."
The Harmon announcement came as MGM Mirage began the hiring process this week to employ 12,000 workers at the CityCenter site. The company said other CityCenter components — including the 4,000-room Aria, the project's centerpiece hotel-casino — will all open by the end of the year.
The Mandarin Oriental will have 400 hotel rooms and 227 residential units, and Veer Towers will have 670 residential units. Vdara is a 1,495-unit hotel-condominium tower. Crystals will offer 76 fashion boutiques, dining outlets and entertainment venues.
In October, CityCenter secured a $1.8 billion senior bank credit facility, which can be increased to $3 billion. MGM Mirage and its partner, Dubai World, continue to pursue additional financing for the project.
"We have full confidence in the long-term future of the Las Vegas market and the success of CityCenter," said Chris O'Donnell, CEO of Dubai World subsidiary Infinity World Development Corp. "This is an appropriate action in the current circumstances."
Shares of MGM Mirage, traded on the New York Stock Exchange, fell about 6 percent on the news, which was announced before the market opened.
By the end of the session, MGM Mirage closed at $14.52, down $1.44 or 9.02 percent. Last February, shares of MGM Mirage traded at $75.
Contact reporter Howard Stutz at hstutz @reviewjournal.com or 702-477-3871.