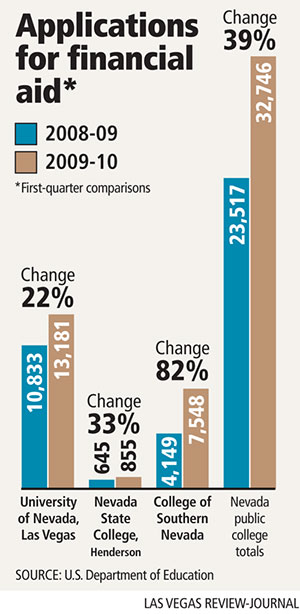 From the department of "duh" come the latest federal figures that tell us the economy has tanked: Far fewer people can afford college without help.
Applications for student aid are up 20 percent nationally this year over last year.
They're up almost twice that in Nevada: a whopping 39 percent.
They soared 82 percent at the College of Southern Nevada, the region's least expensive college.
If the trend continues — and it probably will — CSN could see 40,000 applications for financial aid for the 2009-10 school year. The school population runs about 40,000 a semester, totaling about 55,000 unique bodies per academic year.
Despite the obvious ties to the lousy economy, experts said the numbers are astonishing.
"We saw a surge in volume last year," said Peter Hurley, director of student financial services at CSN. "For 2009 and 2010, we're seeing what amounts to a tidal wave."
Data released this week by the U.S. Department of Education show applications for student aid made in the first quarter of this year for the next academic year topped 11 million nationally, compared with more than 9 million for the same period last year.
In Nevada, 32,000 have applied, compared with 23,000 last year. The state has more than 100,000 public college students.
Applications are up to 7,500, from 4,100, at CSN, and to 13,100, from 10,800, at the University of Nevada, Las Vegas.
Norm Bedford, director of financial aid and scholarships at UNLV, said his internal numbers go further than the federal numbers, which ran through the end of March.
Using figures through mid-April, he said, he is seeing an increase of more than 40 percent in applications.
"That's a pretty staggering number," he said.
What's going on?
Well, when the economy tanks, lots of people go back to school in hopes of getting a degree that could lead to a better job. CSN saw a 10 percent enrollment increase this spring over last spring. Nobody knows what the fall will bring, but more increases are expected across the board.
Couple that with financial hardship — not to mention a likely tuition and fee increase for the fall, coming soon — and the need for aid grows.
Jessica Magnes, 30, who is studying human resources management at CSN, said she simply could not go to school without financial aid.
She moved from California not long ago, so she is paying the neighboring-state rate to attend school. That is more than Nevada residents pay but not as much as "out-of-state" residents pay.
She pays for school entirely with financial aid, grants and scholarships, she said. She takes no loans.
Going to school "is a financial hardship," she said. "It's cheaper here, but it still costs money, and that takes away from your living expenses."
She sees a trend where more and more of her student friends are in search of financial aid.
Napsugar Hegedus, 17, is taking high school and college courses at CSN. She is unsure what she will do next year. CSN, UNLV, something else?
She is working on applying for financial aid, she said while studying on campus Friday morning.
"Honestly, probably student loans," she said when asked how she will pay for school next year. "I'll try."
Hurley, the CSN aid director, said applications for aid have been increasing for several years. Part of the reason is it's just easier now to apply; it is done almost entirely online.
There is also plenty of aid available. Despite the huge increase in applications, the money for federal Pell grants and for loans will not run out, he said. Bedford and Hurley said stimulus money would help.
Scholarships are a different matter. Hurley said those who apply early — right now — have a better shot, generally, of getting a good scholarship.
Another good reason to apply early: While applications are nearly double, the staffs at the schools who must handle the applications are no larger than they were a few years ago. Because of budget cuts, they are sometimes smaller.
Hurley said his staff can handle things, for now. "But at some point, the boat will swamp," he said.
Bedford, at UNLV, also encouraged early applications for the same reasons.
"The early bird really gets the financial aid worm, so to speak," he said.
Despite that plea, he said he expects to see a spike in applications whenever the university system's Board of Regents raises tuition and fees for next year, a near certainty because of budget cuts.
"We could even see a little echo of that," he said. "We could see another push of applications coming in."
Contact reporter Richard Lake at rlake@reviewjournal.com or 702-383-0307.