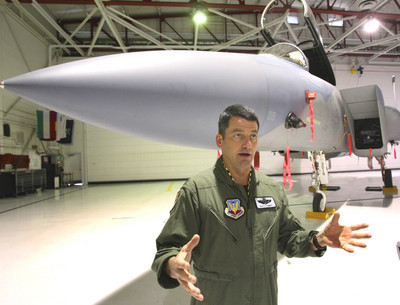 With his F-15C Eagle parked nearby, Col. Russell J. Handy took command Friday of the prestigious 57th Wing at Nellis Air Force Base, known in Pentagon circles as "the Air Force's largest, most diverse flying wing."
It was fitting for Handy, a combat pilot with more than 3,400 hours of flying all models of the F-15, to take the reins of the wing that trains fighter pilots. Forty percent of the nation's F-15s remain grounded because of potential structural flaws that investigators found after one crashed in November in Missouri.
"We had found some areas in the longerons that don't meet blueprint specifications," he said after the change of command, referring to the aircraft's support beams. "And so we have a lot of engineers working on just exactly what that means to us and how we're going to handle that.
"That guidance is not out yet."
Among those grounded in the nationwide fleet, there are "nine aircraft that actually have some cracks in the structural area that we're examining," Handy said.
At Nellis, 13 of the 25 F-15s assigned to the base were grounded Friday. They make up a fraction of the Air Force's F-15 fleet that aren't cleared to fly.
Last week, Air Combat Command leader Gen. John Corley said decisions on returning the 191 grounded F-15 Eagles to flight will be made on a "plane-by-plane" basis.
Filling the gaps that some of those grounded fighter jets at Nellis created, particularly in the role of would-be enemy aggressor aircraft in Red Flag air combat training exercises, is among the first challenges Handy faces.
"We're coping with that in a number of ways," he said in his first interview as the 57th Wing's commander. "We're actually flying our aircraft at a slightly increased sortie production rate.
"We are working hard to bring in other types of aircraft from other units on a temporary duty basis to support our exercises," he said. "Much of our adversary support comes from not just the aggressors but from other units that fly in and fight against us, whether it be Air Force, Navy, Marine Corps.
"And so we're trying to increase that number to make up for some of the F-15s," Handy said.
The planes that will support the effort are F-16s, F-18s and F-15s from other units.
"Just about anything that is flying out there, we're looking for additional support," he said.
Another evolving part of the air combat training equation is the role of the F-22A Raptor.
"The Raptor continues to ultimately be our new air superiority aircraft, and it's going to continue to do what it has been doing," he said. "We've just begun our F-22 weapons school integration, so we are establishing the syllabus for that."
Further befitting the occasion Friday, the change-of-command ceremony, in which Brig. Gen. Stephen L. Hoog relinquished the 57th's Wing ribbon-draped banner, took place inside the Thunderbirds' hangar, home to the Air Force's crack aerial demonstration team and a part of the wing.
Hoog, who had the post since July, will command the Air Warfare Center at Nellis.
"He knows what it takes to do what we need to get done," Hoog said about Handy at the ceremony. "Welcome to the best wing in the Air Force."
Handy became the wing's 31st commander since 1948.
Known in late 1940 as the Army Air Corps' 57th Pursuit Group, the wing was formally activated in 1941 at Mitchell Field, N.Y. It was renamed the 57th Fighter Group in May 1942 and became famous for its role in supporting the British 8th Army's drive across Egypt and Libya.
Said Handy to the wing's pilots, maintainance and other staff standing at parade rest: "Being a part of this says an awful lot about each and every one of you. The 57th Wing is a very busy place, and you work very hard."
Contact reporter Keith Rogers at krogers@reviewjournal.com or (702) 383-0308.