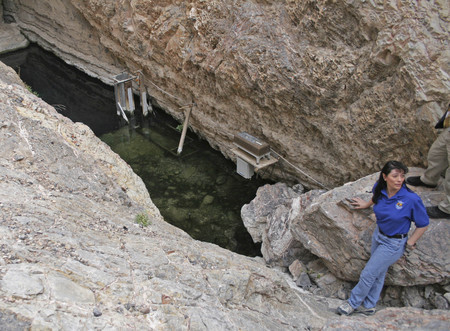 The National Park Service is taking public comment on plans to renovate the site around a water-filled limestone cave that is home to the world's only population of the endangered Devil's Hole pupfish.
The site is in the Ash Meadows National Wildlife Refuge, 90 miles northwest of Las Vegas. The refuge is managed as a detached unit of Death Valley National Park.
Renovations are intended to protect the small, neon blue fish from intruders and vandals while adding interpretive and educational opportunities for visitors.
Plans call for restoring natural ecosystems on which the fish rely, while allowing safe monitoring and scientific research.
The number of Devil's Hole pupfish began declining in the mid-1990s, and dropped to 38 fish in 2006.
Officials counted 70 pupfish in April.