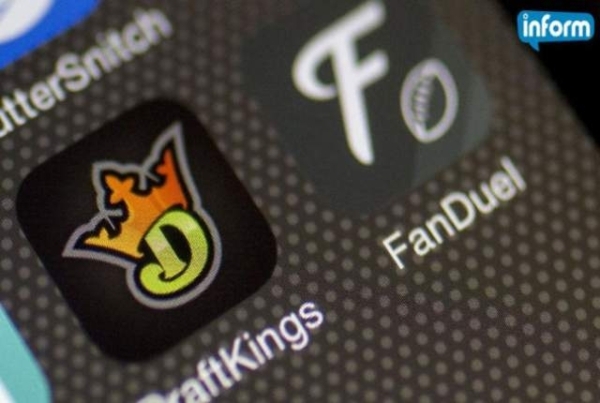 I'm not sure even the gutsiest bookmaker would take a bet on it, but the current bad news for daily fantasy sports companies could eventually be very good news for Las Vegas and the rest of the gaming industry.
New York Attorney General Eric T. Schneiderman last week slapped a cease-and-desist order against sports fantasy outfits DraftKings and FanDuel, and on Monday a judge refused to grant the embattled outfits a temporary restraining order. Chalk up a win for the home team.
The attorney general's aggressive stance wasn't exactly surprising. New York has the most fantasy sports players of any state, and the growing consensus nationwide is that DraftKings and FanDuel are facilitating a novel form of illegal sports betting — one that happens to appeal to a new generation of players who are computer and phone app savvy.
In the short run, the only players associated with this story who figure to get paid are the lawyers. But, in the long term, the popularity of DFS and the marketing and business skills displayed at DraftKings and FanDuel could generate historic change in the sports betting industry.
That could be good news for Las Vegas and its supersized sports books. Not only might this battle at last force Congress to act on the issue, something that should have been done a generation ago, but it also should motivate Nevada gaming licensees to evolve their betting style to fit the new generation.
Outside our state lines, with unimportant exceptions, sports betting is one of America's last gambling taboos. Cops and mobsters have a time-honored tradition of playing Whack-a-Mole with illegal bookmakers and degenerate players. And Nevada's legal and regulated industry continues to endure snubs and slights from some professional sports leagues and ignorant members of Congress.
Before it started to bust out, DraftKings and FanDuel had warm associations with professional leagues and television sports giants. The activity is enormously popular with a new generation of players — most of whom contribute to the economy, pay taxes and are eligible to vote. There's no stigma.
If the DFS boys play this one right, it could change the playing field.
But there's a big place for the Vegas kings of sports handicapping. Simply put, they know how to operate at the highest level, and they'll emerge as the clear leaders as fantasy sports play and traditional game betting are eventually legalized on a national scale.
As with its approach to the use of marijuana, the federal government lags behind when it comes to treating sports betting like just another casino game. If it's legal to have Vegas-style gambling palaces almost everywhere, it makes no sense to keep sports betting in an outlaw category.
For now, the fantasy sports companies figure to take a beating.
"It is clear that DraftKings and FanDuel are the leaders of a massive, multibillion-dollar scheme intended to evade the law and fleece sports fans across the country," Schneiderman said. "Today we have sent a clear message: not in New York, and not on my watch."
With that kind of superheated rhetoric, you'd almost think the guy had his sights set on a higher office.
Of course daily fantasy sports constitutes illegal betting. That's not in serious dispute.
Nevada's Gaming Control Board recently acknowledged that DraftKings and FanDuel were out of bounds. Other states have joined in the chorus.
But what happens next?
Do the states disallow the activity, turning into a shadow game played on the Internet and connected to offshore sports operators? Or do state attorneys general collectively raise the issue of regulating and legalizing sports betting, including the fantasy games, at the federal level?
The trouble with the continued pummeling of DraftKings and FanDuel is simple: It perpetuates the image of sports betting as a pariah activity in a nation that gambles on absolutely everything — and is run by Wall Street, the biggest casino in the world.
John L. Smith's column appears Sunday, Tuesday, Wednesday, Friday, and Saturday. Contact him at 702 383-0295, or jsmith@reviewjournal.com. On Twitter: @jlnevadasmith