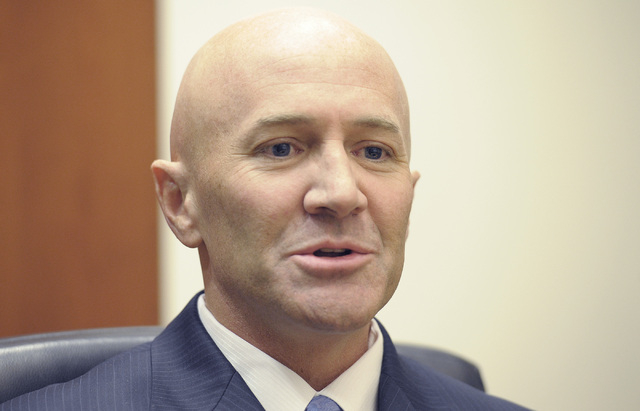 A semi-automatic pistol stolen in a burglary was found in Family Court Judge Mathew Harter's garage last October, but no one from his own family was arrested, reliable sources report.
A police report was filed Oct. 19, 2013, after the judge discovered a Ruger 9 mm, approximately 50 rounds of ammunition, and a 30-year service pin belonging to the late Las Vegas Fire Department veteran Michael Overson. The judge, who sources say also found marijuana-smoking paraphernalia in the garage, called the police and reported a problem involving his 17-year-old son.
What happened next is generating more questions than answers. More than a dozen juveniles connected to the burglary were questioned, and several were arrested and convicted for the break-in.
The home is owned by Overson's son, 15-year Metro officer Cord Overson, who on Thursday quoted department policy in declining to comment on the matter. The officer did, however, confirm the burglary and the stolen property.
Reached at his chambers, Harter said he did nothing to influence the police investigation or the ongoing criminal case, which resulted in convictions and probation for several participants but no charges against his son. Harter said it wasn't the first time he has called the police in connection with his teenager's erratic behavior. He also retained an attorney on his son's behalf.
"I'm the one who called police," Harter said, adding that it was his third call to authorities. "I'm the one who gave police evidence."
The judge said he didn't know why his son wasn't arrested, only that he did nothing to intervene in the investigation.
It appears the controversy is costing Harter, who is up for re-election. Las Vegas Police Protective Association Executive Director Chris Collins confirmed Thursday the issue was one reason the officers' union recently pulled its endorsement of Harter.
BURTON COHEN: A memorial service is set for 3:30 p.m. today at King David Cemetery (2697 E. Eldorado Lane) for Gaming Hall of Fame member Burton Cohen. The longtime casino executive died in his sleep at age 90, which is a great roll by anyone's measure.
Cohen was born in Philadelphia and practiced law, but his professional career picked up steam in Miami after he represented dog track operator and real estate man Jack Cooper. Cohen managed a hotel in Los Angeles before coming to Las Vegas to run the hotel side of the mob-riddled Frontier. He later operated the hotel at Circus Circus before moving to bigger and grander Strip properties.
Former Las Vegas casino man Bernie Sindler recalls encouraging Cohen to come in on the Frontier deal and later worked with him at Circus Circus.
Although casino marketing veteran Gene Kilroy never worked with Cohen, the two dined often at the Bagel Nosh.
"He was a great guy, and he loved his dogs," Kilroy says.
ART LOVER: Casino executive Elaine Wynn's $142.2 million purchase last year of Francis Bacon's three-paneled painting "Three Studies of Lucian Freud," has caught the eye of at least one member of the state Tax Commission.
A recent article in The New York Times raised the question of whether Wynn was attempting to avoid paying $11 million in Nevada use taxes by temporarily displaying the work in Oregon, which allows public displays of art to avoid taxation.
"It becomes an issue if she brings the painting into this state," Tax Commission member George Kelesis said Monday.
HARTER'S ENCORE: What if they gave a retirement party, and the guest of honor decided to stay on longer?
In the case of former UNLV President Carol Harter, it's welcome news, indeed.
Harter, who helped found the university's Black Mountain Institute after ending her tenure as president, received an elaborate and heartfelt sendoff Monday with tributes from several folks, including Rep. Dina Titus. Harter has been serving as BMI's director.
Harter said Friday she will remain as a consultant during a national search for her replacement.
TEACHERS' AIDE: You can relax, retiring public schoolteachers. At this lunch, you don't have to monitor the halls unless you want to.
The 14th annual Retiring Teachers Appreciation Luncheon is set for Saturday, May 31 at Nellis Air Force Base. To RSVP with Mary Rector, go to snrtalunch@hotmail.com.
ON THE BOULEVARD: Can you believe early primary voting starts two weeks from Saturday? That means more ads from warring Republican Lt. Gov. candidates Sue Lowden and Mark Hutchison. Prepare to cover your ears. … Old friends of the Sahara have to be pleased that the property, under its new SLS banner, is coming to life once more. … Legendary sports bettor Lem Banker turns 87 this week. His friends bet the under and lost.
Have an item for Bard of the Boulevard? Email comments and contributions to jsmith@reviewjournal.com or call (702) 383-0295.