County approves 500-foot Ferris wheel, Strip amusement park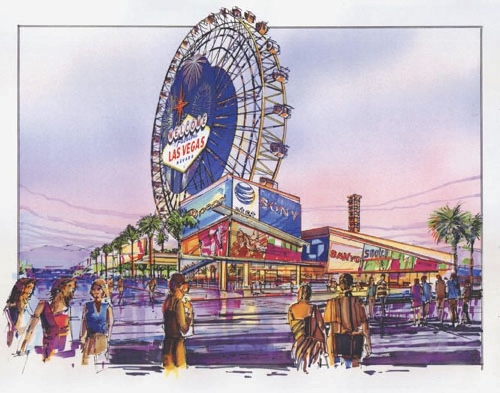 A 500-foot Ferris wheel could become the next towering landmark to greet visitors on the Strip.
Clark County commissioners unanimously approved a use permit Wednesday that clears the way for a developer to build a 10-acre amusement park and retail center on property he owns near Mandalay Bay.
If built, the Ferris wheel would be the third-largest in the world and would outstretch the 443-foot-tall London Eye to become the biggest in the Western Hemisphere, developer Howard Bulloch said.
Several commissioners bubbled with enthusiasm about the project, like kids about to jump on a fun ride.
"I do appreciate that it's family friendly and will pull in people from around the world," Commissioner Mary Beth Scow said.
"It's a way to re-invent the wheel," Commissioner Chris Giunchigliani said.
But Bulloch's plan contains no details about how he would pay for the project during a deep recession in an area where family entertainment was written off as a failed experiment years ago. And he is competing with casino giant Caesars Entertainment, which also wants to build a Ferris wheel.
Bulloch said his project would create 200 construction jobs and 200 permanent jobs after the amusement park opens.
A temporary 200-foot-tall Ferris wheel would be erected initially and replaced later with the full-sized sky wheel.
He said the 500-foot wheel would fall within the Federal Aviation Administration's recommended height limits for the site.
Plans also call for six additional rides, a 140,000-square-foot retail complex and a 21,000-square-foot conference center. The site has a total of 38 acres, allowing room for additions such as a roller coaster.
The proposal echoes a London-themed park that Bulloch had planned for the site a decade ago. That project stalled in the economic slump after the Sept. 11, 2001, terrorist attacks, so he and his partners decided to hold off, he said.
"It's time for an attraction like this on the Strip," Bulloch said.
"We think this will be a phenomenal attraction for the city."
WHEELING AND DEALING
Bulloch was involved in a couple of controversial land deals with McCarran International Airport eight years ago, including property near the proposed amusement park site. He was never accused of wrongdoing.
Airport officials stirred an uproar by selling land at a heavy discount to developers, who often resold it at a heftier price.
Bulloch said he bought the land where the park would be built from a private seller, and not the airport.
When asked how he aimed to finance such a costly venture in a depressed market, Bulloch said there is always financing available for good projects.
He would not give details about prospective lenders and investors.
Denny Weddle, his publicist, said it helps that Bulloch owns the land he wants to develop, giving him greater credibility than people who woo investors for big projects on leased sites.
But one hospitality consultant was skeptical about anyone developing an amusement park.
"It's one thing to come up with renderings and get it approved, but getting it funded is much different," said Gregg Carlson, head researcher at Apertor Hospitality. "They (amusement parks) tend not to come to life."
MGM Grand's theme park and the Wet 'n Wild water park closed years ago after Las Vegas moved past its family destination phase, Carlson said. "Vegas is not a place geared to family entertainment."
Also, amusement parks don't generate enough cash flow to offset the price of real estate on the Strip, he said, adding that it's a difficult feat for anything other than a casino.
Over the years, other Ferris wheels were proposed for the Wet 'n Wild site, the New Frontier and the Rio, but nothing materialized.
DUELING PROJECTS
Still, Bulloch faces possible competition.
A sky wheel would be the centerpiece of Caesars Entertainment's Project Linq, a $500 million entertainment, retail and dining corridor that the company plans to build on a thoroughfare that runs between the Imperial Palace and the Flamingo.
Project Linq would have 190,000 square feet of retail and restaurants and include a large Ferris wheel that executives liken to the London Eye. The wheel would have 32 pods or "gondolas" that each would hold 36 people, and it would take an hour to complete a revolution.
"When you look at our project, it's planned, zoned and ready to break ground," said Jan Jones, Caesars senior vice president of entertainment. "I don't think the Strip can support two wheels."
Company officials announced last week that it would seek $400 million in financing, a portion of which would be used for development.
Project Linq would be near the center of the Strip and would draw customers from the thousands of hotel rooms that surround the site.
"Our project makes sense in terms of location," Jones said. "I'm really not sure where (the amusement park project's) critical mass will come from."
DEVELOPER SAYS IT'S A RACE
Bulloch said he is aware of Caesars' plans. Whoever builds a sky wheel first will win, he said.
His proposed sky wheel would have 40 air-conditioned gondolas that would each hold up to 25 people, and would sell food and beverages to passengers.
A gondola would take half an hour to rotate on the wheel, giving riders a bird's eye view of the entire Strip, from south to north on Las Vegas Boulevard, he said. It would a be similar vantage point as Mandalay Bay's Foundation Room, only higher.
Bulloch said he knows of only two Ferris wheels taller than 500 feet. Those are the 541-foot Singapore Flyer and the 641-foot Great Wheel of China.
He leased his site last year to Cloud Nine, a company that ran helium balloon rides. Strong winds played havoc with the operation, and in December, the company pulled out.
Weddle said the Ferris wheel will be designed to withstand 35 mph gusts, whereas 11 mph winds were enough to buffet balloons. On days when the wind is excessive, the sky wheel will be idled for safety, he said.
COMMISSION ADDS CONDITIONS TO PERMIT
Commissioners attached a couple conditions to the use permit.
One calls for the developers to talk with nearby casinos such as Mandalay Bay and the Luxor about possibly building a pedestrian sky bridge.
Another requires developers to meet with residents in neighborhoods where the giant wheel might visually intrude.
Mostly, commissioners acted excited about a full-fledged amusement park on the Strip.
Commissioner Lawrence Weekly said it would provide entertainment to children, something lacking in the Las Vegas valley.
"I think it's time for Las Vegas to do different things," Weekly said.
Contact reporter Scott Wyland at swyland@reviewjournal.com or 702-455-4519. Contact reporter Howard Stutz at hstutz@reviewjournal.com or 702-477-3871. Contact reporter Tim O'Reilly at toreiley@reviewjournal.com or 702-387-5290.