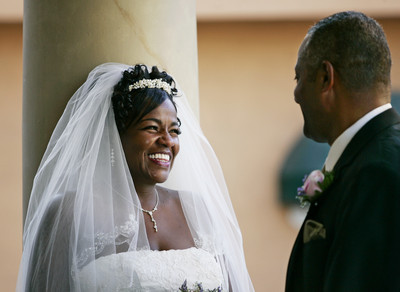 It's 8:08 a.m., eight seconds past, on Friday, Aug. 8, 2008. It's 88 degrees outside, and, but for the hum of the Fox5 Mobile Newsroom in the parking lot, all is serene.
The sun shines, the birds chirp, even the graffiti seems subdued, and the homeless guy cruising the parking lot across the street keeps to himself for this one lucky moment.
At the Little Chapel of the Flowers on the Strip, a pair of Germans in white pantsuits are inside, doing the deed, a Virginia duo marks the moment, a Chinese couple approaches in a limousine.
A Chevy Tahoe screeches to a halt. Out piles a wedding party, one of about 100 of them to arrive here on this day.
At wedding chapels cross the city, similar scenes are unfolding.
The action happens on 8/8/8 (please, let us forget the zero for just one day), a lucky day, an easy-to-remember anniversary date, the source of a cool story for the kids, a silly stunt, a business bonanza.
"Our floral order for this one day was bigger than it is for some weeks," says Roxanne Marquez, who runs the chapel's floral department. "So, we're actually doing a week's work in one day."
Not that she's complaining or anything.
The happenstance that is today's date — the convergence of those eights into one beautiful string — happens only once every hundred years.
Las Vegas' wedding industry hasn't seen this kind of coolness since, um, since last year's 7/7/7 festival of love and luck.
That one seemed more Vegas-ey, what with the whole 777 slot machine jackpot legacy we have here.
July 7, 2007, also happened to fall on a Saturday, the biggest day for weddings anyway.
But let us not shortchange 8/8/8.
Lynda Foresta in the Clark County clerk's office said the county issued 3,765 marriage licenses on July 5th, 6th and 7th last year.
They issued more than 2,000 on Wednesday, Thursday and halfway through Friday this year — three times the usual total for a similar period.
Deborah and Ricky Kannamore hail from Virginia. They chose an 8/8/8 wedding because the 8 has special significance.
"It represents infinity," says Deborah, espousing a popular belief; a sideways 8 looks like the symbol for infinity. "We're together forever."
Elsewhere, eight's just lucky.
Credit the Chinese.
Eight means good luck over there the way 13 means bad luck over here.
The popular explanation goes like this: In China, the word for "eight" sounds a lot like the word for "prosperity," a fact that has, over the years, given a certain cachet to the number eight.
Just ask Gang Li and his new bride, Jun, who both emigrated from China.
"In China," says Gang, an engineer who lives in Mississippi now, "the eight means good luck."
He hasn't got the time to explain it all, with the limo driver waiting to whisk the newly married couple away.
So, what about the Germans? Is eight lucky over there, too?
"I visit Hong Kong a lot," explains Fritz Hieber, a recently retired orthopedic surgeon.
He and Ute, a businesswoman, had been together for 20 years already. They were cruising along just fine when this whole 8/8/8 thing popped up.
Which led Hieber to pop the question.
"He waited 20 years to ask me," says Ute.
"It's because of the lucky numbers," Fritz explains.
Ahh, the numbers.
Which brings us to the nine, to 9/9/9, Sept. 9, 2009.
The word for "nine," it turns out, sounds just like the word for "long lasting" in China.
Could be a popular day for weddings.
Contact reporter Richard Lake at rlake@ reviewjournal.com or 702-383-0307.
view video