January 7, 2008 - 10:00 pm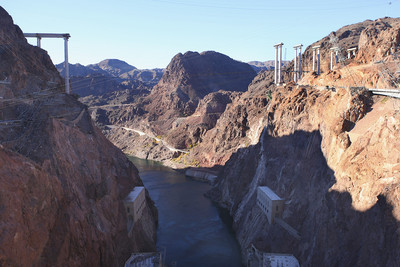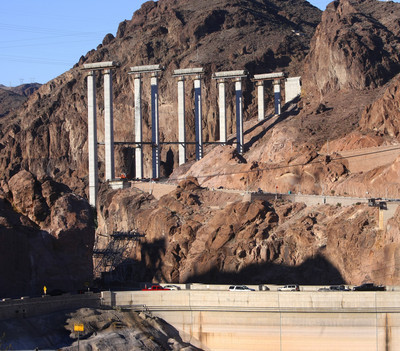 A crane system needed to construct the Hoover Dam bypass bridge across Black Canyon should be up and running this month, a federal official said.
The new pulley-type, "high-line" crane system was designed and specifically built with the bypass project in mind, said Dave Zanetell, a Federal Highway Administration engineer overseeing the project. "The other system was basically brought in from another construction site."
More than a year ago, two pairs of 280-foot towers that made up the other system collapsed amid 55 mph winds.
The high-line system is needed to carry up to 50 tons of materials and workers about 1,100 feet over the Colorado River via 2,300-foot-long steel cables that stretch between the towers and over the gorge.
At first, project officials hoped the collapse would delay the $240 million bridge project by only six months.
Officials think the project won't be finished until mid-2010 at the earliest. The bridge was supposed to have been completed by the end of 2008.
The primary contractors, a multinational conglomerate made up of the Obayashi Corp. and PSM Construction USA Inc., will have to absorb the cost of rebuilding the crane system, Zanetell said.
"The price of the project to the government remains unchanged," he said.
In the meantime, work has been progressing with the use of more conventional derrick cranes.
And recently, Zanetell said, a contract was awarded for the final paving work to be done on the approach roads on both sides of the bridge.
The 1,905-foot bridge will include an 890-foot span over the river. It will provide four lanes for the U.S. Highway 93 traffic that currently uses the two-lane road over the dam.
About 17,000 cars and trucks are expected to use the new bridge on a daily basis.
Today more than 2,000 trucks detour the dam via U.S. Highway 95 to a river crossing in Laughlin. Truck traffic was banned from the dam just after the terrorist attacks of Sept. 11, 2001.
The new structure will be named the Mike O'Callaghan-Pat Tillman Memorial Bridge. O'Callaghan was a popular two-term governor of Nevada, and Tillman was a patriotic Arizona Cardinals football star who joined the military after the 2001 attacks and was killed accidentally by his fellow U.S. soldiers in Afghanistan.
Beyond the new crane being installed, Zanetell is looking forward to six months from now when all systems are go.
"In June, there won't be a day that goes by where the work we'll be doing won't be either the first time it's ever been done or it won't be the biggest it's ever been done."
Contact reporter Francis McCabe at fmccabe@reviewjournal.com or (702) 387-2904.