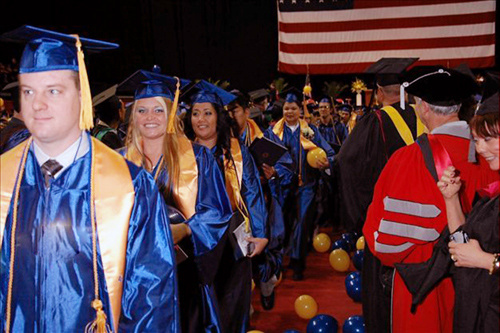 Michael Sandoval took his first cooking class in high school because he thought it would be an easy "A."
Today the 27-year-old chef de cuisine at the Thomas Keller Restaurant Group's Bouchon in Napa Valley is one of the top achievers in his field.
"CSN culinary professors John Metcalf, Levy Acosta and Jill Mora were three key players in my growth, not only in food, but in support of anything I wanted to achieve," said Sandoval, who has worked his way up through the company since he started his studies at the College of Southern Nevada in 2004.
He's come a long way since his days on the CSN Culinary Team, which went to nationals and allowed Sandoval an opportunity to go to Germany in 2006 for the Culinary Olympics. He has worked hard to gain his current status, where he enjoys being able to impact the experience of guests and colleagues.
Sandoval is a model for many CSN students who aspire to achieve success. While the definition of success varies for each student, the College of Southern Nevada is working on a number of initiatives to help them reach their goals.
Completion
Nevada ranks 43rd in the nation in terms of educational attainment. As the state's largest college, CSN is attacking this problem on multiple fronts.
"Our plan for the future is to enrich the substance of what we are," said CSN President Dr. Michael Richards. "This is a time for us to focus on student success and support. We're not just going to transmit knowledge; we're going to transmit knowledge that leads to a degree or certificate."
CSN is taking part in Complete College America, an initiative which aims to increase the number of college graduates across the nation. As part of this effort, CSN has a goal to bolster the college's number of graduates by 85 percent over a decade.
In the last year, CSN has doubled the graduation rate used by the U.S. Department of Education and exceeded its goals under Complete College America.
As part of this initiative, the college launched Project Graduate last year. CSN officials identified 4,269 students with at least 45 transferable credits and a 2.5 GPA. They were invited to meet with advisers and counselors to develop academic plans to help them finish their degrees.
The effort helped increase the number of students graduating in May by 20 percent over the previous year.
Students often rely on degree sheets that tell them what classes they need to pass to obtain their degree. As a result, they may get off course, get frustrated and drop out. But connecting students with counselors helps students realize how close a degree is within their reach and how to get there.
"We need to find ways to help these students see the light at the end of the tunnel," interim Vice President of Student Affairs Dr. Chemene Crawford said.
Orientation and increased emphasis on counseling will also help students navigate the college better, she said.
To reduce the number of incoming students who need developmental education, which extends the amount of time it takes for a student to obtain a degree, CSN is now promoting preparation tools for math and English assessment tests. This will help students do better on the mandatory exams that determine if they are ready to take college-level math and English courses.
CSN will also work with the Clark County School District to create summer bridge programs to help high school students prepare for college-level courses.
Helping Students Reach Their Goals
Obtaining an associate degree is not the only goal for community college students. For instance, Sandoval, who transferred to UNLV but has not yet completed a degree, was eager to put the knowledge he had gained from his classes to use in the workforce to see where it would take him.
"Within the last seven years, I haven't wanted to stray away from the Thomas Keller Restaurant Group because they have so much to offer," Sandoval said. "I'm 27 and have had a lot of different and great opportunities."
He plans to return to college, however, and one day start his own business.
Sandoval is not alone as many students attend community colleges to learn the skills they need to obtain the job or promotion they are seeking and then return to college years later to complete their degrees.
"Some students come for a couple of classes or to learn a skill. Some folks are just trying to get a job," Crawford said. "But it is our job to make them aware of all that we have and encourage them to come for more."
CSN Support
Whether students' end goal is personal enrichment, a degree or a new job, CSN enriches students' lives and helps them learn more about themselves and where they want to go.
J.T. Creedon attended CSN for eight years off and on as a full-time, working student. Like many who drop out of college, life got in the way — life being a car that broke down and a fling with music school. He joined a band and toured the country, playing guitar.
In 2007, he got serious about his education. He joined the CSN Capitol Club and learned he loved politics and government under the tutelage of CSN political science professor Mark Peplowski. His grades were good and he was invited to join the college chapter of the honor's society Phi Theta Kappa. The continual small rewards and acknowledgements he received from professors built Creedon's confidence.
"I never thought of myself as an honor student," he said. "It was such a trip."
In 2010, he ran for student body president and won. Last year, Creedon led a massive statewide grassroots effort to advocate for more education funding, working with thousands of students, local and national media, lawmakers and other state leaders. And, he graduated with two degrees.
"Before I came to CSN I was very intimidated to the degree I was afraid to order a cheeseburger from McDonald's. I'm not even kidding. I had such social anxiety," Creedon said. "I went from that to making speeches in front of hundreds of people and meeting with the governor. CSN has such a great support base."
Based on his experience in student government, he was offered a political organizing job in May, but is planning on pursuing his four-year degree.
Finding Their Way
Like Sandoval, Creedon serves as a model for students, who find their way at CSN and achieve notoriety in their fields. Both credit the professors and staff they met at CSN with helping them to find their way.
Both credit their education with helping them to discover and define success.
"I am a firm believer in traditional sauces and I enjoy them so much because I have learned about them and I have so much respect for their historic value and their region," Sandoval said. "That's how education makes a difference. College will teach you how to be successful and how to be a professional."