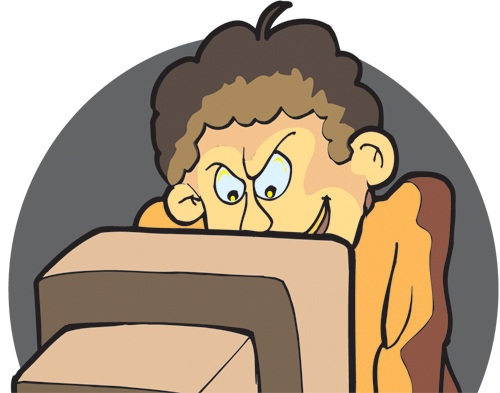 Unofficial motto of the Nevada Legislature: "That no harm or distress of any kind befall anyone anywhere by any means wildly conceivable, even if it takes every moment of your time and the last dime of your money."
Since our public school teachers and principals have solved the problem of adequately teaching our children to read, write and cipher, our benevolent, all-caring lawmakers in Carson City have decided they have time to monitor the computer and cell phone messages of their charges to make sure none of the little darlings is ever pained by a hurtful message from a classmate.
On Thursday NRS 388.123-139 became law.
It prohibits bullying in general and cyberbullying specifically. The definition is "a willful act or course of conduct on the part of one or more pupils which is not authorized by law and which exposes a pupil repeatedly and over time to one or more negative actions which is highly offensive to a reasonable person and is intended to cause and actually causes the pupil to suffer harm or serious emotional distress."
Never mind the trampling of the concept of free speech, this law of the land raises thin-skinnedness to a state-sanctioned right, and then demands school boards, administrators and teachers spend untold hours policing a natural behavior of adolescence.
The law requires every district to adopt a policy for "provision of safe and respectful learning environment," train staff in "ethical, safe and secure use of computers" and file an annual report of violations that includes a description of each violation.
If you think schoolteachers and principals have already locked computers to the point they are little more than typewriters, lest some child be exposed to something untoward in the wild and wooly Worldwide Web, wait till this fall.
And did anybody in Carson City bother to contemplate the fact that cell phones — the favored means of messages between teens — are banned in schools, or that most the computerized "bullying" takes place on social media like Facebook and Twitter on home computers, not at school?
Frankly, if a student could send a coherent, properly punctuated, grammatically correct insulting and/or threatening missive, they should be congratulated instead of investigated.
Many of the people who voted for this silliness are running for re-election. Perhaps the voters should bully a few of them out of office.
As James Madison said in Federalist Paper No. 51, "But what is government itself, but the greatest of all reflections on human nature? If men were angels, no government would be necessary. If angels were to govern men, neither external nor internal controls on government would be necessary. In framing a government which is to be administered by men over men, the great difficulty lies in this: you must first enable the government to control the governed; and in the next place oblige it to control itself. A dependence on the people is, no doubt, the primary control on the government; but experience has taught mankind the necessity of auxiliary precautions."
And neither can government turn men into angels by proclamation.