Deadmau5 does nightclub gig at XS
November 17, 2013 - 11:57 pm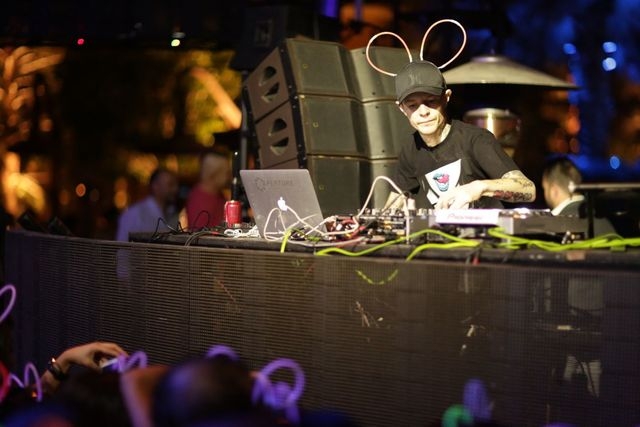 The Wynn's XS nightclub lured DJ Deadmau5 away from MGM's club Hakkasan for one night — and possibly for free.
On Friday night, Deadmau5 — the Rolling Stone cover star and Hakkasan performer — was in Vegas for a private event.
Then Deadmau5 dined with XS chief Jesse Waits. They reminisced. Deadmau5 told Waits he should book him as a DJ for that very night.
Waits said he couldn't pay him. Deadmau5, who commands hundreds of thousands of dollars per gig, offered to perform for no fee.
So the two club titans walked to XS. Deadmau5 started DJing at 11:30 for a two-hour opening slot for Wolfgang Gartner.
XS was prepared. Deadmau5 logos scrolled across giant LED screens. Lasers and confetti excited the crowd.
The next night, Deadmau5 dined again with Waits at Encore's Andrea's, and they were joined by Surrender nightclub chief Sean Christie. What was that dinner about?
Deadmau5 isn't on Hakkasan's schedule for the rest of 2013.
Club watchers think Wynn execs obviously want to take back some of their brand-name DJs from competitor clubs. Over the summer, Steve Wynn himself was spotted in rival clubs.
The Wynn already signed Marquee resident DJ Kaskade (who was a Wynn DJ years ago) to his current Wynn winter residency.
If you're one of those doubters of DJs and clubs, consider Josh Eells' piece in the Sept. 30 New Yorker magazine.
Eells insists Wynn-Encore's four clubs grossed $180 million last year, "which was more than the slot machines earned."
Wynn's publicists told Eells they disputed his figures, then Eells quoted Andrew Sasson of Light Group.
"Half of Steve Wynn's profit comes from the nightclubs," Sasson told the New Yorker. "Gambling is an amenity now."
PS4 DOWN, XBOX ONE TO GO
Sony's PlayStation 4 launched Friday, selling 1 million units in North America at $400 each in the first 24 hours. That's $400 million in a day.
But after launch, it was nearly impossible to find a PS4 to buy in America. The PS4 is this year's Cabbage Patch Kids/Beanie Babies/iPhones.
I was planning to review the PS4. Sony sent me games, but no PS4 to review them on. I tried buying one but they're sold out.
Many people said on Twitter and YouTube that when they got their PS4s home, they didn't work.
Sony said only 0.4 percent of machines were troubled. But 0.4 percent of 1 million units equals 4,000 disgruntled people going, "What's up with my $400 PS4 and these $60 PS4 games?"
Sony's head honcho said early reviews of PS4 games were "disappointing" but not "worrisome."
Over at IGN, reviewer Bobby Amos said he'd rather play "Madden NFL" on an Xbox 360 or a PS3 than on an Xbox One or PS4, because the game doesn't run as smoothly on the new systems.
Xbox One comes out Friday. I will have one. But GameSpot.com, after 6 a.m. today, starts live-streaming Xbox One gaming/reviewing.
If you want to test an Xbox One before launch, you can play "Forza Motorsport 5" on an Xbox One this week at the Microsoft Store in Fashion Show Mall.
Doug Elfman's column appears on Page 3A in the main section on Mondays, Tuesdays, Thursdays and Saturdays. He also writes for Neon on Fridays. Email him at delfman@reviewjournal.com. He blogs at reviewjournal.com/elfman.