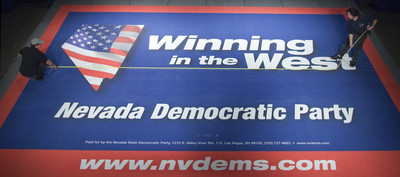 If Nevada's last Democratic presidential debate was a Vegas boxing match, tonight's is an Old West duel.
Three candidates remain in serious contention. Two have each won a state. Their goal: Shoot to kill.
"Nevada is at the center of the storm right now," said national political expert Larry Sabato, director of the Center for Politics at the University of Virginia. "This is one of those crapshoot races that could go in any direction."
Sabato is the pundit known for his "Crystal Ball," what he calls his overwhelmingly accurate predictions of political races. Right now, he's hesitant to make any.
Meanwhile, it happens that the theme of tonight's debate, in the works for more than a year, is minority issues — just as one of the most emotional issues in politics has been raised in recent days: race.
"Black and brown" issues headline the debate tonight at the Cashman Center in Las Vegas, sponsored by local and national black and Hispanic groups on Martin Luther King Jr.'s birthday.
It is the first Democratic debate since the New Hampshire primary one week ago was won by Sen. Hillary Clinton, creating a tie between her and the Iowa winner, Sen. Barack Obama. Former Sen. John Edwards remains in contention.
The debate moderator is NBC's Brian Williams, joined by the network's Tim Russert and Natalie Morales of the "Today" show.
The debate's executive producer, Phil Alongi, called the three "our A team" and said, "If ever there was a question about how important Nevada is to the future of the country, tomorrow will show it."
But in a surprise development, Rep. Dennis Kucinich was on his way to winning a legal challenge to NBC's decision to exclude him from the debate, making it possible a field of four will appear. The far-left pacifist isn't seen as having a chance at the nomination.
Whether there are three or four onstage, tonight stands to be a much more focused affair than a Democratic debate in Las Vegas two months ago, which featured seven candidates and often had a round-robin feel. Three have since dropped out of the running.
Clinton recently ignited controversy with a comment that seemed to diminish King, saying it took a president, Lyndon Johnson, to make King's dream a reality. In a television interview Sunday, she insisted it was Obama's campaign that was trying to engage in race-baiting.
Obama, speaking to reporters at a Las Vegas church later Sunday said he was "baffled" that the Clinton campaign would "suggest that we're injecting race as a consequence of a statement she made that we haven't commented on."
That's not the only hot button Clinton has pushed in recent days, Sabato noted, as she has attacked Obama's record on abortion and the war in Iraq.
"I think the dynamic now is clear," Sabato said. "The Clinton campaign has made the decision, which is not unusual for campaigns in a tough race, that they are going negative. They are mining Obama's record for everything it's worth and they're going at him hard."
Edwards, for his part, has sided with Obama, telling South Carolinians on Sunday, "As someone who grew up in the segregated South, I feel an enormous amount of pride when I see the success that Senator Barack Obama is having in this campaign."
In an interview Monday, Edwards, whose debate performances have gotten solid reviews, said he was looking forward to the debate.
"It's an opportunity for people to actually hear and see what I have to say," he said. "There will be a lot of people who have never heard it. Whenever people have a chance to hear what I have to say, I do well."
Edwards said he refuses to be written off. "The national media has wanted this to be a two-person race for a year now," he said. "My job is to get heard through that noise."
And he suggested that the other two candidates are taking tricks from his playbook: "When I hear them now, they sound a lot like what I say," Edwards said. "Standing up to special interests — I read that Senator Obama is talking about greed and corruption in Washington. I've always been talking about that."
Obama throughout his campaign has expressed his belief that Washington lobbyists have too much influence, and he does not take donations from them. Since his win in Iowa, where Edwards came in second, Obama has taken on a more populist tone. In recent appearances, he often railed against "fat cats," for example.
Sabato said he wouldn't bet on it, but Edwards could have a breakout moment in the debate. "He does well in debates, and he stayed in for a reason," Sabato said. "He believes he might be able to score an upset in Nevada or South Carolina and get back in the race. It's also possible that people will look at Clinton and Obama squabbling and decide to vote for Edwards to send a message, though I wouldn't say it's likely."
As for Obama, assuming Clinton goes after him, which Sabato called "inevitable," the question will be how he responds. "Is Obama going to try to engage in the same tactics, or try to be above it all?" he said. "If he acts above it all, that suggests a great confidence in Nevada that may or may not be warranted. He was very confident going into New Hampshire."
The debate is co-sponsored by the 100 Black Men of America, the U.S. Hispanic Chamber of Commerce, the Nevada African American Democratic Leadership Council, the IMPACTO political action arm of the Las Vegas Latin Chamber of Commerce and the College of Southern Nevada.
At a news conference Monday, Luis Valera of IMPACTO said the debate sponsors represented "more than just the partnership of four organizations, really the coming together of two communities."
Michael Barrera, president of the Hispanic Chamber, said the candidates are facing a diverse electorate for the first time.
"The Nevada caucuses, the test in the West, will be the first test of candidates in the Western states and a key test of the Hispanic vote," he said.
Candidates will face questions about education, health care and immigration, Barrera said.
"People are trying to use (immigration) as a wedge issue in our country. People are trying to use it as a wedge between African Americans and Hispanics, and that's not right," he said.
Clark County Commissioner Lawrence Weekly, a founding member of the Nevada African American group, said the candidates, and the country, are going to see that Las Vegas has something to say besides, "Place your bets."
"We want the world to know that we're not a tourist destination, we're a final destination," he said. "And we're going to speak, and we're going to speak very clearly, and we're going to speak very loudly."
Contact reporter Molly Ball at mball@reviewjournal.com or (702) 387-2919.
DEMOCRATIC DEBATE TODAY When: 6 p.m. Where: Cashman Center, Las Vegas Can I go?: No. Tickets are no longer available. How to watch: Live on MSNBC, Cox Cable Channel 47 On the Internet: Live at MSNBC.com Network rebroadcast with Spanish subtitles: Telemundo (KBLR), Channel 9, midnight CANDIDATE APPEARANCES IN SOUTHERN NEVADA TODAYJOHN EDWARDS What: Meet and greet with voters When: Noon Where: The Egg & I, 4533 W. Sahara Ave. HILLARY CLINTON What: Post-debate rally When: 8 p.m. Where: Desert Pines High School, 3800 Harris Ave. *Candidate events are free and open to the public POLL SHOWS TIGHT DEMOCRATIC RACE RENO — A new poll by the Reno Gazette-Journal shows the three top Democratic presidential candidates in a dead heat going into Saturday's Nevada Democratic caucuses. The survey conducted for the newspaper shows Barack Obama with 32 percent, Hillary Clinton with 30 percent and John Edwards with 27 percent. For the republicans, John Mccain was on top with 22 percent. Rudy Giuliani was second with 18 percent; Mike Huckabee, 16 percent; and Mitt Romney, 15 percent. The poll was conducted Jan. 11 to Jan. 13, with samples of 500 likely Democratic caucus-goers and 500 likely Republican caucus-goers statewide by Maryland-based Research 2000. The poll's margin of error is 4.5 percentage points. THE ASSOCIATED PRESS