Democrat Lucy Flores announces congressional bid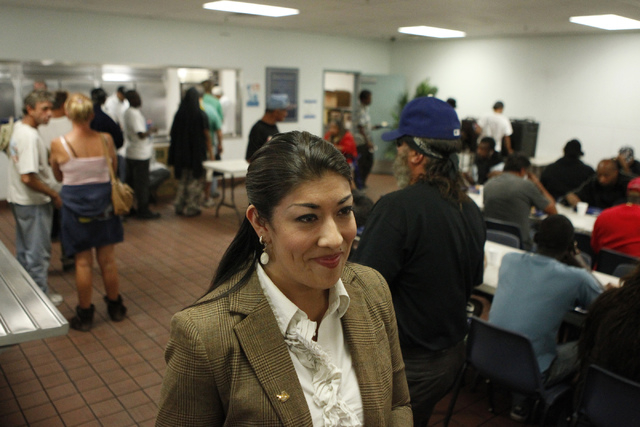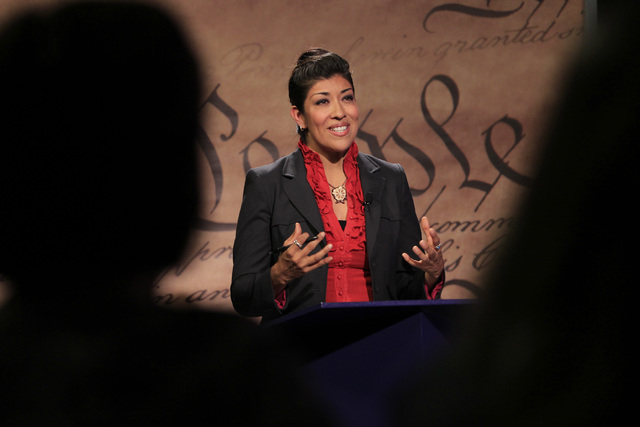 Former Assemblywoman Lucy Flores on Wednesday announced she's running for Congress, setting up a competitive Democratic primary that's expected to divide the Hispanic vote, which could be decisive.
Flores is seeking a seat in Nevada's 4th Congressional District, which stretches across six rural counties as well as urban North Las Vegas, where Flores grew up.
Flores, 35, was among the first Latinas elected to the Nevada Assembly in 2010. She easily won re-election, but then lost a statewide race for lieutenant governor in 2014. Flores said the failed election gave her an opportunity to visit all parts of Nevada, including places such as Yerington, Pahrump and Mesquite, all in the 4th district.
"I built a support base and made friends out there," Flores said in an exclusive interview before she announced her bid. "CD4 is truly a demonstration of what Nevada is," she added, noting its ethnic, racial and political diversity.
The district is minority-majority, about 36 percent white, 30 percent Hispanic, 14 percent black, 4.4 percent Asian, 1.2 percent Native American and the remainder is identified as "other."
The district leans Democratic by voter registration, mostly because 80 percent of the voters live in northern Clark County. Rural voters in Nye, Lincoln, White Pine, Esmeralda, Mineral and Lyon counties lean GOP.
"I'm excited about earning every last vote I can possibly get," Flores said. "My focus has always been on giving back to my community. And I want to make sure everyday, hard-working Nevadans have access to good jobs, have access to health care, so they can live the kind of lives they want to in our state. People are still struggling in this economy."
Flores said her statewide experience gives her an edge over potential primary opponents, including state Sen. Ruben Kihuen, another up-and-coming Latino lawmaker who announced his candidacy on March 28.
State Sen. Kelvin Atkinson, D-North Las Vegas, said Wednesday he remains interested in running for the seat. Others mentioned include North Las Vegas Mayor John Lee, Danny Tarkanian and former Assembly Speaker John Oceguera.
Atkinson said that if Flores and Kihuen split the hefty Hispanic vote, it could allow another contender such as himself to win the primary. Both Tarkanian and Oceguera have run for Congress before but lost. Lee dropped out of a congressional race before the primary.
"Any candidate has to be thrilled about Lucy and Ruben both running for the same seat and splitting the 30 percent Hispanic vote," Atkinson said in a text message. He said he would decide after the Legislature wraps up June 1.
Kihuen, who turns 35 on April 25, hoped to jump out ahead of any competition to raise money for his Democratic campaign and gain key endorsements. The state senator, who previously served four years in the Assembly, noted that he had worked for U.S. Sen. Harry Reid, D-Nev., whom he called a mentor, but there was no immediate endorsement.
Kihuen briefly ran for another Congressional seat in 2011, but dropped out after it became clear he couldn't win the Democratic primary against Dina Titus, who easily won the 1st Congressional District in 2012.
The winner of the Democratic primary for CD4 will likely face freshman Congressman Cresent Hardy, R-Nev., who scored an upset in the 2014 election against U.S. Rep. Steven Horsford, D-Nev., as part of a Republican wave. Horsford announced he would not make another run for the seat, opening up the Democratic competition.
Hardy so far faces no Republican competition, and no top tier GOP candidate is expected to challenge him.
Although she's focused on the primary, Flores criticized Hardy for suggesting Nevada talk with the federal government about compensation if the state gets stuck with a high-level nuclear waste repository at Yucca Mountain.
"I think it's very important for the health and welfare of our community to hold the line on that," Flores said. "Putting the entire country's nuclear waste right in our backyard makes absolutely no sense for our state."
In an email announcing her candidacy, Flores noted that she already has several high-profile endorsements, including Ruby Duncan, an African-American icon in Nevada who fought for education and civil rights.
Flores had a difficult upbringing after her mother left her family when she was young. She tells of joining a gang, dropping out of high school and having an abortion as a teenager. With the help of a probation officer, she turned her life around, got a university degree, graduated from law school and became a Nevada lawmaker.
"Lucy doesn't just talk the talk," Duncan said. "She knows what the struggle is and she gets up each day committed to making life better for people. She will fight for justice, dignity and opportunity for our community.
Flores also was endorsed by Joann Wright, a 30-year League of Women Voters member.
Congresswoman Linda Sanchez, D-Calif., who is chair of the Congressional Hispanic Caucus, endorsed Flores as well.
"We need more people in Congress who understand working families, who know that getting an education is the key to getting a good paying job," Sanchez said in a statement.
Congressman Ruben Gallego, D-Ariz., also offered his support for Flores' campaign. The Marine Corps veteran said, "I know that Lucy Flores is a fighter who would join me in protecting and caring for our troops, not only abroad but also when they return home."
The sprawling Congressional District 4 includes both Nellis Air Force Base, Creech Air Force Base and the Hawthorne Army Depot. Flores said veterans will be a high priority for her. She said "it's incredibly shameful" how U.S. veterans have been treated when they come home. The Veterans Administration has been under fire for not providing swift health care and faking wait times.
"It's one of the things I'm least proud of in terms of how we treat our veterans," Flores said, noting the nation's warriors have too long been ignored. "There's no excuse for the rate of homeless veterans and the high rate of non-treatment."
On other issues, Flores said she favors increasing the minimum wage to a point between President Barack Obama's suggested $10.10 per hour and the $15 per hour mandated by San Francisco, Seattle and other cities.
She also backs equal pay for women, affordable college and helping students with loans.
"We have to recognize when you invest in our young people you get an expanded economy," she said.
Asked about working with a GOP-led Congress, Flores noted she has been able to work across the aisle to get her bills approved in a divided Legislature and signed by a Republican governor.
"I don't take 'no' for an answer," Flores said. "If there's any opportunity I can find to build bridges, to make gains for the community, I will."
Flores also has long fought for comprehensive immigration reform, which she argues would benefit all Americans, the high-tech industry and families now separated by borders. She called current policy "an inhumane policy that does not work."
A competitive race from primary to general could cost Flores several million dollars, she said, which is why her first hire has been Horsford's former campaign finance director, Marian Williams Russ. She helped Horsford raise nearly $2 million.
Kihuen is expected to get plenty of help with money, partly because he has been in politics longer than Flores and is close to Reid. Kihuen has recently been touting his high-profile connections on his Facebook account, including presidential candidate Hillary Clinton. Kihuen helped her campaign here in 2008 and on April 12 he posted a photo of them going door-to-door together.
In Washington, some Democrats were signaling hands-off on the contested primary.
Matt Thornton, communications director of the Democratic Congressional Campaign Committee, said Democrats' interest in the House race was a reflection of Hardy's perceived vulnerability.
Thornton did not comment directly on the contested primary between Flores and Kihuen. The committee that recruits and advises Democratic candidates for the House generally avoids taking sides.
Sen. Harry Reid, who has a reputation of involving himself in local campaigns, "hasn't endorsed in this race," said spokeswoman Kristen Orthman.
Asked about a Flores-Kihuen matchup, Rep. Dina Titus, D-Nev., declined to say much.
"I've talked to both of them and I'm taking my cues from Senator Reid and the DCCC and I'm just not getting into the race," Titus said. "After the primary I will do everything I can for us to win that seat, as I have always done … I think there will be some more people getting in."
Review-Journal Washington Bureau Chief Steve Tetreault contributed to this report.
Contact Laura Myers at lmyers@reviewjournal.com or 702-387-2919. Find her on Twitter: @lmyerslvrj.