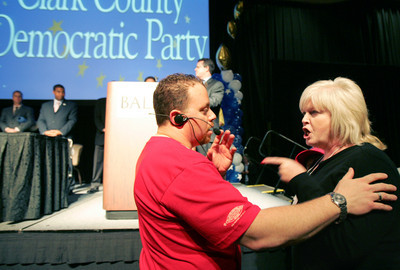 The Clark County Democratic Party on Wednesday announced plans to complete the voting for state delegates that was called off on Feb. 23 when an overflow crowd derailed the proceedings.
Working with the state Democratic Party and the campaigns of Barack Obama and Hillary Clinton, the county party will reconvene April 12, with come-and-go balloting all day at the Thomas & Mack Center restricted to designated delegates. The officials hope the new process stands a chance of being orderly.
At a news conference Wednesday, County Chairman John Hunt offered an apology to February convention-goers who were "inconvenienced or frustrated" and promised that the do-over "will not be complicated and will take a short amount of time for each participant."
Thousands of convention-goers were turned away at the door when the Bally's ballroom filled to its legal capacity Feb. 23. Many more couldn't find parking or got stuck in traffic jams, meaning as many as 25,000 people may have tried to attend the event, Hunt said.
In charge of the new convention is a committee including Hunt, state Democratic Chairman Sam Lieberman, a Clinton representative, an Obama representative, and state Sen. Terry Care, D-Las Vegas, who has agreed to act as a neutral mediator of any disputes that arise.
Care on Wednesday emphasized that the campaigns were working together in good faith and he was "hopeful my job will be minimal."
He didn't deny he caucused for a candidate Jan. 19 but wouldn't say who. He said he attended the Feb. 23 convention as a guest, not as a delegate.
The new convention plan has been approved by the Democratic National Committee, which had threatened to take away some of Nevada's national delegates if last month's chaos wasn't addressed.
In a statement, Phil McNamara, the DNC's director of party affairs and delegate selection, said the new plan "establishes a fair and transparent process for the allocation of delegates to the state convention," adding, "We are confident that the implementation of this proposal will … provide for the smooth election of delegates to the national convention."
Nevada Democrats will elect 25 national convention delegates at the state Democratic Convention, scheduled for May 17 in Reno.
Clinton won three of four primaries Tuesday but remains behind Obama in the national delegate count. The two campaigns will be fighting every step of the way for national delegates, possibly all the way to the national convention in Denver in August.
In Nevada's Jan. 19 caucuses, Clinton won the majority of precinct delegates; but if the current ratios hold, Obama could beat her in national delegates, 13 to 12, because he was stronger in rural and Northern Nevada.
Clinton did especially well in Clark County, winning 54 percent of precinct delegates to Obama's 44 percent.
The 7,595 precinct delegates assigned to one candidate or another in Clark County on Jan. 19 are charged with electing 2,463 state convention delegates.
Already Wednesday, representatives of both campaigns were jointly going through paperwork from the caucuses at state Democratic Party headquarters, matching forms collected at the 1,078 precincts with other data.
After the presidential preference apportionment was done at the caucuses, the candidate groups were supposed to elect delegates, who then were supposed to fill out forms. In some precincts, candidates were assigned numbers of delegates, but no one was elected to fill those positions. In others, paperwork is mixed up or missing.
The campaigns are using sign-in sheets, attendance lists and county convention registrations to fill in those vacant delegate slots, or to replace delegates who can't attend the April 12 revote. These replacements can be anyone who caucused on Jan. 19.
According to the new plan, the campaigns will have a full list of delegate vacancies by March 15 and will have until March 25 to fill them with eligible alternates.
Delegates will indicate whether they're interested in paying their way to Reno for the state convention, and the two campaigns will each draw up a state delegate slate.
By April 1, all delegates, whether elected on Jan. 19 or selected from the ranks of alternates as fill-ins, are to be notified by mail of the new convention and sent a credential. Only those people will be allowed to vote on April 12.
The 2 percent of Clark County precinct delegates elected to represent another candidate or "uncommitted" also will get voting credentials.
The April 12 convention voters will have from 8 a.m. to 7 p.m. to stop by the Thomas & Mack Center. They will submit a ballot indicating presidential preference and another ratifying their candidate's slate.
The campaigns will then draw from their slates the percentage of state convention delegates they received in the preference vote.
On Wednesday, Obama campaign leader Steven Horsford stood beside Clinton campaign leader Rory Reid, who said, "Steven and I have been trying for the last several months to do things to each other. Now we're working together."
Contact reporter Molly Ball at mball@reviewjournal.com or (702) 387-2919.
GOP CONVENTION
Clark County Republicans are scheduled to hold their convention Saturday at The Orleans.
The event is likely to be far more low-key than the Democrats' disastrous Feb. 23 convention.
Since the GOP already has determined its presidential nominee, nothing is at stake and the event will resemble a pep rally for party faithful. County party officials say more than 2,000 people have registered to attend. Saturday's convention starts at 9 a.m. and will feature Gov. Jim Gibbons, Rep. Dean Heller and Sen. John Ensign as speakers. Delegates will be elected from Clark County to the state Republican Convention, scheduled to be held in Reno on April 26.
Republicans in Elko and Douglas counties also are scheduled to meet this weekend. Republicans in Eureka, Lander, Lyon and Mineral counties convened last weekend.