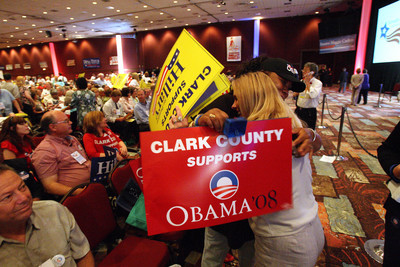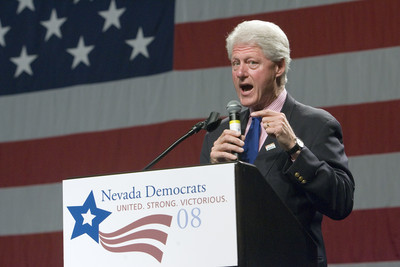 RENO — Barack Obama received 14 national convention delegates at Saturday's state Democratic convention, while Hillary Clinton received 11 as Obama's support increased from the Jan. 19 caucuses.
Obama had the support of 55 percent of the 2,510 state convention delegates who gathered at the Grand Sierra Resort for the convention, while Clinton had 45 percent.
That compares to 51 percent for Clinton and 45 percent for Obama on Jan. 19, a result that would have given Obama 13 national delegates and Clinton 12. Saturday's results seem to indicate the enthusiasm of Clinton's supporters has waned as her hopes for capturing the nomination have dimmed.
Obama supporter Nina Bennett, 49, of Las Vegas, gushed, "I am so excited to be taking part this fully in the Democratic process."
She said the result was a sign Obama is headed to the nomination.
Bennett predicted the two candidates' supporters would be able to come together. "Whether we do it gladly or we have to grit our teeth and do it, we will. It's what we want in the end."
But 69-year-old Joyce Harris, a Clinton supporter, was not convinced.
"A lot of us will have to swallow so hard to vote for him," she said. "It's just someone we don't trust. If you can't get a handle on what he's saying, how do you know he's not just a puppet for the extremely wealthy?"
Her daughter, 47-year-old Sheri Harris, added, "It's not about being a sore loser. The Hillary people are just not sure about unity at this point. She hasn't quit, so neither will we."
Unity was the byword for the speakers at the convention, including former President Clinton, who also blasted the Republicans' presumptive nominee, John McCain, in hopes of finding a common rallying point despite the prolonged fight for the nomination that continues to divide the party faithful.
"Obviously, I have a preference in this primary," Clinton said. "But I think it's important that, as Democrats, we make the differences clear on the issues, talk about our solutions, and then make it absolutely clear that once everyone has voted and once all the votes are counted, we are going to be united, because our differences with Senator McCain and the Republicans are too profound."
Clinton blamed the Bush administration for worsening economic inequality, saying of Republican control of both Congress and the White House that ended in 2006, "For the first time, Americans got to see what they would do if they got the chance to turn their words into policies."
Clinton had come to the stage in the midst of the sort of heated procedural argument that is a staple of political conventions.
"Whatever y'all were arguing about when I got here, I don't understand it," he said, drawing a laugh.
"If you're for Hillary, that tickles me. But if you're for Senator Obama, stand up for him. And remember why we went to all this trouble. We went to all this trouble because we went from 22.7 million jobs (created during the Clinton presidency) to 5 million (in the Bush years). We went from family incomes going up $7,000 after inflation across all racial and regional lines to family incomes going down about $1,000 after inflation.
"We went from moving almost 8 million people from poverty up into the middle class to having 5 million people fall from the middle class back into poverty. We went from being a nation respected around the world to a nation a lot of people don't trust anymore, because we set one set of rules for us and another set of rules for everybody else. …
"You did not go to all this trouble to have an argument with each other. The argument was necessary so we could choose the best and most electable candidate."
Speaking for Obama at the convention was Kal Penn, the actor known for his role as Kumar in "Harold and Kumar Go to White Castle" and its sequel.
Senate Majority Leader Harry Reid, D-Nev., told the crowd the primary battle would be over soon.
"I know there's tremendous anxiety. People want this over. This primary election is going to be over very soon, and we're going to march forward united to victory."
Reid said he would push all the superdelegates to declare their candidate preference after the final primary on June 3, and the nomination would quickly be wrapped up after that. A superdelegate himself, Reid said he would not declare a preference because of his position.
Reid and McCain came to Washington at the same time, and Reid noted somewhat resentfully that McCain was one position ahead of him in seniority because he came from a more populous state.
"I know where he stands on the issues. I've seen him vote," Reid said of McCain. "He's a flawed candidate. He has the wrong temperament, he's wrong on the war, he's wrong on the economy, and we're going to beat John McCain. We don't need a George Bush clone."
Reid said McCain "wants to close our race and sports books. He has voted for Yucca Mountain every chance he's had."
McCain once pushed legislation that would have outlawed betting on college sports and continues to support the proposed nuclear waste repository 100 miles from Las Vegas.
A Republican National Committee spokesman called Reid's comments "appalling partisan statements."
"By launching discredited character attacks on John McCain, Harry Reid has proven that he is deserving of the anemic approval ratings he receives in Nevada," Paul Lindsay said.
Nevada sends 34 delegates to the Democratic National Convention in Denver in August. Eight of those are the party leaders and elected officials known as superdelegates; of those, two support Clinton, two support Obama, and the rest are neutral.
The other 26 were to be selected at Saturday's convention, the last stage in the process that began with the Jan. 19 precinct caucuses.
At the caucuses, people gathered in their neighborhoods and elected precinct delegates to county conventions. The county conventions, held around the state in the ensuing months, elected the delegates to the state convention.
According to party officials, Saturday's event was the largest political convention in Nevada history.
The state Republican convention, which began on April 26 in Reno but failed to reach a conclusion, attracted about 1,300 attendees.
Of the 26 Democratic delegates elected Saturday, six were at-large, elected from the entire body; three of those went to Clinton and three to Obama.
Three more were elected officials chosen based on the at-large vote. That category is where Obama picked up more delegates than he would have on Jan. 19, because he, not Clinton, had the majority of the delegates present. Obama got two of those three and Clinton one.
Chosen by the campaign to represent Obama were Assemblyman Kelvin Atkinson and Assembly Speaker Barbara Buckley. Rory Reid, a Clark County commissioner, was selected Clinton's delegate.
The rest of the elected delegates are allotted according to Nevada's three congressional districts.
The regional breakdown showed a clear shift toward Obama in Clark County, which had been Clinton's stronghold on Jan. 19.
Clinton's Nevada campaign chairman, Rory Reid, said holding the convention in Reno disadvantaged Clinton because many of her supporters had to travel from Southern Nevada.
In the 1st Congressional District, the urban Las Vegas district represented by Democrat Shelley Berkley, the delegates were 56 percent for Obama and 44 percent for Clinton. Each candidate got three of the district's six national delegates.
The 3rd Congressional District, the suburban Clark County district represented by Republican Jon Porter, was the only area of the state where Clinton prevailed. She had 51 percent to Obama's 49 percent; each candidate got two national delegates.
The 2nd Congressional District, the rural and Northern Nevada district represented by Republican Dean Heller, was divided into three regions. In the part of the district that is in Clark County, Obama had 62 percent of the vote and Clinton 36 percent; each got one delegate.
In the part of the district that includes the state's rural counties, Obama got 60 percent to Clinton's 40 percent, and Obama got the area's one national delegate.
In Washoe County, the final region of the 2nd District, Obama got 62 percent and Clinton 38 percent; Obama took two national delegates to Clinton's one.
Finally, the "add-on" delegate position, traditionally awarded to someone who has worked hard for the party, such as a top fundraiser, was awarded late Saturday to Rusty McAllister, president of the Professional Fire Fighters of Nevada. McAllister said he had not chosen a candidate, although he caucused for Obama on Jan. 19.
"I have not made up my mind yet," he said. "Let's let the process (of the primaries) take place and when it's done we'll have a candidate."
Nationally, the firefighters union initially endorsed Sen. Chris Dodd, D-Conn., and did not re-endorse after he dropped out of the race.
Dodd has endorsed Obama.
Other party business conducted Saturday included the election of a new Democratic National Committeewoman to replace state Sen. Dina Titus, who is running for Congress.
The winner of the contested election was party activist Erin Bilbray-Kohn, daughter of former Rep. Jim Bilbray. State Sen. Steven Horsford was re-elected national committeeman.
Contact reporter Molly Ball at mball @reviewjournal.com or 702-387-2919.